April 14, 2016
Duplicating a Slide Master is a little different than adding a new Slide Master from scratch. And it is a smarter option because you do not have to make the same changes all over again. Let's explain this with a scenario. Imagine you have formatted your existing Slide Master by applying a Background Style, adding a logo, or even adding your own Picture placeholder layout. And now you want a new Slide Master that's almost the same as your existing one -- but you want a different Theme Colors set to be used. For such a small change, it is advisable that you duplicate your existing Slide Master and make the small changes instead of starting all over again with a new Slide Master.
Learn how to duplicate Slide Masters in PowerPoint 2016.
---
April 13, 2016
Steve Rindsberg has been associated with PowerPoint since the product originated more than two decades ago-his PowerPoint FAQ site is a treasure trove of PowerPoint information. When he's not updating his site, he's creating new PowerPoint add-ins that expand possibilities within PowerPoint. Steve's also into a lot of print technology related stuff. In this conversation, Steve discusses PPTools Language Selector, his new PowerPoint add-in that changes your proofing languages.
---
April 13, 2016
Do you notice that any object you move, resize, or align in PowerPoint 2016 actually helps make your task easy! Move it a little closer, resize a wee bit, or even try spacing slide objects and the screen shows all sorts of helpful indicators in the form of dotted lines. The red, dotted lines that show up and then disappear are Smart Guides. These made their debut in PowerPoint 2010 and allowed you to position objects easily. More improvements were added in PowerPoint 2013 that enabled you to see how much further you need to drag so that one object on the slide is as wide as another adjacent object. In fact, you can also evenly space out objects without accessing any Ribbon tabs or typing a number within a dialog box!
Learn about Smarter Guides in PowerPoint 2016.
---
April 12, 2016
Do you know which transition effect is most effective--more than even no transition effect at all? Yes, it is the Fade effect, and we explore this Fade effect this week. PowerPoint 2016 for Windows users can learn more about types of shapes, and how you can resize shapes. PowerPoint 2013 users can learn about exporting slides as pictures from their presentation. Finally, do not miss the new discussions and templates of this week!
Read Indezine's PowerPoint and Presenting News.
---
April 12, 2016
We already explored how PowerPoint 2016 defaults to Widescreen slides in all new presentations. However, you can change your presentation's aspect ratio from Widescreen (16:9) to Standard (4:3) -- and also do the reverse. PowerPoint 2016 has some features up its sleeve that make these changes of aspect ratios easier to understand -- and some quirks too! This tutorial will help you understand both scenarios better.
Learn how to change a presentation's aspect ratio from Widescreen to Standard (and vice versa) in PowerPoint 2016.
---
April 11, 2016
This video came about when a few questions were sent to TJ Walker, who responded with answers via a video podcast. Here are the questions answered by TJ: What's the best thing to do after a mistake – maybe even a pronunciation mistake that you are immediately aware of? Should we correct ourselves, or move ahead? Spoken words and visual images do go hand in hand, and the sum of both in a presentation scenario is often larger than their individual scores. Do you have any thoughts about how presenters can best combine words and images?
---
April 11, 2016
We explored and complained about how PowerPoint 2016 has made widescreen (16:9) as the default aspect ratio for new presentations. Although you can change all these new presentations from Widescreen (16:9) to Standard (4:3) aspect ratio quite easily, it can be a pain to remember doing so each time you create a new presentation! Of course, if you are happy with 16:9 slides, then you need not read the rest of this tutorial -- for everyone else, we'll show how you can set your default aspect ratio to Standard (4:3).
Learn how to set the standard 4:3 aspect ratio as the default for new presentations in PowerPoint 2016.
---
April 7, 2016
Once you insert shapes on a slide, you may realize that it's not the perfect size -- did you want it larger, or a wee bit smaller? However you want your shapes resized, it's easy to make the size change in a jiffy, right inside PowerPoint 2016. Like most Microsoft Office programs, PowerPoint follows the concept of selection, then action -- so the first thing you need to do to a shape that you want to be resized is to select it! Any shape that is selected shows several handles.
Learn how to resize shapes in PowerPoint 2016.
---
April 6, 2016
What does the word "shape" mean to you? Do you imagine a square, a circle, a heart, or even a smiley face? Yes, all those are shapes -- as are the hundreds of other recognizable outlines or figures that we call shapes in our daily conversations. Shapes play a significant role within any slides you create for your PowerPoint presentation. In more ways that you may want to count, shapes are like the building blocks of almost anything you do on your PowerPoint slides -- PowerPoint 2016 provides hundreds of shapes efficiently categorized into 9 types. You can do so much with these shapes -- for example, you can combine shapes to create your own unique shapes, format shapes with fills, lines, and effects -- and even group or layer them to create more amazing graphics. You can even create flowcharts with these shapes. This tutorial explores the various types of shapes available within PowerPoint.
Learn about different types of shapes in PowerPoint 2016.
---
April 5, 2016
Do you want to quickly create and animate a car in PowerPoint? Do you want to do so in 10 minutes? Both techniques are covered in our Create and Animate a Car in PowerPoint video tutorial. We then explore the Curtains transition effect. We then show you how Slide Dimensions influence picture exports in PowerPoint. Further, in an exclusive conversation, Tim Stumbles of Office Timeline talks about integration with Wrike. PowerPoint 2016 for Windows users can learn more about adding a logo to the Slide Master, and also about adding and renaming Slide Masters. PowerPoint 2013 users can learn about linking to named Excel ranges. And PowerPoint 2010 users can find out about exporting slides as pictures from their presentation. Sway users can explore the Navigation option. Finally, do not miss the new discussions and templates of this week!
Read Indezine's PowerPoint and Presenting News
---
April 5, 2016
PowerPoint allows you to save your slides to many graphic file formats, which can later be used in other applications as required. One of the most popular graphic formats that you can export your slides to is PNG. This tutorial will show you how you can export slides to PNG, but using the same process; you can also export to other graphic file formats such as JPG, GIF, TIF, BMP, WMF, EMF, etc. Follow these steps to export some or all of your slides to a picture file format such as PNG in PowerPoint 2013.
Learn how to export PNGs and other graphic file formats (JPG, TIFF, WMF, EMF) in PowerPoint 2013.
---
April 4, 2016
The Fade transition effect has been one of the oldest transitions available in PowerPoint. It is also the least distracting of all transitions, and most PowerPoint designers believe that this is one transition that's even better than no transition at all and works in all scenarios.
Explore the Fade transition effect in PowerPoint.
---
April 1, 2016
The Curtains transition effect was introduced in PowerPoint 2013 for Windows. If play slides using the Curtains transition effect in previous versions such as PowerPoint 2010, you may find this effect substituted with the Fade transition effect.
Explore the Curtains transition effect in PowerPoint.
---
April 1, 2016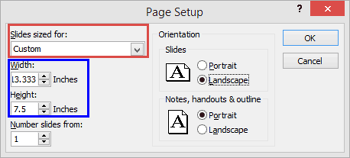 Have you ever wanted to use PowerPoint as a graphic program to create posters, digital scrapbooks, web-banner ads, YouTube cover art, etc.? You will then have run into some limitations, especially when you try to export a PowerPoint slide to a picture with exact size dimensions. In this tutorial, we will explore how a small improvement that Microsoft added in PowerPoint 2013 and newer versions is providing significant returns.
Find out how an additional decimal digit makes a big difference in setting custom file sizes in different versions of PowerPoint.
---
March 31, 2016
Some things are better shown than read! Creating or animating a car in PowerPoint is just one of those things. So in this video tutorial, you will learn how you can use PowerPoint's basic shapes to create a car, moving wheels, a steering, and even a driver! We will then explore how you can animate them all at the same time.
Learn how you can create a simple car in PowerPoint and animate it, with moving wheels too!
---
March 31, 2016
Do you want to link to an Excel file from within PowerPoint? You can then use the technique explained within our Linking to Any File in PowerPoint 2013 tutorial. However, click on the link, and you will end up opening your Excel file at the last saved location. What if you always wanted your link to access a particular cell or a range of cells in Excel? This is possible, but you will rarely find this secret option documented at all!
Learn how you can link to a particular cell or range in Excel from within PowerPoint 2013.
---