March 30, 2016
Tim Stumbles is the co-founder of Office Timeline, a start-up focused on making project presentations simple. Office Timeline offers timeline maker and Gantt chart software, natively built for Microsoft PowerPoint. With Office Timeline over 500,000 PowerPoint users easily create impressive project presentations for important client and executive meetings. In this conversation, Tim talks about Office Timeline's integration with Wrike.
---
March 30, 2016
If you have seen a couple of Sways, you will know that how you move from one Card to another can differ. In some Sways, you move from left to right. In others, you move from top to bottom. You can control these options within your Sways, as we will explore within this tutorial.
Learn how the Navigation option works on Sway.
---
March 29, 2016
Widescreen slides are everywhere, but are you choosing the correct Widescreen values in PowerPoint? Explore more in Widescreen Implementations article. Also, we look at whether you should create Widescreen slides? Renowned speaker TJ Walker answers queries from Indezine users in a special series of video tutorials. We then get you some Op-Art heart shapes! PowerPoint 2016 for Windows users can learn more about formatting Picture placeholders and creating custom-shaped Picture placeholders. Also learn how you can change the default slide aspect ratio from Widescreen to Standard. Sway users can explore the cool Remix option. Finally, do not miss the new discussions and templates of this week!
---
March 29, 2016
In your presentation, a Slide Master is the element that influences everything -- be it the slide background or the fonts used for text. Despite having different layouts, all slides in a presentation share a common look, which is provided by the Slide Master. There will be at least one Slide Master in every presentation. However, while adding slides from other presentations, you may end up adding more Slide Masters inadvertently to your presentation. So how do you know how many Slide Masters your presentation contains? And how do you add another one? In fact, why do you need another Slide Master at all?
Learn how to add and rename Slide Masters in PowerPoint 2016.
---
March 29, 2016
PowerPoint allows you to save your slides to many graphic file formats, which can later be used in other applications as required. One of the most popular graphic formats that you can export your slides to is PNG. This tutorial will show you how you can export slides to PNG, but using the same process, you can also export to other graphic file formats such as JPG, GIF, TIF, BMP, WMF, EMF, etc. Follow these steps to export some or all of your slides to a picture file format such as PNG in PowerPoint 2010.
Learn how to export PowerPoint slides as individual PNGs or other graphic file formats such as JPG, TIF, GIF, WMF, EMF, BMP in PowerPoint 2010.
---
March 28, 2016
You may have observed an omnipresent company logo in many slides -- and that raises a question: do you really need to have a company logo on all your slides? First, it takes a fair amount of space. Secondly, the audience knows which company the speaker belongs to since that information is almost always placed on the first slide. Also speakers do introduce themselves and their companies -- so do all slides need that extra branding? All these questions are fair, and there are equally fair answers for them. You should certainly add a company logo to your first slide, and then place a more subtle or watermarked logo on the rest of the slides -- or even no logo at all. Fortunately, PowerPoint makes it easy to add a logo to all your slides -- and then you can make it sure that some slides have no logo at all or even a more understated version of the logo.
Learn how to add a logo or another graphic to the Slide Master in PowerPoint 2016.
---
March 25, 2016
Do you want your pictures to be contained within shapes that look like frames? Or maybe you want to use silhouette style placeholders for your pictures? Yes, this is possible even though this process is a little involved -- but we'll hold your hand if you promise to follow all our steps in sequence!
Learn how to create custom shaped Picture placeholders in PowerPoint 2016.
---
March 25, 2016
Hearts have super-smooth edges, but it is always fun to use something different! So we decided to create Op-Art versions of Heart shapes! You get four variations. These Heart shapes are already placed within slides and are available in both black and white. Do remember though that they can be recolored using PowerPoint's native options for fills, lines, and effects.
Download and use these Op-Art Heart shapes.
---
March 23, 2016
When you are working with multiple pictures on a slide, their position, formatting, and size may be required to be the same across successive slides. This can be achieved manually using resizing and aligning options -- although you will use an inordinate amount of time making sure that the pictures look consistent slide after slide. You can get over this problem by using a new Slide Layout with a picture placeholder.
Learn how to format Picture placeholders in PowerPoint 2016.
---
March 23, 2016
The same goof up happened but at yet another conference! The text size on the slide was teeny-weeny, and you could not see much, even if you squinted your eyes. This time, the problem was not that the presenter had used 8 point text on the slide; this text was 20 points, and that did not make it too small. Even then, you still could not read the text! Yet, the presenter was referring to numbers on the slide repeatedly, and the audience was supposed to read the content and comment! The problem was that a 16:9 Widescreen slide was projected on a Standard 4:3 projector/screen, thus making the slide's screen estate very less indeed.
Make sure that you know whether you must create widescreen or standard slides for your next presentation.
---
March 23, 2016
This video came about when a few questions were sent to TJ Walker, who responded with answers via a video podcast. For those who want to read or print, we managed to get you a transcript as well. So, where do you start when it comes to creating a presentation?
---
March 22, 2016
Microsoft PowerPoint MVP Dave Paradi has put up a new survey on financial presentations. He tells us what he will do with the results in this exclusive conversation. Presentation Font Embedder is a product that explores font embedding issues in PowerPoint for Mac. Ari Leviatan tells us more about this amazing solution. SwiftPrez, also known as PresentAssist is a branding add-in for PowerPoint and Jamie Garroch explains how you can benefit from this option in an exclusive interview. We get you some Pixel-Art Hearts for PowerPoint -- plus we also get you some amazing Eagle silhouettes! PowerPoint users can find out which Themes are included in their version -- this page has now been updated for PowerPoint 2016 for Windows. PowerPoint 2013 users can learn how they can link to any file -- and also how they can specifically link to Bookmarks in Word documents. Sway users can explore why and how they should duplicate a Sway presentation. Finally, do not miss the new discussions and templates of this week!
Read Indezine's PowerPoint and Presenting News.
---
March 22, 2016
When you open PowerPoint 2016 for the first time, you'll see that all slide examples in the Presentation Gallery are in Widescreen aspect ratio with 16:9 proportions. This is in complete contrast to the typical standard slides with 4:3 aspect ratios that you saw in PowerPoint versions older than 2010. For many of us who are living in a world with widescreen displays and projectors, this may be a blessing -- but many others may not feel as blessed! Worse, there's no obvious way for you to change these defaults so that you can always have 4:3 slides rather than 16:9.
Learn about PowerPoint 2016's default 16:9 Widescreen slide option .
---
March 21, 2016
Sway is more than just a new way to create presentations; it is a liberating experience that lets you play and work at the same time. Yes, you would expect to add content or import content. But would you like to venture a little off the beaten path? Then you will love Sway's Remix option which randomly changes the design and navigation features to your Sway. Think of Remix as a dice that has infinite rather than just six choices. You never know what you will end up with!
Explore how the Remix option works in Sway.
---
March 21, 2016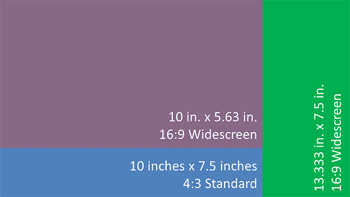 PowerPoint's implementation of the Widescreen aspect ratio has changed somewhat over the last few versions. Although this is a "wee bit" change, it is still a very significant change that will influence your understanding of what is happening behind the scenes.
Explore the gamut of Widescreen slide aspect ratio implementations in PowerPoint.
---
March 18, 2016
Sway is a fantastic tool to create presentations but let's face the fact – no Sway file sits on your computer or backup device that you can revert to if you make a mistake! At other times, it is easy to get carried away with Sway's Remix option where an action that resembles rolling the dice gets you immediate results - and you just go on playing with Remix! You may then long to go back to a state that was 25 Remixes ago, or you may not even remember how far you want to go back!
Explore how to duplicate a Sway.
---