June 3, 2013
Robert Lane is a presentation design consultant specializing in visually interactive communication techniques. He has authored several books including Relational Presentation: A Visually Interactive Approach and Selling Visually with PowerPoint. In this conversation, Robert discusses his upcoming Visual Language online workshop, being held in July 2013.
---
June 3, 2013
Any slide in a PowerPoint presentation is always based on one of the available Slide Layouts (we call these just Layouts for the rest of this tutorial). You can either choose a layout when you add a new slide -- or even change the layout of your existing slides. These available layouts seem to cover most types of slides -- still, you may sometimes want to create a new layout based on your individual requirements.
Learn how to duplicate, rename, and edit slide layouts in PowerPoint 2011 for Mac.
---
June 1, 2013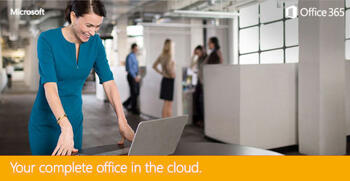 What are all these new terms that Microsoft is talking about? Let's explore some of them. Office 365: Is this a web site? A subscription? Or both on some cloud in the sky? And does this mean that I cannot use desktop versions of Microsoft Office? And what if I am a Mac user? And where do Office 2013 for Windows or Office 2011 for Mac fit in?
Explore the differences and similarities between Microsoft Office 365 and Microsoft Office 2013.
---
May 31, 2013
Don Brittain is CEO and a founder of Instant Effects, a California company that develops software to visually enhance presentations, communications, and collaboration. In this conversation, Don discusses the new v5.6 release of Instant Effects Presenter.
---
May 31, 2013
The Status Bar is a thin strip located at the bottom of the PowerPoint 2013 interface. This area provides information about the active slide, and also provides several View options. To work with options in the Status Bar, you must have a presentation open in PowerPoint -- otherwise the options within the Status Bar will be grayed out.
Learn about options available in the Status Bar within PowerPoint 2013.
---
May 30, 2013
A simple looking presentation with a clean background is always a great idea since that doesn't overpower your message. Yet, there are plenty of opportunities to go beyond a plain background and use a less restrained background instead -- your choice for a slide background should complement the content of your presentation. PowerPoint 2011 does provide you with 12 default slide Background Styles which can be applied to both the Slide Master and individual Slide Layouts -- other than these default background styles, you can also opt to use a custom slide background such as a solid color, a gradient, a pattern or texture, or even a picture.
Learn how to apply custom backgrounds to both the Slide Master and Slide Layouts in PowerPoint 2011 for Mac.
---
May 29,2013
Jim Phelan has architected, designed and developed numerous business productivity, healthcare and e-learning applications. He is the co-founder of elucidate llc, where he created Electric Slide, elucidate's core product, as well as several healthcare applications. Jim lives in Brooklyn with his mischievous cat Zeus, whose spirit name is Peeve. In this conversation, Jim discusses the new Electric Slide 2.
---
May 29,2013
The Task Pane is a docked window within the PowerPoint 2013 interface that provides more options than dialog boxes -- also unlike most dialog boxes which cover the Slide Area, you can view both the active slide(s) and the Task Pane at the same time -- thus the Task Pane provides a more streamlined experience.
Learn about how the Task Pane works in PowerPoint 2013, and you can toggle its view.
---
May 28, 2013
Get started in this issue by learning how you can speak concisely -- Claudyne Wilder teaches you how. Rick Altman, the host of the annual Presentation Summit discusses this year's conference at Fort Lauderdale, Florida -- and Aaron Khoo of 9Slides tell you more about why he believes that 9Slides is a great platform for sharing presentations. This issue, we focus on the PowerPoint Web App -- did you know that many keyboard shortcuts associated with the desktop versions of PowerPoint do actually work within the Web App? We get you a comprehensive list for both Windows and Mac users. We then explore the amazing Eyedropper tool -- this is new for PowerPoint 2013 on Windows. PowerPoint 2011 for Mac users can learn more about changing backgrounds in Slide Masters and Slide Layouts.
Read Indezine's PowerPoint and Presenting News.
---
May 28, 2013
When you change Background Styles within the Slide Master, the Background Style for all dependent Slide Layouts will change. However, it is not necessary for all your Slide Layouts to possess the same Background Style as the Slide Master -- or even another Slide Layout. Each Layout can have its own independent Background Style, as you will learn in the rest of this tutorial.
Learn how to apply Background Styles to individual Slide Layouts in PowerPoint 2011 for Mac.
---
May 27, 2013
Millions of pictures are available online within the Creative Commons license -- many of these pictures can be found on Flickr -- and typically, most Creative Commons licensed content on Flickr can be searched within three useable categories. You can therefore decide which of these license options work for you, which pictures are available within any of these license options -- and then download the picture. That's when you need to think about another important aspect of the Creative Commons license -- and that is attribution.
Learn how to attribute Creative Commons pictures in your PowerPoint slides.
---
May 27, 2013
We have already explored the new Eyedropper tool in PowerPoint 2013 that lets you sample colors from any object within your PowerPoint slide and use that same color as a fill or outline for a shape. You can follow the same principle to modify text fills and outlines. The technique is little different if you want to pick an exact color from somewhere outside PowerPoint.
Learn about advanced options with the new Eyedropper tool in PowerPoint 2013.
---
May 25, 2013
Speaking concisely and to the point is a much-needed skill in business. Presenters who are brief and on target appear more knowledgeable than those who ramble from detail to detail. Many presenters believe the opposite: that the more they share, the better everyone will think they know the subject. That is just not true. The key is to accurately gauge what and how much information your audience needs to know.
---
May 24, 2013
While exploring how you can change the Slide Layout of any given slide(s), we have seen that when you access the Home tab of the Ribbon and click the Layout button, the Layout drop-down gallery opens. The number of Slide Layouts that you see in this gallery may differ depending upon the Theme of your active presentation -- but with PowerPoint's default Office Theme applied, you will see 11 layouts in PowerPoint 2011. So, where do these Slide Layouts come from? What influences how they look, or how the placeholders within them are laid out?
Explore Slide Layouts within Slide Master view in PowerPoint 2011 for Mac.
---
May 23, 2013
Although PowerPoint lets you choose almost any color you want, it is often difficult to choose the same color as a picture on the slide! You may want to match the colors of shapes or text on your slides to a picture, or even some other object (maybe a logo or even the slide background) of your PowerPoint presentation to give your slides a cohesive look. PowerPoint 2013's new Eyedropper option enables you to pick an exact color from anywhere, sometimes even from somewhere outside PowerPoint! Even better, when you are picking up the color from a source, you get to see the color preview as well as the RGB value of the color you are picking.
Learn how the new Eyedropper option works in PowerPoint 2013.
---
May 22, 2013
Rick Altman is a presentation consultant based out of Pleasanton, CA. Rick has been hosting end-user conferences since 1989, and is well known as the host of the annual Presentation Summit conference. He has a strong sense of the needs of the presentation community. Rick has authored 15 books on presentations and graphics, including Why Most PowerPoint Presentations Suck. In this conversation, Rick discusses the upcoming eleventh edition of his Presentation Summit conference, to be held in September 2013 in Fort Lauderdale.
---