July 12, 2007
If you have mastered PowerPoint, you may wonder why you should bother converting your PowerPoint presentation to Flash. After all, most people in companies probably have PowerPoint installed on their computers.
Colby Devitt of Wildform explains more.
---
July 10, 2007
We have reviewed PowerShrink in the past -- so in this review, we will look at the new features that PowerShrink 2007 (aka PowerShrink 3) offers along with a brief walkthrough. PowerShrink 2007 is a PowerPoint compression product from TopByteLabs Computing, a software company based in Germany.
---
July 9, 2007
Canon has made quite a buzz with their new line of REALiS projectors. What sets these projectors apart is their attention to color coupled with their portability. REALiS projectors are characterized by their small sizes and low weight factors on one hand -- and high color reproduction values and picture quality on the other. In this case study, we'll explore what's different about this line of projectors, and who is using them.
---
July 6, 2007
Capture of onscreen activity is a growing phenomenon -- what with the burgeoning of video sharing sites like YouTube. No longer is it only the techies who record onscreen activities to make training sessions -- now anyone can create and distribute these captured videos. Our review product: ALLCapture 2 makes recording and output of such videos even easier.
---
July 3, 2007
What do you do when the presentation that you have been working on for more than a month now refuses to open -- PowerPoint just displays the message that this presentation is corrupted. It's better you look at options that will help you recover the presentation -- our review product does just that.
---
June 26, 2007
PowerPoint template designs are aplenty -- and many vendors create textured and patterned designs that can be used in most presentation scenarios. However, trends change and new designs are created all the time in an attempt to create more contemporary looks. One of the newest such PowerPoint template collections is Volume 5 of the well known PowerFinish collection.
---
June 23, 2007
This book extract from How To Do Everything with Microsoft Office PowerPoint 2007 is an Indezine exclusive with permission from McGraw-Hill/Osborne. The book itself is the ideal resource for anyone who wants to create rich presentations with PowerPoint.
---
June 21, 2007

Cinematize 2.03 is the newest Windows Vista compatible version of the product that allows you to extract audio and video clips off DVDs. These extracted movie clips can then be used in applications such as PowerPoint, QuickTime, Windows Movie Maker, Premiere, iPod, etc.
---
June 20, 2007
Mike Pearce teaches social studies at Ellison High School in the Killeen Independent School District in Texas, USA. But Mike is not just another teacher -- he uses PowerPoint presentations to deliver a successful teaching system that has shown a phenomenal improvement in the results and passing rates.
---
June 19, 2007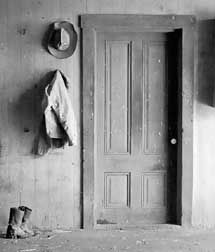 AKVIS Noise Buster is a Photoshop plug-in which reduces noise from digital images without changing the other aspects of the photo.
---
June 14, 2007
Tom Mucciolo is president of MediaNet, and a recognized industry expert in visual communications, business presentations and leadership skills. He has served as a skills consultant for major corporations since 1985, concentrating on the script, visuals, and delivery associated with presentations, especially electronic events.
---
June 5, 2007
Carmine Gallo is a communications coach for the world's most admired brands. His client list includes Intel, Chase, Barclays, IBM, Nokia, and many others. He is an Emmy award-winning journalist and former anchor, host, and business correspondent for CNN, Fox, CNET, and CBS. Gallo writes a bi-weekly column on the subject of business communications for Businessweek.com and he is the author of two books aimed at business professionals who want to become better speakers and presenters.
---
June 4, 2007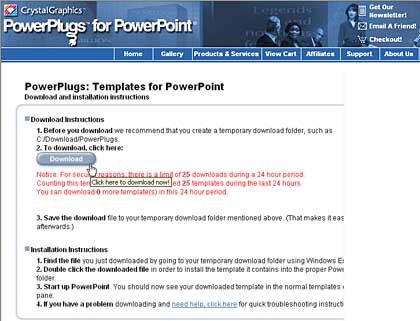 A well defined template can make all the difference to a presentation by imparting good background choices, sensible layouts, font choices, and color schemes.
Our product for review does provide many of these capabilities -- and it's both a product and an online service.CrystalGraphics' PowerPlugs annual subscription of PowerPoint templates allows you to choose from their large template collection for a fixed price.
---
June 2, 2007
This exclusive book extract from Microsoft Office PowerPoint 2007 on Demand is presented here with permission from Pearson Education.
The book, authored by Steve Johnson is in full color, and explains common PowerPoint procedures using a series of numbered steps with tons of screenshots that are captioned.
---
May 30, 2007
Many users tend to buy another program just to rip their CD tracks to use them in a PowerPoint presentation.
In this tutorial, I'll show you how you can convert audio CD tracks to WAV, MP3, and WMA files using nothing apart from the free copy of Windows Media Player that's included with every copy of Windows XP and Vista.
---