Carmine Gallo is a communications coach for the world's most admired brands. His client list includes Intel, Chase, Barclays, IBM, Nokia, and many others. He is an Emmy award-winning journalist and former anchor, host, and business correspondent for CNN, Fox, CNET, and CBS.
Gallo writes a bi-weekly column on the subject of business communications for Businessweek.com and he is the author of two books aimed at business professionals who want to become better speakers and presenters. His new book, Fire Them Up!, will be available on September 28, 2007.
Visit him online here.
Geetesh: Tell us more about yourself and what you do.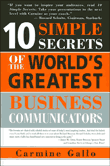 Carmine: I am a communications coach for some of the world's top brands in a wide range of industries: technology, banking, medical devices, health care, agriculture, retail, etc. For more than fifteen years, I worked as a broadcast journalist for Fox, CNN, CBS, TechTV and CNET.
Growing tired of "reporting" the news, I began to leverage my skills as a storyteller to help company executives tell their stories in clear, concise, and engaging presentations. Conducting customized workshops takes most of my time, but I also give speeches and write columns and books on the subject of business communications.
---
Geetesh: Tell us more about your book, and also about the next book.
Carmine: My first book is titled 10 Simple Secrets of the World's Greatest Business Communicators. I spent the better part of two years working on it. Unlike most public speaking books, this one is full of first-person interviews with contemporary business leaders who do a masterful job of communicating the story, or message, behind their service, product, company or cause. In the book, readers meet people like Starbucks founder Howard Schultz; Cisco CEO, John Chambers; Monster.com founder, Jeff Taylor; personal finance guru Suze Orman, and many others. The first three simple secrets (passion, inspiration and preparation) help establish a rapport with your audience. The next three secrets (start strong, clarity, and brevity) focus on the content of your story, and the last four secrets involve the "packaging" of the spokespeople—how great communicators walk, talk and look.
While I'm proud of this book, I can't wait for your fans to read my next book. This fall (September), John Wiley & Sons will publish my second book: Fire Them Up The book reveals the 7 simple secrets to inspire your customers, colleagues and clients. The book will help people sell themselves, their vision and their values and to speak with confidence and charisma. More than two dozen top business leaders, entrepreneurs and educators shared their insights and techniques. The book looks at the power of presentations to inspire and motivate audiences. Cliff Atkinson, who your readers might know for his book, Beyond Bullet Points, also participated in Fire Them Up! Readers will learn that everyday offers opportunities to inspire through communications.
---
Geetesh: What can PowerPoint presenters do to improve their communication skills?
Carmine: In my experience as a communications and speaking coach, the presenters who stand out do the following:
Do not read your slides. Watch the great presenters like John Chambers at Cisco. He glances down briefly at his next slide but delivers the information to the audience. Not once will you catch him taking his eyes off the audience while reading a sentence from a slide.
Prepare and rehearse. Chambers is extraordinary because he prepares unlike anyone I have ever met. He memorizes the flow of his talk, the information on each slide, etc. He knows when he is going to walk into the audience. Get this—he even knows where the lights are in the room so he's never in shadow. It's preparation to the extreme but he comes across as competent, confidence and yes, effortless.
Keep in visual. We live in a visual society and many people in your audience retain information through visual means. Why then do most presenters continue to drag down their listeners with tons of convoluted data and text? Don't start a presentation by opening the software. Begin by storyboarding the content; physically drawing images on paper. Think visually from the beginning. I know the Al Gore movie, An Inconvenient Truth, was not created on PowerPoint, but the same concept applies—not one slide had bullet points. Not one. Bullet points are not inherently bad and they do make lists easy to follow, but try to break free of the pattern of creating slide after slide of nothing but headlines and bullet points.
---
Geetesh: How important is the non-verbal communication designed within a PowerPoint slide, and what are your thoughts on this subject.
Carmine: Non verbal communication is hugely important but it's often the last thing presenters think about, if at all. All great presenters have extraordinary body language. Here are three things you can do at your very next presentation to stand apart:
Maintain eye contact with the audience. Remember that I spoke of the need to prepare your material? Preparation is important for one main reason—you can deliver the presentation without reading from prepared notes or the slides themselves. Break the room into thirds and address different points to each section of the room.
Maintain an "open posture." A closed posture simply means the speaker places a physical barrier between himself and his listeners. For example, closed posture would include crossed arms, hands in pockets, standing behind a lectern. Everything should be "open—your hands, arms, and body.
Use hand gestures. I once interviewed a professor who studied hand gestures. He said complex gestures (two hands above the waist) reflect complex thinking. Gestures give the listeners confidence in the speaker. Watch bright people like Bill Clinton, Tony Blair, Rudy Giuliani, Colin Powell, John Edwards—they all use hand gestures to emphasize virtually every sentence.
---
Geetesh: Would you like to share some trivia about anything—a funny incident, an unconventional approach to communication, something presentation related, or anything you like.
Carmine: One of the most gratifying moments of my career occurred about a year ago. I was asked to work with the Vice President of a computer company who had to give a presentation to Oracle CEO, Larry Ellison. Ellison was an investor in this man's company but the firm's product had missed some key milestones. Ellison was pissed and my client was in the hot seat. He was understandably nervous. Everything about his body language said, "We blew it. We don't know what happened, and we have no idea how to fix it." This was not the case, however. My client is one of the brightest guys in the business but his body language and confusing presentation failed to instill confidence. In two sessions, we completely improved his body language as well as the way he presented the story behind the problem. Once he gave the presentation, Ellison was satisfied with the explanation and said the product was "in good hands." Fast forward to a few days later. I returned to the company for a follow-up visit and this executive's receptionist greeted me. She said, "I don't know what you did to 'Bill', but he looks and sounds like a leader now. We were losing confidence in his ability to lead the company before you worked with him." Amazing, isn't it? Becoming a better speaker and presenter can leave your customers, employees and investors with confidence in your ability.
---
This is the original page. An AMP (Accelerated Mobile Page) version of this page is also available for those on mobile platforms, at An Interview with Carmine Gallo.