September 20, 2007
Although PowerPoint and other Microsoft Office applications include many info-graphic options, you should look at the new SmartDraw 2008 if you want more business graphic types and possibilities.
---
September 19, 2007
AKVIS Frame Suite 2.5 is a Photoshop compatible plug-in that provides umpteen frames, edge effects, and textures. All these can be customized -- and you can then create your own presets and libraries.
---
September 1, 2007
Johnson Yang is General Manager at NewSoft America Inc., a company engaged in creating imaging, multimedia and Internet-related software.techniques, as well as wireless projection transmitting hardware. Recently, NewSoft unveiled the WMS 100 and WMS 200 wireless projection transmitting services that let you connect your laptop to a projector without wires.
---
August 23, 2007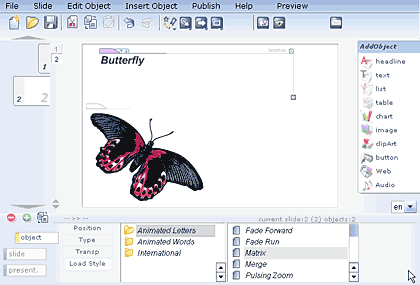 Spresent is no match for PowerPoint's capabilities but it does let you create Flash presentations quite easily -- its own capabilities set it in a product category different from PowerPoint. In this review, we'll explore Spresent, and show you how you can easily create Spresent presentations, and share them.
---
August 22, 2007
You can use any of the audio converters available (and trust me, there are so many of them – just search Google!) to convert your WMA files to WAV. In this tutorial, we are using Switch Plus, a fine audio converting program.
---
August 17, 2007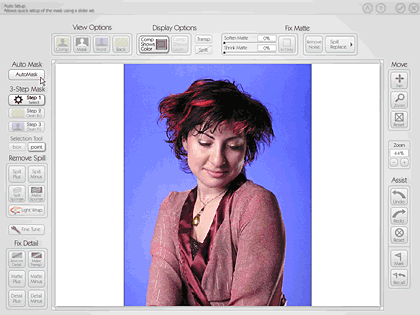 Primatte Chromakey 3, is a Photoshop compatible plug-in which helps create a mask for a solid plane background. Chromakey allows the user to create a mask and replace the background with some other background.
---
August 8, 2007
authorPOINT Lite is a freeware application which converts PowerPoint presentation to Flash while retaining its animations, sound and narrations. The converted presentation can be viewed in any web browser locally, or can be uploaded to authorSTREAM, a free online presentation sharing platform.
---
August 7, 2007
FlashSpring Pro is a PowerPoint add-in which allows you to converts your PowerPoint presentations into Flash SWF movies with all the slide transitions, custom animations, audio and video clips, and inserted Flash SWF files intact.
---
August 3, 2007
Why not use the Apple Remote to advance your PowerPoint and Keynote slides? You can't -- that remote may have the necessary controls but it does not know about animals named PowerPoint and Keynote! Luckily, an enterprising company created a small program to rectify that omission!
---
July 27, 2007

MathType 6 is the newest version of a well known program that allows you to MathType 6create math equations and more within Word, PowerPoint and several other applications.
---
July 26, 2007
SWiSHzone creates a well known range of Flash output programs, and when they released their PowerPoint add-in that could create Flash output from a presentation, I really wanted to take a look at the product. Their PowerPoint add-in product is called SWiSH Presenter.
---
July 26, 2007
Creating a DVD presentation from PowerPoint is something many PowerPoint users want to do -- and it is also one of the areas that is taken care of third-party add-in providers rather than Microsoft. In this review, we look at one such PowerPoint add-in product called Wondershare DVD Presenter.
---
July 24, 2007
Giveaways and More
New Site: AbsolutePPT
Learning PowerPoint
News and Happenings
New Design Collections from Ppted
---
July 17, 2007
Ellen Finkelstein is the author of How To Do Everything with Microsoft Office PowerPoint 2007 and the upcoming PowerPoint for Teachers: Dynamic Presentations and Interactive Classroom Projects. Ellen maintains a Web site that offers PowerPoint tips and a selection of free backgrounds. There, you can sign up for her monthly PowerPoint Tips Newsletter to get free tips, tutorials, and techniques.
---
July 16, 2007
Impatica for PowerPoint takes your PowerPoint presentations, converts them to the Impatica formats that can be as small as 95% of the original file sizes -- and retains most of the PowerPoint formatting. Version 4 of Impatica for PowerPoint adds support for PowerPoint 2007 and Windows Vista. In addition, it adds several other new features.
---