September 14, 2017
When you start creating a new presentation, many users just launch PowerPoint and start creating their slides. Actually, there are three common ways in which you can create slides. Yet, the best way to start creating presentation slides is not from within PowerPoint but by creating an outline in another program. Many purists say that you should not even launch PowerPoint until you have an outline in place.
Learn how you can create outlines for PowerPoint presentations in Notepad.
---
September 13, 2017
Picture the scene…you're trying to listen to the speaker, but their presentation slides are so distracting that your mind wanders. You see people looking at their watches, wondering what's for lunch, and perhaps slipping gently into a slide-induced coma. It doesn't need to be like this. You can use visual aids to bring your message to life and to help you connect with your audience. All it takes is a little preparation and 7 simple steps.
Read more in this post by Steve Campion of Toastmasters.
---
September 13, 2017
Unlike slides which are primarily presented through a display device such as a monitor, TV screen or projector, the Notes and Handout pages in PowerPoint are essentially intended for printing. In this tutorial, we will explore how you can add Headers and Footers to make your printed Notes and Handout pages more professional-looking and useful.
Learn to add Headers and Footers to Notes and Handout pages in PowerPoint 2016 for Windows.
---
September 12, 2017
Lisa Braithwaite discusses her new book, Presenting for Humans: Insights for Speakers on Ditching Perfection and Creating Connection. Alex Leopold from New York-based Interbrand asks if any of us are violating copyright laws? From UK-based Buffalo 7, James Robinson talks about a new e-book, The Ultimate Guide To PowerPoint.
We look at signing into a OneDrive account, various Office 365 subscriptions, and three ways in which you can create new slides in PowerPoint. PowerPoint 2016 users can learn more about Viewing Sections. Finally, do not miss the quotes, press releases, and templates of this week.
Stay informed about updated tutorials and happenings on Indezine.
---
September 12, 2017
Ellen Finkelstein is a PowerPoint MVP (Most Valuable Professional, a Microsoft award), one of only 14 in the United States Her well-known website offers many PowerPoint tips and the PowerPoint Tips Newsletter. She specializes in training speakers and presenters to convert Death by PowerPoint to Life by PowerPoint; communicate clearly and powerfully; and design high-impact, persuasive and professional-looking slides. In this conversation, Ellen discusses her upcoming webinar series, the Outstanding Presentations Workshop 2017.
---
September 12, 2017
An outline in PowerPoint has two meanings, that are related yet different. First, an outline is the structure and storyboard of your presentation—this is what you would typically call a presentation outline. Such outlines are needed for all presentation programs, and also for video editing and playwriting programs. Secondly, an outline of a PowerPoint presentation has another specific meaning. It is all the text content of the presentation that's inserted within any of the text placeholders.
Learn how you can use the outline to create a better presentation in any version of PowerPoint.
---
September 11, 2017
Carmen Simon is a cognitive neuroscientist and founder of Memzy, a company that uses brain science to the world's most visible brands create memorable messages. She is also a best-selling author and leading expert on using memory to influence decision-making. Her most recent book, Impossible to Ignore: Create Memorable Content to Influence Decisions, has won the acclaim of publications such as Inc.com, Forbes, and Fast Company, and has been selected as one of the top books on persuasion. Carmen speaks frequently to corporate, academic and government audiences on neuroscience research findings related to creating memorable messages based on how the brain works. She holds doctorates in both instructional technology and cognitive psychology. In this conversation, Carmen talks about her sessions at the upcoming Presentation Summit 2017 in Clearwater Beach, FL.
---
September 11, 2017
The terms Header and Footer typically come from word processing programs; these denote repeated elements that show at the top and bottom of every page. Headers and Footers work similarly on PowerPoint slides: the Footer is a line of text that usually appears at the bottom of a slide. Typically, the Footer area includes three placeholders: Date, Footer, and Slide number. By default, the footer with one or more of these three placeholders appears on every slide in a presentation, but you can change that as required.
Learn how to add Headers and Footers to slides in PowerPoint 2016 for Windows.
---
September 8, 2017
James Robinson is the Marketing Manager for Buffalo 7, the UK's leading PowerPoint presentation design agency. Buffalo 7 works with names including UEFA Champions League, Dell, Red Bull, Facebook and the BBC. In this conversation, James talks about Buffalo 7's new e-book, The Ultimate Guide To PowerPoint.
---
September 8, 2017
This question has been asked so often: how many ways are there to create new slides. There may be many ways, but broadly speaking all these techniques fall into three separate ways. You can use either one of these ways, or all three! Here are the three ways: Add new slides, Import and reuse existing slides, and Import a structured outline.
Learn more about creating new slides.
---
September 7, 2017
"I pulled it from Google images so it's okay." If I had a dollar for every time I heard someone developing a presentation, proposal or template say this I wouldn't need a paycheck. I equate finding and using images similar to passing one's driving test. If you were never taught the rules of the road, you're naturally going to use your best judgment based on your experience and knowledge at hand. Alex Leopold shares a chart that details how to ascertain whether or not you are infringing on someone else's intellectual property (IP).
---
September 7, 2017
If you have a presentation with a large Section, containing many slides, then you may find that this one Section makes it difficult to see all the other remaining Sections. This is because these many slides cover up so much screen real estate making it difficult for you to see other stuff, such as slides in other Sections. And if you want to drag a slide from one Section to another, you may be at a loss to comprehend what you will end up with.
Viewing Sections with many slides requires a different approach in PowerPoint 2016.
---
September 6, 2017
Dave Paradi helps corporate professionals use PowerPoint to visually communicate the messages in their data so they don't overwhelm and confuse executives. He is one of sixteen people in North America recognized by Microsoft with the PowerPoint Most Valuable Professional Award for his contributions to the PowerPoint community. He has authored nine books on effective PowerPoint presentations and has written his newsletter every two weeks for over fifteen years. In this conversation, Dave discusses his new The Annoying PowerPoint Survey 2017 survey.
---
September 6, 2017
Lisa Braithwaite is a public speaking coach, trainer and author, mentoring entrepreneurs and professionals to create memorable and engaging presentations in order to build their businesses through speaking. She has a B.A. in Theater from Pomona College and an M.A. in Education from UCSB, and has been interviewed for the Wall Street Journal, the Los Angeles Times, the Chicago Tribune, Men's Health Magazine, the Santa Barbara News-Press, Toastmaster Magazine, and on Inc.com. She guides her clients to ditch perfection and create connection through individual coaching, corporate training, virtual workshops, and her annual Shake Up Your Speaking retreat. In this conversation, Lisa talks about her new book, Presenting for Humans: Insights for Speakers on Ditching Perfection and Creating Connection.
---
September 6, 2017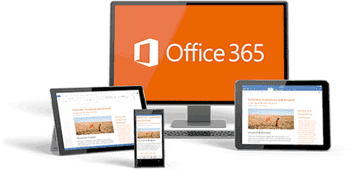 Office 365 is Microsoft's cloud-based subscription offering that lets you run always upgraded and updated Office applications on the desktop, on tablets and smartphones – and also online. This Office 365 product is different from the perpetual versions of Office. Additionally, some plans also include extra niceties like a subscription to the Skype for Business web conferencing tool, hosted email via Microsoft's Exchange Online, online storage through OneDrive, plus phone talk time via Skype.
Learn about the different Office 365 subscriptions.
---
September 5, 2017
We first examine working with fonts in PowerPoint. We explore how there are two types of PowerPoint users: those who never change fonts, and those who always do! Did you know that it is possible to export every single slide in your PowerPoint presentation as a separate presentation? And really--you need nothing other than PowerPoint. We show you how. We also look at slide dimension size differences in different versions of PowerPoint. We then look at the differences between Office 2016 and Office 365. Plus, did you know that you can get Microsoft Office for free? Or even at a very low rate? For users of PowerPoint Online, the web version of PowerPoint, we explore the interface which is very similar to the interface in desktop versions of PowerPoint. We also look at Reordering Sections in PowerPoint 2016 for Windows. Finally, do not miss the quotes, press releases, and templates of this week.
Stay informed about updated tutorials and happenings on Indezine.
---