August 21, 2013
For almost every search term that you input on Bing's Image Search, you get results with tons of pictures scoured from every nook and corner of the internet. With so many choices, finding that perfect picture can become a challenge -- especially when you need a picture that's more akin to an illustration rather than a camera-clicked photograph. Similarly you may want to explore pictures that look like clipart. So in this tutorial, we will explore Bing's Type filter that lets you narrow down your search results to yield exactly the "type" of pictures you need.
Learn how to search images in Bing by using the built in type filters.
---
August 21, 2013
You can easily duplicate stuff in PowerPoint -- you can just select a shape and press the Command+D key combination. However, such duplication copies everything: the shape, and its format attributes, such as all fills, outlines, and effects. Sometimes you may only want to use those fill, outline, and effect attributes for other shapes you create. Fortunately, the Format Painter command can rescue you from this monotonous task very easily. So what does the Format Painter command do?
Learn how to use the Format Painter effectively in PowerPoint 2013.
---
August 20, 2013
David Klein is vice president of product management at Brainshark, Inc., a leading sales enablement platform provider. Brainshark's offerings include Brainshark On-Demand -- for turning static content such as PowerPoint documents into online and mobile video presentations - and SlideShark, the award-winning app for showing PowerPoints on the iPad and iPhone. Thousands of companies use Brainshark to improve the reach and results of their business communications, while dramatically reducing costs. In this conversation, David discusses Brainshark's VideoSync feature, a new addition -- launched today -- to Brainshark On-Demand.
---
August 20, 2013
Sometimes while working in PowerPoint it may so happen that you know a particular word is misspelled, but PowerPoint's spell check doesn't seem to think so! This may be because your word is in all CAPS, or it may contain some numbers -- in these cases, and in number of other instances, PowerPoint just ignores any misspellings. Fortunately, you can turn off the options that instruct PowerPoint to ignore these misspellings. Remember though that changing these options will apply to all Microsoft Office applications you have installed on your computer -- including Word, Excel, and Outlook.
Learn how to set spell check options in PowerPoint 2011 for Mac.
---
August 20, 2013
In this issue, we bring you some amazing arrow circle graphics -- these stand apart because most of these look hand drawn, and you can use them if you know how to copy and paste. We did not use any graphic files -- all you need is within existing PowerPoint slides -- just copy them and paste on your own slides! Kieran Chadha of BrightCarbon explains how you can structure and create a presentation from scratch in an exclusive interview. And then we go into a few hidden nooks and corners of PowerPoint so that you can re-discover Kiosk mode, a whole new way of viewing slides that's off the beaten path. We also look at Office Mobile on iPhones -- about how you can get started using this app. PowerPoint 2013 for Windows users can learn about flipping and changing shapes. PowerPoint 2011 for Mac users can continue exploring how to work with custom spelling dictionaries. And finally, do not miss the new discussions and templates of this week!
Read Indezine's PowerPoint and Presenting News.
---
August 19, 2013
We already showed you how you can navigate within a PowerPoint presentation within Office Mobile for iOS -- now let us explore how you can open and save presentations saved in your SkyDrive account. When you sign in using your Office 365 account credentials, you immediately get access to all the files stored on the cloud for that particular Office 365 account. However, you may have a different SkyDrive account too where you share or store your PowerPoint files. To access any of these files, you need to add what Office Mobile calls a "place". A place is allocation, typically another SkyDrive account that Office Mobile can connect to.
Learn how to add a SkyDrive account in Office Mobile.
---
August 19, 2013
There are so many different types of shapes that PowerPoint provides you with, and you can format these shapes by resizing, rotating, flipping, etc. Other than these basic formatting tasks, you must explore the special yellow square handles. Shapes in PowerPoint generally when selected, display eight resizing handles and a single rotation handle. In addition, some shapes also have one or more yellow square handles -- these yellow square handles enables you to change some facets of the selected shape, or in some cases you can change the entire shape.
Learn about the special yellow square handles, and how they allow you to manipulate shapes in PowerPoint 2013.
---
August 16, 2013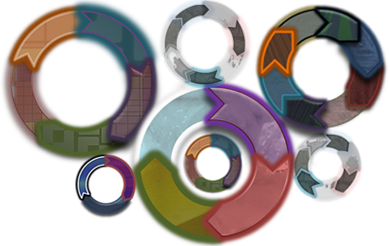 Circles created with continuously curved arrows, also known as arrow circles can be used to show processes, continuous sequences, and cycle diagrams. We bring you such arrow circles with 3, 4, 5, 6, 7, and 8 arrow segments each. Plus, you get variations that let you choose from thinner or thicker segments. You get these segments in a regular geometric style. Additionally, we have also included an organic style so that your segments appear hand-drawn! Don't the segments shown above look hand-drawn? Yes, you get six such arrow circles as part of our Arrow Circles collection. There are four variants of each Arrow Circle, so, you end up with 24 new, unique Arrow Circles that you can use straight away in your slides!
Download and use these arrow circles in your slides.
---
August 16, 2013
Each logged-in user for Mac OS X is allotted a separate default custom dictionary in Office 2011. Not surprisingly, this is a file called Custom Dictionary located within each user's Library folder on the Mac. In addition, as a user you can create and use many more custom dictionaries. Over time, your custom dictionaries may become a very useful resource, especially since any custom dictionary loaded is used by all the Office applications such as Word, Excel, and PowerPoint. Let us assume that you have added several words to a custom dictionary over the last few years, and now you need to move to a new computer. Or, probably you have a colleague who is going to help you with some documentation, and you obviously want him or her to use your custom dictionary.
Learn how to share custom dictionaries for use in PowerPoint 2011 for Mac.
---
August 15, 2013
Some shapes are so similar -- and you may work with one shape and then realize that you used the wrong one. Typically, users create a 5 pointed star when they need a start with 4 or 8 points -- and that was just one example! Let's explore another scenario: you worked on a shape and applied effects, animations, and fills to this shape. Later you realize that you used a wrong shape, or perhaps the client wants you to change the shape but retain all the effects, animations, and fills! You may want to delete and start over again, and that is a long drawn process -- but you don't have to do that for you can change any existing shape to another by using these steps in PowerPoint 2013.
Learn how to change one shape to another in PowerPoint 2013.
---
August 14, 2013
Kiosk mode is a subset of Slide Show mode in PowerPoint - it's been available since a very long time, and in past versions some options would behave differently than they do now – some users will no doubt complain that Kiosk mode was more useable before. So what are the options that are missing now? And is there any way to get them back? Before we explore these options, let's answer a simple question – why do you need Kiosk mode?
Learn about Kiosk mode that lets you create unattended presentations in PowerPoint.
---
August 14, 2013
Any custom dictionary that you create or edit within Word 2011 for Mac is used by all the other Office applications installed on your Mac. Also, if any changes are made to the list of words within a custom dictionary, it will be reflected within the proofing tools of all Office applications. You may add new dictionaries or edit them -- but by default, each logged-in user has a default custom dictionary -- not surprisingly, this is a file called Custom Dictionary.
Learn how to disable and enable custom dictionaries in PowerPoint 2011 for Mac.
---
August 13, 2013
In this issue, we begin with an exclusive interview with Jeremey Donovan -- read about his new book on winning a Toastmasters Championship -- of course, the skills he discusses are not limited to Toastmasters sessions alone -- they work in all presenting scenarios! And then do you want to search for high resolution pictures of flowers that are all orange in color? It's easy to filter your Bing Image searches this way -- we show you how. We also bring you three more amazing, handwritten fonts. Also learn how you can sign into Office Mobile on an iPhone or another iOS device. PowerPoint 2013 for Windows users can learn about rotating and resizing shapes -- and about the new Smarter Guides. PowerPoint 2011 for Mac users can explore how to work with custom spelling dictionaries. And finally, do not miss the new discussions and templates of this week!
Read Indezine's PowerPoint and Presenting News.
---
August 13, 2013
Your shape is perfect, it's got the right color and it works well with your slide content -- yet there's something that could be better? There are times when most slide designers think exactly the same thoughts! And the easiest task you can do to your shape is to flip it. There are other options -- and some of these options depend upon the shape in question. Let's use the Teardrop shape as an example -- you can resize and rotate this Teardrop shape -- however, even with rotate you are just turning the shape in another direction without making any changes to the shape's structure. The Flip option, on the other hand lets you mirror your shape in another direction to create a reverse image. Follow these steps to apply the Flip option.
Learn how to flip shapes in PowerPoint 2013.
---
August 12, 2013
OK -- you finally bought an Office 365 subscription or used an existing one -- installed Office Mobile and signed in! It's now time to get started with this bunch of 3 programs -- yes, the programs are Word, Excel, and PowerPoint. When you launch Office Mobile for the first time, you see three sample files -- one each for a Word document, an Excel spreadsheet, and a PowerPoint presentation?
Get started with using Office Mobile on your iPhone or other iOS device.
---
August 12, 2013
PowerPoint provides a default spelling dictionary which contains a list of all common words. But, when you are working on a particular project that uses uncommon words not found in everyday language, PowerPoint may mark some words as misspelled, even though they are correct. To solve this issue, you could edit a custom dictionary or load a ready-made 3rd party dictionary within PowerPoint 2011. Additionally, you can also create your own dictionary that includes a set of words for a particular project. So, if you need to do a legal presentation for a client once a year, you could create a separate dictionary for just this one project.
Learn how create and edit custom dictionaries in Word, so that you can use them in PowerPoint 2011 for Mac.
---