Introduction
About PocketMac Remote
Download and Installation
Using PocketMac Remote
Pricing and Support
Conclusion
---
Introduction
It's almost a norm to advance presentation slides with a remote these days, especially if you are at a larger venue and want more control over the play of your presentation. Most projectors do come with remotes as well that work with PowerPoint. And you can always buy one of those fancy remotes that include a laser pointer as well. But what about the lightweight and small remote that was bundled with your Mac? Why not use that to advance your PowerPoint and Keynote slides? You can't, because that remote may have the necessary controls but it does not know about anything known as PowerPoint and Keynote! Luckily, an enterprising company created a small program to rectify that omission!
---
About PocketMac Remote
PocketMac Remote is from Information Appliance Associates, a company based in California, USA. You can learn more about their products from their site.
PocketMac Remote uses the Play/Pause, Volume, and Forward/Back buttons on the Apple Remote to control your presentations.
My contact at PocketMac for this review was Tim Goggin. Thank you, Tim.
---
Download and Installation
There's no trial version available. The full product however costs only $9.95.
Once you buy the product, you can download it immediately. The installation part is easy. You can see the installation interface in Figure 1, below.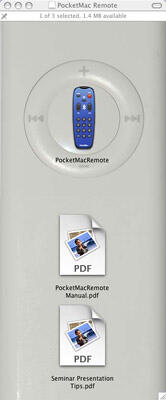 Figure 1: Installing PocketMac Remote
Just drag the top icon to your Applications folder.
---
Using PocketMac Remote
To use PocketMac, follow these steps:
Launch PocketMac Remote from the Applications folder.
You'll see the PocketMac Remote icon both in the dock, and in the menu bar. You'll need to click the icon on the menu bar and choose whether you want to use the Apple Remote with PowerPoint or Keynote, as shown in Figure 2, below.

Figure 2: Choose between Keynote and PowerPoint
Thereafter launch the program you chose, or just click the Open Presentation option in the Pocket Remote menu, as shown in Figure 2, above.
Play your presentation, and you'll find that you can use your Apple Remote to control the navigation of the slides.
---
Pricing and Support
PocketMac Remote costs $9.95
Support options include an online knowledge base, phone support, and e-mail support.
---
Conclusion
PocketMac Remote is an amazing application, and an example of a simple idea very well implemented. We just wished they found a way to make the Apple Remote work the same way in dual boot Macs that run both Windows and OS X!
At this price point, the cost to performance ratio makes this product a no-brainer purchase.
---
This is the original page. An AMP (Accelerated Mobile Page) version of this page is also available for those on mobile platforms, at PocketMac Remote.