November 17, 2007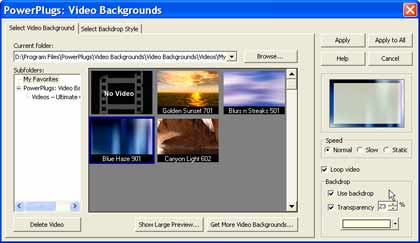 Presentations with pizzazz require a lot more than slides with text content. To make the slides look relevant, interesting, and coordinated is almost as important as the content these days -- but probably something that's even more important is that your presentations need to look different and stand out in the crowd. The addition of visual content and rich media can help, and PowerPlugs: Ultimate Combo 2007, the product I am reviewing is a one stop solution to resolving that problem.
---
November 14, 2007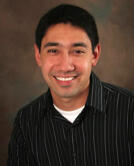 No one is born a great speaker. Period. Granted, people are blessed with certain strengths in the area of public speaking, but every great speaker has worked hard to become the influential person or legacy that we see.
Scott Schwertly explains more here.
---
November 16, 2007
This page shows some pictures of the just concluded PowerPoint Live event at New Orleans.
---
November 15, 2007
When Freepath cost $249, we called it a steal -- now that we are partnering with the Freepath folks and giving it away free, we'll ask you to run and get this before we change our mind!
Download Freepath 1.0 for Free.
---
November 15, 2007
This tutorial is a variation of the spirograph tutorial that I did earlier. In this tutorial, you'll learn to create fascinating spirograph style graphics with pictures rather than shapes.
---
November 14, 2007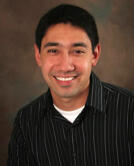 Keep your message concise. Keep it clear. Keep it simple. And most importantly, be yourself. People will judge you. That is the fact of life. However, let them judge you for who you really are – not a poser, but an authentic voice.
Scott Schwertly explains more here.
---
November 7, 2007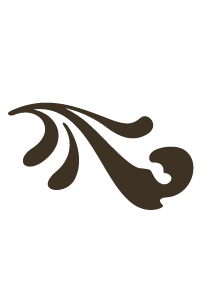 Adobe Photoshop is no specialized application to create symmetrical patterns unless you want to slave hours creating repetitive layers, and aligning them carefully with the skill of a mathematician. Artlandia SymmetryShop 2 is a cool Photoshop plug-in that creates symmetrical patterns in no time.
---
November 6, 2007

While it is possible to create spirographs in any version of PowerPoint, it is much easier and quicker to do so in PowerPoint 2007, thanks to the new Selection and Visibility task pane and the non-modal dialog boxes.
---
November 5, 2007

It's easy to create text with bites in PowerPoint, although it is a little time consuming. That's not a big issue since you'll want to use this effect sparingly as a design style for some titles or text boxes only.
---
October 26, 2007
This review is about two addins for ALLCapture: PanelStudio and SkinStudio. ALLCapture is a program that allows you to record the entire screen, or just parts of it, and create a tutorial or movie out of it. Both PanelStudio and SkinStudio are included in the Enterprise version of ALLCapture.
---
October 12, 2007
Signage24 is a hosting service through which you can distribute your presentations as digital signage worldwide -- almost like an automated billboard. This is a huge thing -- and this sort of service can change the way digital signage is pushed to multiple output streams.
---
October 6, 2007
Katherine Murray is the author of more than 50 books on technology and writes articles for various Microsoft sites. She also writes and edits the Microsoft Mindshare newsletter and contributes articles to CNET's TechRepublic. In addition to books and articles, Katherine publishes BlogOffice, a blog sharing tips and ideas related to various versions of Microsoft Office.
---
October 3, 2007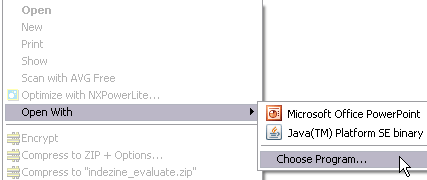 You are sure you have PowerPoint installed on your system, and now your PowerPoint files don't open in PowerPoint when you double-click them? Or maybe they open in some other application? This might indicate that your PowerPoint file associations have gone wrong.
---
October 1, 2007
James Gordon has been a Microsoft MVP (Most Valuable Professional) since 2000 and can be found in the Microsoft Macintosh newsgroups for Excel, PowerPoint and Word. PowerPoint users will recognize Jim as the creator of InsertPicture add-in for Macintosh. At SUNY University at Buffalo, Jim works helping faculty, staff and instructors with a wide array of technologies for higher education.
---
October 1, 2007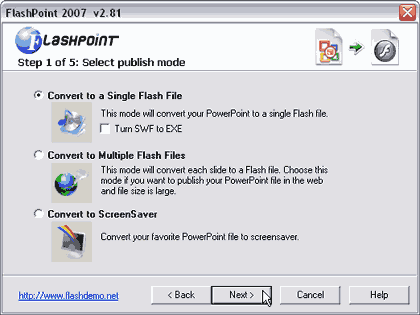 There used to be a time when PowerPoint to Flash converters were so expensive, and few are far in between. Some of those products were in fact hosted on the servers of the program vendors. Nowadays, these products work on your desktop. FlashPoint is one such application -- and in this review I am going to see how the application performs using our new PowerPoint to Flash benchmark presentation.
---