February 13, 2017
SmartArt is a diagramming component first introduced within PowerPoint 2007 for Windows, and now available on most platforms where PowerPoint is available including Windows, Mac, Android, iOS, etc. Among other niceties, SmartArt allows you to replace boring bullet points with info-graphic content using text within shapes.
Learn more about working with SmartArt within PowerPoint so that you can quickly create more effective diagrams.
---
February 10, 2017
There are only two certainties in life; death and taxes - so said, Benjamin Franklin. While the rest of our lives can't be so easily predicted, if you're alive in the 21st century it's almost also a certainty that you've had to (or will have to) use PowerPoint to present something. Indeed PowerPoint has become so ubiquitous as a medium for communicating ideas, stories, and plans, that there's no sign of it going away anytime soon either. In fact, for those that have learned to exercise the strengths of PowerPoint, it can become a flexible and powerful tool for educating and persuading audiences of all kinds-on all manners of subject.
Read more about roadmaps in PowerPoint in this post by Jon Heathcote.
---
February 9, 2017
Drawing with the Scribble line tool is almost the same as drawing with the Freeform line tool, but there is one vital difference. You don't need to double click to create an end point for your line with the Scribble tool. Also, once you start drawing with the Scribble tool, you can't release the mouse button until you finish drawing. So, you can't draw a perfect, straight line as you would do with the Freeform line tool. The point where you release the mouse button will be the end point for the drawing.
Learn how to draw with the Scribble line tool in PowerPoint 2016.
---
February 8, 2017
The Freeform drawing tool lets you draw anything almost like drawing with a pencil on a piece of paper. Also, you can create straight lines; this dual capability of the Freeform tool provides you with more creative freedom. Significantly, it takes a while to master the Freeform tool. Practice alone will make your attempts perfect!
Learn how to draw with the Freeform line tool in PowerPoint 2016.
---
February 8, 2017
Some applications do identify font types by placing icons next to a particular font in a listing. Such behavior is an exception rather than a norm, and many times you may not know which font type you are choosing. And by font type, we mean the various font file formats such as OpenType, TrueType, etc. that are recognized by Microsoft Windows.
Learn how to identify font types in Windows 8.
---
February 7, 2017
We feature an amazing tutorial from Duarte that looks at working with grids. We then explore alternative ways to work with fonts that are not available on all systems. In the Tutorials section, PowerPoint 2016 users can learn about Shape Effects, such as 3-D Rotation Options and 3-D Depth. We also explore Super Themes, Duplicating Slides, and PowerPoint Program Options. Finally, do not miss the new press releases and templates of this week.
Read Indezine's PowerPoint and Presenting News.
---
February 7, 2017
Drawing a simple straight, point to point line in PowerPoint 2016 is a piece of cake. Now, in this tutorial, we'll move on further to show you how you can draw a curved line. With curved lines, you can create both open and closed shapes.
Learn how to draw a curved line in PowerPoint 2016.
---
February 6, 2017
Beyond being just a program to create slides, PowerPoint is also a great illustration program with tools and options that rival top end graphic programs. Yes, you have learned how you can use readymade shapes in PowerPoint to place rectangles, circles, and hundreds of other shapes. However, PowerPoint also has the ability to create shapes from scratch by drawing them. These drawing tools are essentially the Line shapes that can be found within the Shapes gallery. This introductory tutorial shows you how to draw a simple line on the slide.
Learn how to draw a line in PowerPoint 2016.
---
February 3, 2017
Unknown to many users, there are lesser known options within PowerPoint that can change your workflow, and make you work faster. Most of these preferences are to be found within the PowerPoint Options dialog box.
Learn about PowerPoint 2016's Program Options that you can access from Backstage view.
---
February 2, 2017
Why would anyone want to duplicate slides? There are many reasons to do so; you may want to such as to create another slide that is similar to what you already have. You may also want to use the same slide twice, or create a slightly edited chart than what you already have on an existing slide; duplicating and editing is easier than redoing it again.
Learn how to duplicate slides in PowerPoint 2016.
---
February 1, 2017
Create a presentation in PowerPoint 2016, using some of the built-in Themes, and you will have more options to change the look of your presentation slides slightly. By "slightly," we mean that you don't have to change to another Theme altogether, and yet you can make small changes in colors or design elements that still look very similar to your existing Theme. These small changes are "variants," and a Theme that includes such variants is called a "SuperTheme."
Explore Super Themes in PowerPoint 2016.
---
February 1, 2017
Duarte put up some amazing tutorial videos recently that talk about some key presentation design principles. In my opinion, anyone who creates or works with presentations can benefit immensely from the foundation principles explained in these videos. In today's post, we will explore one such video that looks at how you can set up an effective Grid system to work with your slides in PowerPoint.
---
January 31, 2017
We begin by exploring Rooster Shapes, in time for the Chinese New Year--and you can also use these Rooster shapes for other reasons. Ethos3, a leading presentation design house shares a case study about making financial slides. And Kurt Dupont talks about an amazing new option that lets you add text to speech features in PowerPoint! In the Tutorials section, PowerPoint 2016 users can learn about Shape Effects, such as Bevels, 3-D Format, and 3-D Rotation. We also explore Morph, an amazing PowerPoint transition. Finally, do not miss the new press releases and templates of this week.
Read Indezine's PowerPoint and Presenting News.
---
January 31, 2017
Depth, as a parameter for 3-D objects, plays a very important role. In simple terms, Depth is the distance from the highest to the lowest, and typically has a value that's larger than zero. Even though you rotate a shape that has a Depth of zero, you won't see any optimum results. So, you can first rotate your object, but you must add Depth soon after.
Learn how to apply 3-D depth to selected shapes in PowerPoint 2016.
---
January 30, 2017
PowerPoint's 3-D options allow you to rotate shapes or add beveled edges. And these 3-D options are surprisingly powerful. In fact, some of these options are good enough to be compared to a basic 3-D program! While you can always apply a 3-D Rotation preset effect to a shape, you can actually rotate your shape in 3-D space on your own by altering the X, Y, and Z position coordinates.
Explore 3-D Rotation Format options available for shapes in PowerPoint 2016 for Windows.
---
January 27, 2017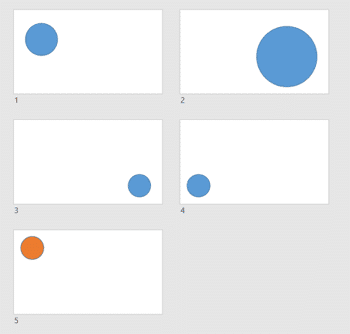 Every new release of PowerPoint brings forth new features, and some of these features have made people sit up and take notice. The most popular of these features has been the Morph transition effect. So, what exactly is Morph? Morph is a transition effect that you will find on the Transitions tab of the Ribbon. When you use the Morph transition, you get a total of three options in the Effect Options drop-down gallery.
Get started with the Morph transition effect in PowerPoint.
---