March 30, 2007
PowerPoint and other Microsoft Office programs like Word and Excel allow you to insert all sorts of media files including high resolution pictures, animated clips, and other formats. The result is that presentations, documents, and spreadsheets gets bloated.
NXPowerLite, the product I am reviewing, optimizes the size of these files without compromising their content or quality -- thus making them easier store and share.
---
March 29, 2007
Kathy Villella is cofounder of PowerFrameworks, and is primarily responsible for the site content. She has provided presentation development support for 20 years. Kathy supported client engagement teams and supervised and trained team support at McKinsey & Company, Inc., for nearly 15 years and has provided freelance production support to world-class firms for over 13 years.
---
March 8, 2007
E-learning has made it possible for users to learn online at their own pace -- and tutorial movies can make this process even more interesting and real. The best way to create these tutorials is by capturing your onscreen activities with a specialized program like ALLCapture that not only allows you to create tutorials this way, but also product presentations, demos, software simulations, etc.
---
March 3, 2007
Most of us would not want to delete anything -- so how can we do something so that the same files take less space?
PackITSuite is the product from I-Logik which helps reduce the size of stored file data without deleting or archiving them.
---
March 1, 2007
Giveaways and More
Learning PowerPoint
Imaptica Showmate Happiness
News and Happenings
---
March 1, 2007
Here's a quick walkthrough of the PowerPoint 2007 interface.
---
February 27, 2007
Vikas Joshi known for his groundbreaking work in the online learning industry, product innovations, and offshore outsourcing models. Under his guidance and leadership, the Harbinger group has built innovative software products for the global marketplace. In this interview, he discusses Raptivity, their e-learning content creation tool.
---
February 26, 2007
Here's a quick walkthrough of the PowerPoint 2003 interface -- PowerPoint 2002 (XP) looks almost the same.
---
February 26, 2007
Capturing on screen activity to create a movie is so much easier these days with more powerful computers and software -- and it is also a more helpful way of explaining how a task can be done. Such a concept works great if you want to create tutorial movies, and TechSmith's Camtasia Studio is most certainly among the best products for this type of work.
---
February 15, 2007
Mike Soucie heads Electric Rain, creators of the upcoming StandOut presentation program. In this interview, Mike explains the concept and workflow within StandOut, and discusses Flypaper, the dashboard within StandOut.
---
February 15, 2007
Learn how to insert some clip art in a PowerPoint presentation.
---
February 12, 2007

Many of us find it easy to share photos online, but as far as PowerPoint files go, the more common option is to email the PowerPoint as an attachment. However, PowerPoint files can be huge and can quickly fill up inboxes and mail accounts.
The product that I am reviewing today offers a solution -- PPTshare Desktop Slide Library does more than allowing you to share your presentations, it also allows you to manage your presentations at the slide level, and create new presentations from those slides without opening PowerPoint.
---
February 10, 2007
Learn how to insert a movie clip in a PowerPoint presentation.
---
February 7, 2007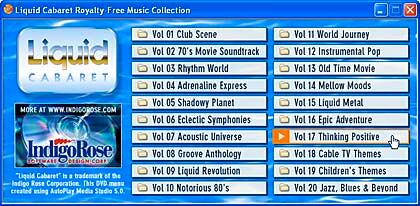 PowerPoint presentations can be informative, and a great business asset -- but don't most of them look the same? And they do sound the same as well because the only sound you probably hear is the presenter speaking.
Our product for review today is Liquid Cabaret, an amazing collection of music created specifically for use in PowerPoint presentations.
---
Febraury 6, 2007
One of the inherent advantages of e-learning is interactivity -- but creating interactive content requires oodles of creativity -- it can also be plain challenging and difficult. And choosing an application to give shape to that creativity is a difficult choice to make.
Raptivity, one of the well known e-learning creating applications provides a plethora of options and possibilities -- in this review, we'll explore Raptivity's interface and capabilities.
---