These are some reviews on Indezine:
AbleStock
Animation Factory
The Big Box of Art
Professor Franklin's Instant Photo Effects
Franklin's Photo Effects with PowerPoint
Free Icon Sites
Free Images and Textures
GraphicsDesk
Photo-Objects Volume I and II
Photo-Objects Volume III
Photo-Objects and PowerPoint
PresentationPro PowerDESIGNS
RoyaltyFreeMusic.com
AbsolutVision
PowerPoint Backgrounds with Hemera's Big Box of Art
Hemera Image Express
PhotoSpin Presenter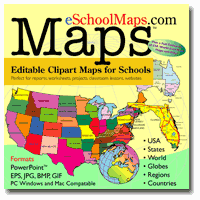 eSchoolMaps - If you are a PowerPoint creator such as a designer, teacher, or someone who creates PowerPoints in the office, you know that getting a good quality map into PowerPoint is not the easiest of things you can do. That's the reason I was so happy to see a collection of maps that were actually PowerPoint presentations. Let us explore more.
Back
---
General Stuff
Hassle Free Clip Art provides several free to use graphics.
Clipart Panda has hundreds of clipart.
Classroom Clipart has very good quality clipart that's likely to be useful for school projects.
Canon's Creative Park site contains free world clip arts by illustrators around the world.
---
Historic
ClipArt ETC has some amazing educational clip art that has an old world look.
Phillip Martin Clip Art has a few Egyptian designs.
---
Medical
The Anatomists is a site that traces the history of anatomy.
---
Office Online Clip Art (previously called Design Gallery Live)
Office Online Clip Art Alternatives
Office Online Clip Art is no longer available, but this is a description of what it used to be: Imagine a repository of clip art, photos and sounds, that is updated every month with design reflected by the latest nuances and trends. This collection is available to millions of users free of cost. There's more; this service comes to you from none other than Microsoft. The searches are efficient and everything is royalty free. Does it sound too good to be true? Well, it is definitely good and true. It's called Office Online Clip Art. To qualify for this service, you need to be using some Microsoft software which uses Microsoft's Clip Art Gallery or Organizer components. This includes almost all of Microsoft Office applications as well as Microsoft Works.
---
Free Maps
Quick Maps of the World offers a comprehensive array of maps from all over the world - certain conditions apply for their usage.
d-maps.com has free maps of most countries of the world.
Vectorportal is huge database of free vector files including maps, offered under Creative Commons Attribution License.
---
This is the original page. An AMP (Accelerated Mobile Page) version of this page is also available for those on mobile platforms, at Clip Media.