Picture Power
About PhotoSpin
PhotoSpin Content
Register and Login
Searches And Lightboxes
Downloading from LightBoxes
Pricing & Support
In Conclusion
---
Picture Power
PowerPoint users generally require more visual content than users of other applications. It's easy to click your own images - but often they don't look too profesional or are not relevant. For instance how could you photograph waves in the sea if you live nowhere close to the coast. Even if you did live near the sea, you might not be able to capture the sunset over the horizon exactly as you require.
You can always buy images from stock photo agencies - but you'll end up paying at least US$50 for a high resolution image that would have to be downsized and converted to a lower resolution before you get it inside PowerPoint. Would it not be nice if you could download unlimited images at screen resolution for a reasonable subscription charge? That's exactly what PhotoSpin's Presenter subscription offers - you can download unlimited images for US$99 a year.
You might want to take a look at the PhotoSpin site before we discuss further.
Back
---
About PhotoSpin
PhotoSpin is a group of creative professionals with backgrounds in photography, graphic design, advertising, and film. Based in southern California, United States, PhotoSpin was founded in 1996 to allow access to visual content at an affordable price.
My contact at PhotoSpin for this review was Christine Sutherland, whom I wish to thank for the coordination.
Back
---
PhotoSpin Content
PhotoSpin provides several types of content including:
High resolution images at 300, 150 and 72 dpi
Screen resolution images of 640 x 480 pixels for PowerPoint use
Illustrations
TrueType and System fonts
Audio and video clips
This review covers their Presenter subscription which is limited to only screen resolution images of 640 x 480 pixels. A monthly subscription allows you to download only 25 images but the annual subscription is more generous and allows unlimited downloads.
The Presenter subscription provides you a choice of nearly 10,000 images and under 3,000 illustrations as of now (August 2004).
Back
---
Register and Login
Registration involves becoming a unique member at PhotoSpin.com - this is a one-time process - you need to provide basic information like name, email address, password, country, etc. Thereafter, you can pay for your subscription through an online secure server.
Thereafter you can always log-in to change your profile or password - or to search and download images.
Back
---
Searches And Lightboxes
Searches are through keywords or combinations of keywords. Results are displayed as thumbnail pages (see screenshot below). For my example, I searched using the keyword 'underwater' - results included 9 images.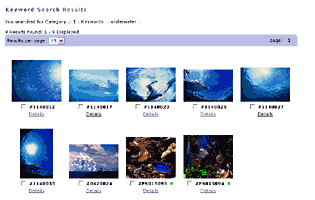 Each image has a check box under it along with the name (rather number) of the image. There's also a link called "Details" that works two ways. Hover the cursor over it and it shows a nice text balloon with detailed info (see screenshot) - the same info with actual download links is available if you click the "Details" link.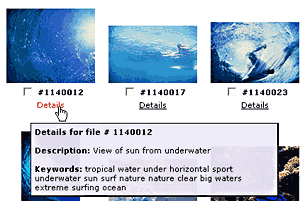 I liked all the images so I just clicked the "Check All" option below the search results. In effect this selects all images on the page. Following that, I clicked the "Save Checked to Lightbox" option - this allows me to save all the selected images in a new or existing lightbox. You can now log off with the assurance that all your chosen images are safe inside lightboxes that will allow you to view and download now or later. By default, all lightboxes are saved for until a year from the date of their creation.
Back
---
Downloading from LightBoxes
You can access your lightboxes whenever you log-in into your membership at PhotoSpin. Click any thumbnail to open a small window that shows you a larger watermarked preview of the image. The 'Download' button allows you to download the image.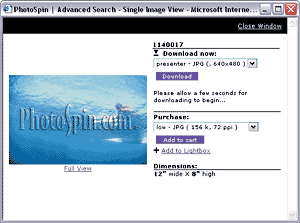 Unfortunately, you cannot download all the files in your lightbox at one go - some stock agencies allow you to download a zipped file that contains your entire lightbox.
Back
---
Pricing & Support
Annual Presenter subscriptions are currently (August 2004) priced at US$99 for 12 months - and US$9.95 for a month. The monthly subscription allows download of only 25 images while the annual subscription allows download of unlimited images. All images are 640 x 480 pixels in 72 dpi screen resolution.
Single images at higher resolutions can be purchased for additional payment.
Support options include a comprehensive FAQ. Further support is through email.
Back
---
In Conclusion
I love the quality and composition of the images available at PhotoSpin - even the range of images and the search options are first rate. It's just that PhotoSpin should upgrade all images to 800 x 600 pixels since 640 x 480 is no longer even adequate for high quality PowerPoint use. You can forget about using any of the images as backgrounds. Only the landscape oriented images are 640 x 480 pixels - the portrait images provide a resolution of 323 x 480 pixels!
I do agree that the cost is very reasonable and I can say again that the images themselves are very professional in composition and other photographic niceties.
Back
This is the original page. An AMP (Accelerated Mobile Page) version of this page is also available for those on mobile platforms, at PhotoSpin Presenter.