Introduction
Taking Stock
About Hemera
Fire It Up...
Exporting Art
A Look At The Content
Pricing & Support
In Conclusion
---
Introduction
If you like original stuff, you'll stay away from clip art. I should know better since I own so many clip art collections, and never use any of them! It is a dilemma. You get attracted to every new box and feel you must buy it. Then you think about the boxes you've already bought. Finally you give in wondering why not indulge once more. And so history repeats itself, at least in my case. This is in spite of my discovering similar designs in all clip art collections. After all, the same companies franchise the designs from the same sources, or at least the same artists, and keep repackaging them with some fresh content and packaging to attract buyers like me. One particular clip art collection had the same cartoon picture of a boy in 16 incarnations. The boy was wearing a different colored cap in each picture. This way, it might be easy to proclaim 'a million images' on the packaging! Predictably, I don't use clip art. I just create my own designs!
When Hemera sent me a box of clip art (literally since they call it 'The Big Box Of Art'), I admit I was not very keen. I was more interested in the other box of Photo-Objects™ they sent. Finally, I gave in and opened the box (or rather Pandora's Box, as we shall soon see). What happened? Did a genie pop out? No, not really, but there were stacks of CDs. Come, let's take The Big Box of Art (hereafter, Big Box) for a ride...
Back
---
Taking Stock
The Big Box comes in two incarnations for Windows and Macintosh respectively. We're discussing the Windows version here. Inside the box were 23 CDs, a User Guide and some loose papers. Of the 23 CDs, 21 comprise the actual art collection. Of the remaining CDs, one contains web graphics and animations. The last CD contains two bonus programs - Greeting Card Creator and CD Designs Creator. For the purpose of this review, we'll only look at the main art collection itself.
I put the first CD into the drive - and the installation proceeded smoothly. On the way, I had to supply my serial number. Hemera must be the only company requiring mandatory serial codes in a clip art collection. But you need to enter it only once. Finally, the setup routine created a program group called 'The Big Box of Art' in the Start Menu. There were four options:
The Big Box Of Art
PhotoFont Maker
Web Animations
Web Graphics Catalog
We'll discuss the first option in this review.
Back
---
About Hemera
Hemera Technologies, headquartered in Gatineau, Quebec, Canada is a top tier vendor of high quality clip media. Founded in 1997, Hemera's path-breaking collection of Photo-Objects™ has won accolades the world over as a whole new medium for realistic photo quality graphics - as opposed to conventional vector clipart.
Find more about Hemera at their web site:
Back
---
Fire It Up...
To fire up the Big Box, I just clicked the relevant icon in the program group - and I was presented an excellent interface which got me working straightaway. The interface is essentially basic, well implemented and contemporary. It is a tri-pane view (see screenshot)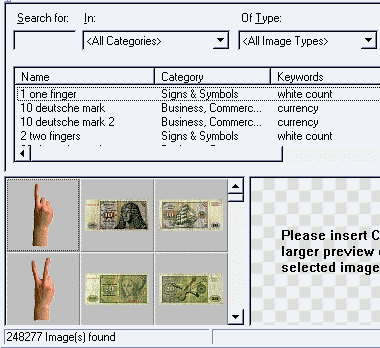 The search box, catalog view and preview are all available within the same window - all searches are dynamic. Let's imagine I'm doing a project on 'Apple Juice' - so I type the word 'Apple', without the inverted commas into the Search box. Big Box automatically lists 619 images in catalog view. As soon as I type the J of Juice to end up with 'Apple J' in the search box, the catalog previews narrow down to 22. By the time I finish typing 'Apple Juice' in its entirety, I'm left with just 9 previews. In this way, you can actually search interactively to narrow or broaden your searches as required.
All my searches pointed out to actual art content in just 3 CDs: 2, 5 and 15. If I want to see the actual graphics in high fidelity mode on the right pane, I would need to insert the relevant CD. Big Box automatically detects the CD and shows a detailed view. If I wanted to just view the thumbnails, I would not need to insert any CDs at all. The image catalog installed on my hard disk had previews for all the art in the entire collection. Wow! Now only if Hemera implemented the Big Box on DVDs!
Back
---
Exporting Art
You can choose to export the media in various graphic formats - including various vector and raster formats. Typically, a wizard based interface leads you through the export options.
For instance, I needed a picture of a camera for a PowerPoint presentation. A search for the term 'camera' yielded 808 instances of clip media. The one I chose was a PhotoObject™. There are two ways to export an image - right click the thumbnail to enable a popup menu that allows me to save to disk straightaway, or choose the export wizard option. The direct save option allows you to save to a huge array of formats. The export wizard allows you to choose your intended use and application to output a supported graphic format.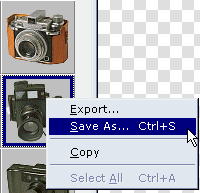 You can also choose to copy to the clipboard. Choose the clipboard format from the Preferences option in the File menu. Finally, you can also drag and drop from the image browser interface to most applications. I tried the procedure successfully with Microsoft Word (see screenshot) and PowerPoint.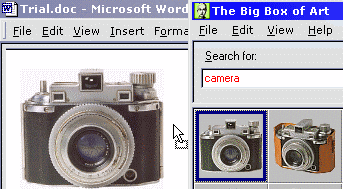 Back
---
A Look At The Content
Now that the interface received a thumbs-up verdict, it is time to look at the actual art content. As such the entire content does not follow any style or category - it is a mix of everything in huge quantities.
The actual content count:
5,000 Hemera™ Photo-Objects™
180,000 vector clip art
30,000 raster illustrations
20,000 professional color photos
10,000 professional B/W photos
103,000 Web graphics
2,000 textured photos
500 animations
500 PhotoFont textures
Back
---
Pricing & Support
The Big Box of Art may be amazing in itself, but the most amazing aspect is its pricing: at a mere US$29.95, it is more than just a steal. You could buy the product online at Hemera's site or through regular online and retail channels including Amazon.com, CompUSA, J&R, PC Mall, etc. Unfortunately, Hemera is only represented in 10 countries worldwide. There are no resellers elsewhere, although things should be presumably changing on this front?
Support options include FAQs online at the Hemera site, apart from the online technical support accessible from the Help menu of the product interface. You need to register your product before you avail any support options from Hemera. They offer 90 days free, unlimited electronic support starting from your first technical support contact.
There are more nuances to The Big Box of Art. As such, the product itself is Windows XP certified. Here's an excerpt from a Hemera press release:
"We're also pleased to announce that The Big Box of Art for Windows is Windows XP certified," adds Marc-Antoine Benglia, President of Hemera Technologies Inc. "This makes The Big Box of Art one of the first graphics packages to be certified for Microsoft's new operating system."
Back
---
In Conclusion
With such a vast array at your disposal, it will be a rare occasion when you will not be able to find something suitable. In contrast, there are competitive clip art collections which exceed 1million clip media. Yet it's almost impossible to find something suitable from them. This state of affairs owes its existence in no small measure to Hemera's excellent image browser. Once you've used it, you are spoilt for ever. You'll never want to go back again to other image browsers where searches can be so unintuitive.
It's difficult to review a product that's so complete. I could point out that a product of such proportions deserves to come on DVD. And while that's true in itself, it is as true as the fact that The Big Box of Art shall be the clip media collection I will use when I need to find that rare picture I need for my next project.
If you are a professional or not, The Big Box of Art deserves a place in your schemes and designs - it caters to a certain extent to an almost universal user profile. Available at a price that's almost half of what you can expect to pay for other similar products, the allure of The Big Box of Art becomes even more appealing.
More than anything else, The Big Box of Art is an excellent complement to your office suite - all applications of Microsoft Office had no trouble importing images from The Big Box of Art. On the other hand, if you need to use the content with AutoCAD, CorelDRAW, Flash or Photoshop - The Big Box of Art still comes up with a trump card.
Back
This is the original page. An AMP (Accelerated Mobile Page) version of this page is also available for those on mobile platforms, at The Big Box Of Art.