Introduction
About ESchoolMaps
The CD
Using Maps
Pricing and Support
Conclusion
---
Introduction
If you are a PowerPoint creator such as a designer, teacher, or someone who creates PowerPoints in the office, you know that getting a good quality map into PowerPoint is not the easiest of things you can do. It might involve buying some expensive maps that come only in EPS or Adobe Illustrator formats. Again these open only in Adobe Illustrator or any of the other few high-end graphic applications that are more oriented towards professional graphic designers rather than PowerPoint creators.
And even if you manage to go so far, you still need to get your maps into PowerPoint - for that you will need to export to a graphic file format that PowerPoint understands. And then you'll discover that none of those maps can be easily edited using PowerPoint's own tools. By this time, you probably give up the whole idea of using a map in your presentation!
That's the reason I was so happy to see a collection of maps that were actually PowerPoint presentations. Let us explore more.
Back
---
About ESchoolMaps
ESchoolMaps is a Boston, USA based company that offers a CD-ROM based collection of maps for PowerPoint use that I am reviewing here. in addition, they also provide the same maps in EPS and JPEG formats.
My contact at ESchoolMaps was Bruce Jones - thank you, Bruce.
You can learn more about ESchoolMaps, buy their CD-ROM, and download free sample maps from their site.
Back
---
The CD
The CD contains several map categories such as:
US States
Countries
US Counties
World Regions
World Projections and Globes
Each of these categories on the CD comprises editable PowerPoint and EPS maps apart from flat JPEG images. We explore these formats next.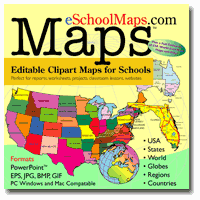 ---
Using Maps
The ESchoolMaps CD-ROM contains maps in these formats:
Maps CD ROM is a collection of maps available in different file format which are:
PowerPoint: These are editable maps - rather they are native PowerPoint graphics within standard PowerPoint slides. Every element, state, county, country or text can be customized using the drawing tools in PowerPoint by ungrouping them. You can thus use PowerPoint's fills and lines and make the map consistent with the look of your PowerPoint presentation.
The figure below shows you a screenshot of a map inside PowerPoint.
EPS: These are industry standard EPS files that can be edited or customized using a graphics program such as Adobe Illustrator, Macromedia Freehand or CorelDRAW.
JPEG and GIF: You can use Adobe Photoshop or even Paint to resize and partially edit the JPEG and GIF maps.
Back
---
Pricing and Support
The ESchoolMaps CD-ROM can be purchased directly from their web site through secure online server, and by mail or fax. Multiple license options are also available for institutions like schools and large businesses. The CD-ROM costs $39.95. Shiiping is free for US customers although international shipping costs $10.
Support is through an extensive online FAQ, email and phone support is available as well.
Back
---
Conclusion
Several sites online sell maps for hundreds of dollars, yet this entire CD costs you $35. While this collection might not have the quality of some high-end cartography, this might be just what you need in 95% of the situations. While their site recommends these maps for schools, there's no reason why any business can't use these maps to show sales, potential, or even geography in a PowerPoint presentation. This is a great product at an amazing price.
Back
---
This is the original page. An AMP (Accelerated Mobile Page) version of this page is also available for those on mobile platforms, at ESchoolMaps.