When this review was written, there were only two Photo-Objects collections. Since then, Hemera has introduced Volume III of Photo-Objects. You'll find a full review of that product elsewhere on this site.
---
First Things First.
About Hemera
What is a Photo-Object?
How Many Collections
Installation
What's In The Box?
Browse, Search And Export
Past, Present And Future
The Making of a Photo-Object
Pricing & Support
User Responses
What Next?
In Conclusion
---
First Things First...
Here's some wild imagination: your clip art collection died! What's more, it has been redefined, reincarnated and reborn as Photo-Objects. Ironically, that may not be as farther from the truth as you would like to believe. Photo-Objects is indeed the new generation of clip art.
Here's something you need to remember before reading further: we're not examining any of the Photo-Objects boxed products here; this review encompasses the whole Photo-Objects concept.
Finally, let me introduce you to Erica Comeau, Hemera's communication manager, who has been my contact at Hemera for this review. I wish to thank her for the incessant coordination, clarifications and correspondence.
Back
---
About Hemera
Hemera Technologies, headquartered in Gatineau, Quebec, Canada is a top tier vendor of high quality clip media. Founded in 1997, Hemera is known for its path-breaking collection of Photo-Objects that has won accolades the world over. its a whole new medium for realistic photo quality graphics, as opposed to conventional vector clipart.
Find more about Hemera at their web site:
Back
---
What Is a Photo-Object?
In its most simple explanation, a Photo-Object is both a photo and an object. For the full explanation, read on.
Most clip media consist of vector art, characterized as art without a background—something you could place as superimposed on any creative composition. Yet, vector clip media has its disadvantages: it's similar to a pencil sketch or an illustration. In other words, it's like a representation of a real thing, and not the 'actual' real thing. Photographs are more 'real', since they are recorded realities. Nevertheless, photographs are more of compositions than objects—you cannot just pick up an apple from a picture of a bowl of fruit without first masking it in a dedicated image editing application like Adobe Photoshop. Even if you have the patience to undertake such a task, you'll soon realize that it can be a time-consuming operation.
Enter Photo-Objects: a technology, a medium and a product from Hemera that provides you with readymade objects created from real photographs. For instance, a Photo-Object of an apple looks like a real apple, since it originated from a photograph in the first place! Place it over any other picture or backdrop, and you'll discover it combines the virtues of both vectors and photographs!
Back
---
How Many Collections
Photo-Objects are available in a variety of collections. Currently, the 'premium objects' collections come in five labels:
Photo-Objects 50,000 Volume I
Photo-Objects 50,000 Volume II
Photo-Objects 25,000
Photo-Objects 10,000
Photo-Objects 3,000
A theme collection called Photo-Objects Holidays & Festivities is also available.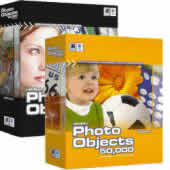 Currently, only Photo-Objects 50,000 Volume I and II are available through retail channels. The other products are sold through the web; even those will be subsequently discontinued. That's not as bad as it sounds, because the 50,000 volumes comprise the entire Photo-Objects range, and all other collections are subsets of this range.
Back
---
Installation
Installation is a snap. I needed to install both Volume I and II of Photo-Objects 50,000. Predictably, I installed Volume I before Volume II. Unfortunately this did not cause both collections to work from a single interface.
A quick look at the FAQs on Hemera's site revealed that the preferred order of installation is reverse - i.e. Volume II before Volume I. So, I uninstalled all collections and reinstalled them in the suggested sequence, and everything worked fine thereafter.
All put together, both collections require more than 200 mb of hard disk space—but that may be space well spent, as we shall discover later in this review.
Back
---
What's in the Box?
Each of the volumes contain the entire Photo-Objects collection spread over eight CDs each. There is also a User's Guide booklet and a thicker Image Catalog with thumbnails of all Photo-Objects classified across categories. The Image Catalog has very tiny previews—but you might not need it at all in the first place, since all thumbnails are installed anyway into your hard disk.
The entire collection is stored in Hemera's proprietary HPI format, which means that you can view, save or export the Photo-Objects only through Hemera's own browser.
Back
---
Browse, Search and Export
You might find art collections of more than a million designs. Yet, searching for that elusive element can be frustrating. Hemera's unique cataloging and retrieval system is deceptively simple yet powerful. Let's actually perform a search.
I need some shots of rolled paper money. I launched the Hemera Photo-Objects application and entered the keywords in the search box. Now, this is where the fun starts: enter 'rolled' and you get 39 results; add 'paper' and the results refine to 27 hits. Finally, enter the term 'money' and your results dwindle to 22. This sort of interactive searching can be addictive—you may not want to go back to your other clip media collections! The actual operation is better experienced than explained. Fortunately, Hemera has a limited subset of Photo-Objects available for free download from their site. I would highly recommend the download.
After you find a clip you can use, you need to export it to a popular image format. I needed to use the Photo-Object in a PowerPoint presentation; so it's good that the Export Wizard allows you to choose your destination application and sure enough, PowerPoint is listed as one of the preset applications.

Unfortunately, further steps in the wizard prompt you to export your image without the mask—completely ignoring the fact that PowerPoint supports masks in TIF and PNG formats! Of course, you can side-step the whole procedure and directly export to a mask aware format.
There are at least 3 more options to export your graphics. You'll find more details in my review for Hemera's The Big Box of Art, elsewhere on this site.
Back
---
Past, Present and Future
Everything originates from a microcosm; a seed, a thought or a vision. I asked Erica about what spawned Photo-Objects?
Erica replied:
"The Photo-Objects concept came about when one of Hemera's co-founders needed an image to jazz up a presentation and couldn't find anything suitable. He wanted something real and professional instead of standard clip art. He felt that there had to be a better way and Photo-Objects were born."
That was a nice thought, a thought that changed the way the world looks at clip media today. So, where does it lead to in the future? Over again to Erica:
"Hemera feels that Photo-Objects will become the most important type of visual image and will ultimately over-take clip art as the standard. Photo-Objects are also becoming increasingly important in the corporate marketplace as business professionals need graphics to add impact to their presentations, corporate brochures, etc."
Back
---
The Making of a Photo-Object
All Photo-Objects are created in house by Hemera to ensure their completely owned and royalty free status; a team of full-time photographers click new snaps all the time—these are then handed over to Hemera's image specialist team—who diligently optimize them, as also color correct the Photo-Objects so that there is consistency across the collection. Finally, the images are individually masked by professionals, so that each Photo-Object can stand up to be superimposed on any background.
A high level of mask accuracy means that the entire process can be painstaking and manual—around 5000 new photo-objects are developed each month.
Back
---
Pricing & Support
We'll discuss pricing for the two Photo-Objects 50,000 collections. Volume I is priced at around US$80, while Volume II retails around US$95, and rates may vary from supplier to supplier. You can click the links below to buy the collections from Amazon.com:
Support options include FAQs online at the Hemera site, apart from the online technical support accessible from the Help menu of the product interface. You need to register your product before you avail any support options from Hemera—they offer 90 days free, unlimited electronic support starting from your first technical support contact.
Back
---
User Responses
User feedback for the Photo-Objects range seems to spill over anywhere you care to look. Predictably Hemera has two full pages of quotes and testimonials. Look beyond that to sites like Amazon.com or archived newsgroups and you'll find that perhaps Photo-Objects maybe next best thing after sliced bread. Well, that's an exaggeration and probably it's a good feeling to find a product you can exaggerate about!
This does not mean that users don't find faults, and some of them are actually unable to find what they want—even among 100,000 choices. Hemera is aware of the fact, this is what Erica says:
"Customer feedback definitely influences the creation of new Photo-Objects in new categories. Customers either email or phone to voice their opinion, and our staff monitors industry trends to stay on top of the "hot" image categories and tries to incorporate these types of images into our collections. An example of this is that after the first collection we had a lot of feedback from businesses who wanted more Photo-Objects of people in business situations (wearing business attire, sitting at desks, etc.) As a result, Volume II has a significant amount of 'business/professional people' Photo-Objects."
Back
---
What Next?
Continuing with feedback, there's a certain category of end-users who require Photo-Objects in higher resolutions or dpi—specifically for jobs in professional print media. Hemera has a service which allows you to separately buy such high-res Photo-Objects from them. Hemera also launched a new online stock media service called AbleStock.com which comprises high-res Photo-Objects among other stuff.
The Photo-Objects collections are sold usually in CDs—but swapping eight CDs can be cumbersome. Fortunately, Hemera realizes this predicament; registered users of Photo-Objects can order a DVD containing the entire collection from Hemera directly, a minimal amount is charged. Currently, only Volume I is available on DVD—although Volume II should also be available soon.
Now that we have discussed the concept and technique behind Photo-Objects, when does Hemera plan to launch Photo-Objects III? Predictably, Erica's response was a little vague; she said that Hemera was investigating the best ways to distribute new images—new retail offerings can be expected in the next 12 months.
Back
---
In Conclusion
One does not get to review a product as complete as Photo-Objects everyday, it is a unique product that's original, addictive and comprehensive. Further, it just looks good—whatever may be your end use. The browser and search functions are out of the ordinary; the only con may be that you might still not find what you are looking for, even with 100,000 Photo-Objects at your disposal. Well, I'm sure I cannot blame Hemera for that; after all they are creating new Photo-Objects everyday based on customer feedback and requirements and yes, as I mentioned in the beginning of this review, we are not looking at boxed offerings of Photo-Objects—rather we just examined the Photo-Object concept. As a concept, no greater tribute can be paid than by exclaiming: Why did no one think of this before?
Back
This is the original page. An AMP (Accelerated Mobile Page) version of this page is also available for those on mobile platforms, at Hemera Photo-Objects.