Introduction
Subscription or Pay Per Image?
Register, Login and Buy
Search
---
Introduction
Trust Hemera to come up with something amazing at a price point that's so affordable and tempting that everyone will want to join this bandwagon. We are discussing Hemera's new Image Express, an online subscription based service that allows you to download loads of images for a low price.
I also need to add that Image Express replaces Hemera's GraphicsDesk service - I have a review of GraphicsDesk somewhere on this site if you are interested in some memorabilia! You might also want to check my Hemera Photo-Objects reviews for Volumes I/II and Volume III.
Before we proceed with the rest of this review, I want to thank Mats Lindeberg, Communication Manager at Hemera who's been my contact for this review.
Back
---
Subscription or Pay Per Image?
Image Express does allow you to download single images without any subscription. You pay US$4.95 for the first five images and US$0.99 for every subsequent image. Subscribers, on the other hand can download any number of images during the period of their subscription. Currently, Image Express offers subscriptions for a month or a year.
You'll find more info at the Image Express site.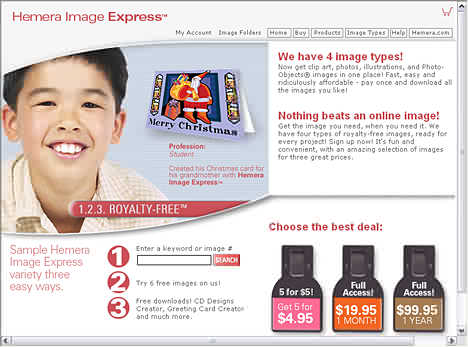 Back
---
Register, Login and Buy
You need to register - even if you don't want to subscribe or buy single images. Predictably, registration is free. You need to provide basic information like name, email address, password, country, etc. The email address automatically becomes your login ID. You can choose a unique login and password that identifies you each time to use the Image Express service.
Subscription or buying single images requires you log-in with your unique username - then you provide your credit card info through a secure server and choose your options.
Of course, you can search even without logging, registering or subscribing.
Back
---
Search
To search, you use keyword(s) - you can also restrict your searches to return results that include only photographs, illustrations or Photo-Objects. Results are displayed as thumbnail pages (see screenshot below). You can further fine-tune the results by entering new keywords and searching within existing results.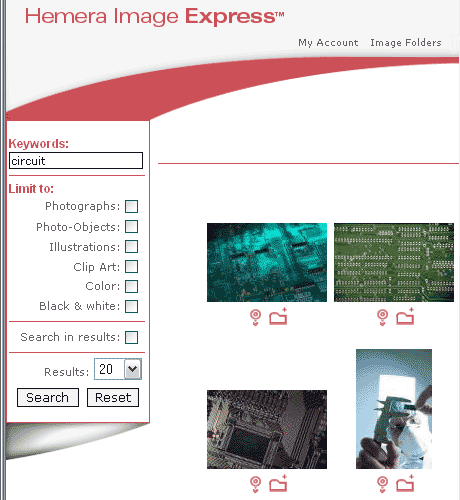 Each thumbnail has two icons beneath - click the icon on the left (or on the thumbnail itself) to view all the properties (see screenshot below) for a particular image.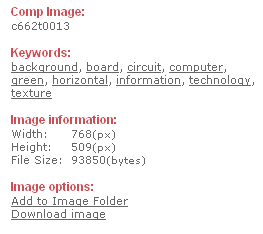 Clicking the right icon that looks like a folder allows you to store the image within an Image Folder. So, what is an ImageFolder? We tackle that next....
Back
This is the original page. An AMP (Accelerated Mobile Page) version of this page is also available for those on mobile platforms, at Hemera Image Express.