Introduction
About RoyaltyFreeMusic.com
The Music Clips
Using RoyaltyFreeMusic.com
Pricing and Support
Conclusion
---
Introduction
A good source of high quality music is something anyone who works with multimedia can use. Such music can be used for sound scores in PowerPoint presentations, as animation sounds, or for use in Flash and video-editing.
RoyaltyFreeMusic.com is a site that provides plenty of high quality music that can be bought using either a subscription model, CDs or individual tracks.
Back
---
About RoyaltyFreeMusic.com
RoyaltyFreeMusic.com is from JupiterTunes, a company based in Atlanta, Georgia that provides a large online library of royalty free music. Figure 1 shows a screenshot of their site.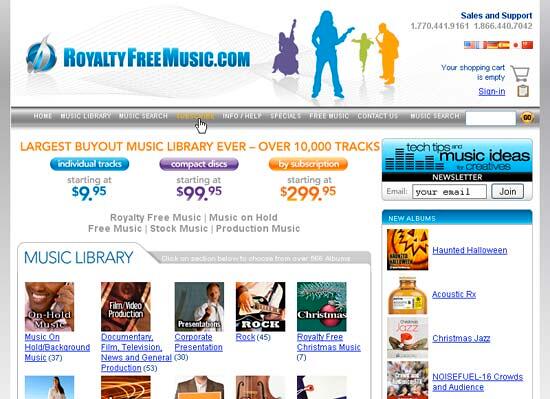 Figure 1: The RoyaltyFreeMusic site
Learn more about RoyaltyFreeMusic from their site.
My contact at RoyaltyFreeMusic for this review was Holly Patterson, thank you Holly.
Back
---
The Music Clips
Each of the over 10,000 royalty-free music tracks and 12,000 sound effects in the RoyaltyFreeMusic collection can be previewed without a subscription, and can be purchased as a single track, or as an album in MP3, WAV or CD format. There are around 566 albums in the music library. The RoyaltyFreeMusic packages, such as Music on Hold, Corporate Presentation, Children's Music, etc. are collections of background music, loops, sound effects, etc. (see Figure 2)
PowerPoint users can insert the sound effects, bumpers, stingers and loops as transition or animation sounds in PowerPoint, and the music tracks can be used as a background score for the presentation.
Related Link: Sound Across Slides
Back
---
Using RoyaltyFreeMusic.com
You can play the sample music in the RoyaltyFreeMusic.com library without the need to register. Once you are subscribed you can start downloading the sounds.
I downloaded few sounds, and the quality was amazing. The clips worked flawlessly in my presentations. But a word of caution here: don't use a background music score in every presentation as some presentations are more suitable than others. Here are some presentation scenarios that can benefit from a music score:
A few intro slides before a speaker led presentation
A exhibition or kiosk style presentation
A photo album presentation
An interactive presentation
A corporate launch presentation
Back
---
Pricing and Support
Subscription for a month costs US $299.95, and for a year it costs US $699.95. When you purchase a yearly subscription, you can download 30 tracks and 300 sound effects per month (15 tracks and 300 sound effects for a monthly subscription).
Support is through email, online FAQ, and telephone.
Back
---
Conclusion
RoyaltyFreeMusic provides an awesome range of music tracks and sound effects and the quality is great too. If you don't need these tracks all the time, it makes more sense to buy individual tracks or CDs. On the other hand, a subscription provides a better cost usage ratio if you need these tracks frequently.
Back
---
This is the original page. An AMP (Accelerated Mobile Page) version of this page is also available for those on mobile platforms, at RoyaltyFreeMusic.com.