Visuals in presentations
About AbsolutVision
JPEG2000
File Formats at AbsolutVision
Registration, Membership and Support
Searching for Images
A Lightbox
More About AbsolutVision
Conclusion
---
Visuals in presentations
Visuals play a pivotal role in presentations - people often recollect information more easily if they can actually see pictures of what they are reading or hearing. Pictures, illustrations, charts, maps, diagrams and screenshots all help in a content media like PowerPoint presentations.
With over 30 million presentations being created each day, you'll expect a lot of visuals to be used. Unfortunately, that's not always the case and the prime reason behind this state of affairs is the lack of easily accessible quality images at a reasonable cost.
Our subject for review, AbsolutVision targets this particular market. You might want to visit their site before we explore further.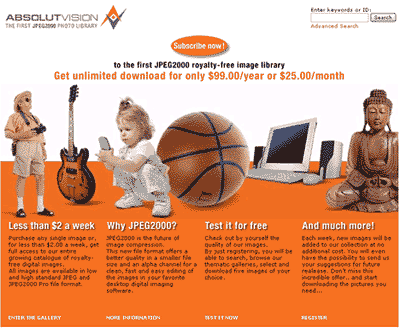 Back
---
About AbsolutVision
AbsolutVision is a group of like-minded Swiss photographers, graphic designers and professional lithographers who have come together to provide inexpensive royalty-free content for presentations, brochures, ads, newsletters and web sites.
AbsolutVision is also the first online photo library to use the JPEG2000 graphic format, a successor to today's JPEG format. We'll explore JPEG2000 but before that, let me introduce you to George Hardi, my contact at AbsolutVision for this review. Thank you, George.
Back
---
JPEG2000
JPEG2000 is a graphic file format that uses compression techniques based on wavelet technology to significantly reduce file sizes without compressing quality. Unlike regular JPEG, JPEG2000 is a lossless image compression format. Usually, JPEG2000 file extensions are JP2, J2C, J2K, JPC and JPX. Adobe has engineered an extended JPEG2000 file format with the JPL extension that preserves Photoshop paths within the file format. This is the same format that AbsolutVision uses for delivering its images online (AbsolutVision also has all images available in the conventional JPEG format).
These links will tell you more about JPEG2000:
The official JPEG site discusses the JPEG2000 format.
Ken Milburn, author of the Digital Photographer's Handbook speaks about JPEG2000: the Killer Image File Format for Lossless Storage at the O'Reilly site.
Back
---
File Formats at AbsolutVision
All images at AbsolutVision are available in the JPEG2000 format. In addition, you can also download both low-res and high-res images in the conventional JPEG format.
I found the JPEG2000 images more clearer and sharp. Opening JPEG2000 files is simple as long as you have a copy of IrfanView, a free image viewer that can save opened JPEG2000 files to any other format. IrfanView however does not support the Photoshop paths in JPEG2000 files you download from AbsolutVision; you'll need Photoshop CS, Photoshop Elements 2 or Photoshop 7 with the Adobe JPEG2000 plug-in for that.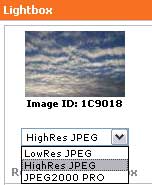 The JPEG2000 and high-res JPEG files are intended for high resolution print; the low-res JPEG images are more suited for presentations.
Back
---
Registration, Membership and Support
You might want to test a free trial membership at AbsolutVision that allows you to download 5 images for free when you just register. Beyond those five images, you'll have to opt for a membership that costs US$25 a month for unlimited downloads (200 images per month). An annual membership provides more bang for the buck at US$99.
You can also buy individual images at US$4.95 for low-res images. Single high-res and JPEG2000 images cost US$19.95 each.
All payments are processed through PayPal, an eBay company that facilitates micro-payments through regular credit cards.
Support is available in the form of FAQ and help pages online. Email support options are also available.
Back
---
Searching for Images
If you are a member, you might want to log-in using your username and password. If you want to buy single images, you could start searching without logging in.
Enter a keyword (or a combination of keywords) in the search box and AbsolutVision will provide several thumbnails of images that match your keywords. For example, a search for the keyword 'sky' resulted in 91 results.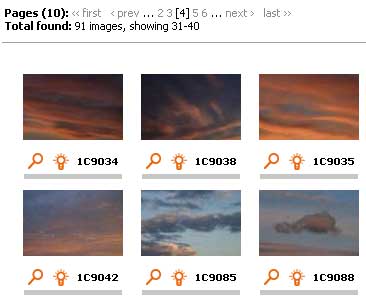 Each thumbnail is captioned with the image filename, besides which you'll find two icons. The first icon that looks like a magnifying glass opens a popup window that shows a larger preview of the image along with the keywords associated with the image. You'll also find previous and next hyperlinks so that you can preview all images before adding them to a lightbox. The other icon that looks like a bulb adds the selected image to the lightbox directly. So, what's a lightbox? We explore more in the next section.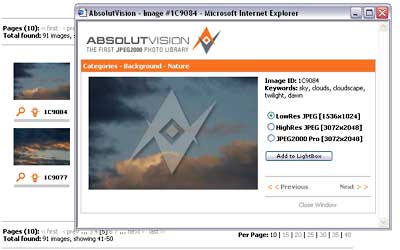 Back
---
A Lightbox
If you are from the PowerPoint world and you don't know what a lightbox is, I won't blame you. On the other hand, if you are from the print world, then not being aware of a lightbox would be unpardonable.
A lightbox in the parlance of stock-photo websites translates to a virtual repository of selected images that you would store for a particular project. However, AbsolutVision lightboxes seem intended only to facilitate download of multiple images at once. Amazingly, AbolutVision allows a member to create just a single lightbox and that too can comprise only 10 images although the FAQ mentions that you can store 15 images at a time. This certainly is the most glaring omission on this site - especially since it has been created by a consortium of professionals themselves!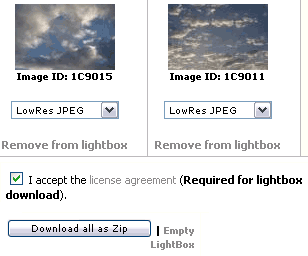 Anyway, after your lightbox is full (or even before that), you can view your lightbox, choose the format (JPEG, both hi-res and low-res or JPEG2000) and start downloading the entire lightbox as a zip file. To provide credit where it is due, I'll certainly agree that allowing download of multiple images at a time is a great feature - something the competition should emulate.
Back
---
More About AbsolutVision
I asked George Hardi a few questions about AbsolutVision and here are some of his responses:
AbsolutVision releases new images each week. Users can suggest themes for the next releases.
We will soon introduce more photos (with background) and we are preparing some special PowewrPoint backgrounds.
Yes, all images are done by ourselves.
We have currently about 3000 images in our library, but growing each week.
We are also preparing a forum and a magazine with tips & tricks, Photoshop actions, creative design, etc.
Thanks George, that's going to make so many people happy!
Back
---
Conclusion
AbsolutVision has the most amazing quality of images that I have seen for a long time - all images are great photographic compositions in their own right with perfect exposure and clarity.
I'm certainly amazed that such a repository of quality content is available at this price. If you need to use the content in your presentations, it would be money well spent. On the other hand, if you need to use the content in print media, AbsolutVision would be a steal.
Back
---
This is the original page. An AMP (Accelerated Mobile Page) version of this page is also available for those on mobile platforms, at AbsolutVision.