Introduction
About Animation Factory
Using Animation Factory
Pricing and Support
Conclusion
---
Introduction
AnimationFactory.com is a huge resource of visual content that I have known for a very long time now. Founded in 1996, the site now comprises over 500,000 animations, video backgrounds, PowerPoint templates, backdrops, web graphics, sound clips, Flash source files, etc. They have a dedicated team of on-house artists who create this content. Their media elements can be used in any kind of presentation.
Back
---
About Animation Factory
Animation Factory is from Jupiterimages, a company based in Darien, Connecticut, USA that provides a large online library of animated cliparts, and many more media elements. Figure 1 shows a screenshot of the Animation Factory site home page.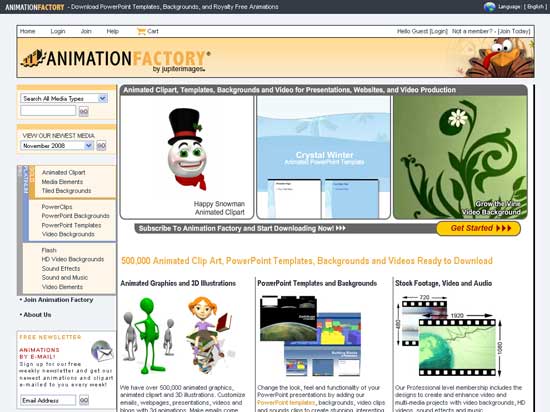 Figure 1: The AnimationFactory site
Learn more about Animation Factory from their site.
My contact at Animation Factory for this review was Art Holden, thank you Art.
Back
---
Using Animation Factory
Once you sign up as a member, you can download the media elements from AnimationFactory.com.
Downloading is made very easy since you can add all your selected clips to your My Picks area. Consider this as an equivalent of a light box. Once you are ready to download, click the Download link in the My Picks area, as shown in Figure 2.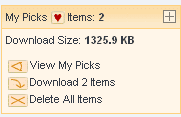 Figure 2: The My Picks area is like a light box.
I downloaded all sorts of media elements such as animated clips, media elements, tiled backgrounds, PowerClips, PowerPoint backgrounds, PowerPoint templates, etc. And, the downloads worked flawlessly. Also, the quality was amazing.
Back
---
Pricing and Support
There are three subscription levels available: Gold, Platinum and Professional.
All membership levels last a year. The Professional membership is the highest level and it allows you to download anything on the site. This membership costs $199.95. The Platinum level ($99.95) allows you to download everything from the site apart from Flash files, sound and video clips, and HD video backgrounds. The basic Gold level ($59.95) provides access to only the animated clip art, media elements, and tiled backgrounds.
You can learn more about the membership here.
Support is through and online help center. You can also get in touch through a customer support form, and by
Back
---
Conclusion
AnimationFactory provides high quality content that is created and updated all the time at a price that is so sensible and affordable. The site itself works very well, and the price:performance ratio is great.
Back
This is the original page. An AMP (Accelerated Mobile Page) version of this page is also available for those on mobile platforms, at Animation Factory.