March 9, 2016
Maurizio La Cava is a digital entrepreneur, marketer, blogger, public speaker, presentation design guru and Founder at MLC-Design. He is also author of Lean Presentation Design, top rated freelancer at Upwork.com, an official member of the Talent Private Cloud at Upwork.com and Elance.com, and Professor at European Institute of Design in Milan. His favourite quote is "Time is free but it's priceless ". In this conversation, Maurizio talks about his MLC add-in for PowerPoint.
---
March 9, 2016
While duplicating and editing Slide Layouts is a great way to make small changes, it's not the same as creating a Slide Layout from scratch. As an analogy, duplicating and editing a Slide Layout is more like using a coloring book to fill color between the lines of pre-drawn art -- but creating your Slide Layout from scratch is more like starting with a blank sheet of paper and drawing your art before you start coloring between the lines. You can decide which of these approaches works best for you.
Learn how to add a new Slide Layout in PowerPoint 2016.
---
March 8, 2016
Have you seen a presenter jumping slides, going straight from the second slide to the second-last slide? We talk about solutions in our Jumping Slides article. Serge Starenko talks about chart and diagram templates on PoweredTemplate in an exclusive conversation. We also have more exclusive conversations with Simon Morton, who talks about the Think, Act and Deliver Differently in partnership with Microsoft -- and with "P-Spice" Lia, who talks about her amazing PowerPoint animations, and her Spicy Slide Pack for PowerPoint. PowerPoint 2016 for Windows users can learn about changing Background Styles for Slide Layouts. PowerPoint 2013 for Windows users can learn about finding missing Themes! Office Mix is a PowerPoint add-in from Microsoft -- read an intro and learn how you can install Office Mix. Sway users can explore Determining Authors. Finally, do not miss the new discussions and templates of this week!
Read Indezine's PowerPoint and Presenting News.
---
March 8, 2016
All slides within PowerPoint are based on one of the available Slide Layouts (we call these just layouts for the rest of this tutorial). These layouts can be chosen when you add a new slide or you can even change the layout of your existing slides -- both these options are accessible from the Home tab of the Ribbon. Click the down-arrow on the New Slide button to get a drop-down gallery. Click any of the layout thumbnails here, and you end up adding a new slide based on that layout.
Learn how to duplicate, rename, and edit Slide Layouts in PowerPoint 2016.
---
March 7, 2016
Connie Malamed is a consultant, author, and speaker in the fields of online learning, visual communication, and information design. She has helped nonprofit, government, and corporate clients transform their content into interactive learning experiences for more than 20 years. Connie is the author of Visual Design Solutions and Visual Language for Designers. She publishes The eLearning Coach website and podcast. Connie has degrees in art education and instructional design. In this conversation, Connie talks about her new book, Visual Design Solutions.
---
March 7, 2016
Content and appearance are the two major components of presentation slides. Among them, the former is always more significant than the latter -- but that does not mean that you should neglect the latter. A simple looking presentation with a clean background is always a great idea since that doesn't overpower your message. Yet, there are plenty of opportunities to go beyond a plain background and use a less restrained background instead -- your choice for a slide background should complement the content of your presentation. For example, you'll want a flashier background for slides created for kindergarten students -- or if you were creating a PowerPoint greeting card. On the other hand, you may want a washed out, faded, or even a subtle patterned picture for a typical business presentation.
Learn how to apply custom backgrounds to both the Slide Master and Slide Layouts in PowerPoint 2016.
---
March 7, 2016
This ready-to-use presentation has slides about St. Patrick's Day, its origins and its customs.
Download and use these slides.
---
March 4, 2016
Known as her nickname "P-Spice," Lia is a management consultant with a passion for teaching others how to make presentations more engaging and impactful. She regularly shares presentation tricks on her popular YouTube channel PowerPoint Spice and the Spicy Presentations blog. In her full-time consulting job, she works with global Fortune 500 clients on solving their strategic planning and leadership development challenges. In this conversation, Lia talks about how she got started with her PowerPoint animation tutorials, as well as her recently released Spicy Slide Pack.
---
March 4, 2016
When you change Background Style of the Slide Master, the Background Style for all dependent Slide Layouts will also change. However, it is not necessary for all your Slide Layouts to possess the same Background Style as the Slide Master. Each slide Layout can have its own independent Background Style, as you will learn in the rest of this tutorial. Follow these steps to learn more in PowerPoint 2016.
Learn how to apply Background Styles to individual Slide Layouts in PowerPoint 2016.
---
March 3, 2016
Simon Morton's career as an executive for a technology company exposed him to more PowerPoint than was good for him. In 2004 Simon founded Eyeful Presentations with two aims; ridding the world of Death by PowerPoint and enjoying a relaxing, family future. Unfortunately for Simon (but great for businesses everywhere), his design and storytelling skills made a real impact. In this conversation, Simon talks about his Think, Act and Deliver Differently initiative.
---
March 3, 2016
So you have created a Sway, or you have been invited to become an Author to edit one? Now how do you know who else has permissions to edit the same Sway? Yes, you can see who is editing any open Sway as explained in our Co-Authoring in Sway tutorial, but that only works if other Authors happen to be editing at the same time as you are! What about any other Authors? Let's discover a way to find them!
Find out who has Author access to a Sway.
---
March 2, 2016
Serge Starenko is an entrepreneur with a solid background in software development and business administration. In 2004 he left his primary job and started working with like-minded professionals over the project PoweredTemplate. The idea came to him because he always had to prepare presentations for project management tools and marketing purposes. While working with these slides, he hadn't found any professional presentation templates on the market at that time. Sensing a need, Serge organized and coordinated to create an effective team. He still controls all the processes and is totally engaged in strategic planning and project development. In this conversation, Serge talks about the Chart and Diagram templates available on the PoweredTemplate site.
---
March 2, 2016
Before we look at installing Office Mix, it is a good idea to understand the system requirements needed for this add-in. Thereafter, you can install and run Office Mix, as explained later on this page.
Learn how to install Office Mix.
---
March 1, 2016
Last week we featured Nancy Duarte who has written a new book, Illuminate. This week, we feature her amazing co-author Patti Sanchez who talks about experiences of writing this book. We also feature Ajay Mohan of SlideTeam who discusses their Presentation App that lets you sketch slides that you want to be created. We also released a compilation of keyboard shortcuts for PowerPoint 2016 for Mac. PowerPoint 2016 for Windows users can learn about Slide Layouts within Slide Master View. PowerPoint 2013 for Windows users can learn about creating a hyperlink to a new email message and also about adding some iconography to Action Buttons. Sway users can explore adding Authors and also learn about co-Authoring. Finally, do not miss the new discussions and templates of this week!
Read Indezine's PowerPoint and Presenting News.
---
March 1, 2016
Office Mix is an add-in for PowerPoint that provides extra tools that enhance how you deliver and share your presentation. In other words, Office Mix lets you be there even when you are not physically delivering your presentation. Mix enables you to record your delivery to perfection, and it saves all the interactivity. The end results closely mimic self-delivered content.
Explore Office Mix, an add-in for PowerPoint that lets you add more interactivity than what's possible with just PowerPoint.
---
February 29, 2016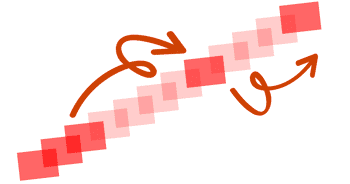 Many presenters want to be in the same situation as Tom! He was happy presenting, and his audience seemed engrossed with his talk. Tom shared a story about ups and downs. He explained this contrast in a nail-biting environment, where the audience waited to know about what would happen next. Yes, the story had served as an awesome introduction, and Tom had everyone's attention. Could anything go wrong? Maybe, or maybe not. Let's see what happened next.
Learn how you can cope with the problem of jumping through slides.
---