December 14, 2015
Your slides remain the same, yet the various views in PowerPoint make exploring those same slides a little different. This approach makes sense because viewing slides in Slide Show view gives an entirely different perspective than editing them in Normal view. Further, it's easier to reorder and work with multiple slides in Slide Sorter view -- and make changes to individual slides in Normal view. All put together, PowerPoint 2016 provides you with ten different views.
Learn about various views that allow you to edit and show slides in PowerPoint 2016.
---
December 11, 2015
The Indezine Christmas Kit is a self-contained set of slides and other goodies that provides you with everything you need to create Christmas picture slides within PowerPoint. This kit contains a Christmas PowerPoint Theme in both standard and widescreen variations, a star font, some silhouette pictures, scrapbook style embellishments, some textures, and even a few sample slides to get you started.
---
December 11, 2015
Enabling Guides for your presentation slides helps ensure that your objects are easily aligned, and also in the same relative position in successive slides. But just enabling Guides is more like getting started. There's so much more you can do, such as customizing the Guides themselves using hierarchical options.
Learn about the hierarchical Guide options in PowerPoint 2016 for Windows.
---
December 11, 2015
Everyone needs to convert a video from one format to another. Moreover, while there are dozens of programs that can do the conversion for you, most of them are cursed with a busy interface and a learning curve. MacX Video Converter Pro is helpful because it seems much easier to use, and it can download, convert, edit and record videos. MacX Video Converter Pro supports 320+ video and 50+ audio codecs. It also supports Intel QSV hardware acceleration technology that significantly accelerates video conversion speed. The folks who create MacX Video Converter Pro claim that their product can work 16X faster using this technology with no quality loss.
Explore MacX Video Converter Pro, an application that can download, convert, edit and record videos.
---
December 10, 2015
Motti Nisani is the CEO of emaze, a company that produces a tool of the same name. With emaze, you can create presentations in virtual 3D worlds or simply in slides like. Motti has a B.Sc. degree in Engineering from Tel-Aviv University, Israel. In this interview, Motti discusses the new Automaze feature in emaze.
---
December 10, 2015
Among the many features in PowerPoint 2016, there are some that are more useful than the others. Options for using Guides are certainly vital. Many users are not aware of all the capabilities that Guides offer. For example, Guides can be added through the right-click menu. You can add new Guides that are offset to your existing Guides. And Guides need not be grey in color -- you can choose from 10 colors.
Learn about options that result in using Guides more effectively in PowerPoint 2016.
---
December 9, 2015
Do you want to create your own interesting visual resume within minutes, with or without any designing experience? What about creating this all within PowerPoint, without anything else? You need our amazing Visual Resume templates for PowerPoint. These ready to use PowerPoint templates come with placeholders for text and pictures. All templates are made available as part of a kit that you can customize in seconds to create your own visual resume.
Download and use these visual resume templates.
---
December 9, 2015
The Outline view in PowerPoint 2016 provides access to your presentation's text outline through the Slides / Outline pane on the left side of the PowerPoint interface. The Outline view displays all the text contained within the title and text placeholders of your slides and is one of the ten views in PowerPoint 2016.
Learn about the Outline View within PowerPoint 2016.
---
December 8, 2015
We bring you an exclusive conversation with Robert Kawalsky of Zeetings, a new way to present your slide content. We then bring you Distance Cartograms for PowerPoint. We also re-examine the differences between Office 365 and perpetual versions of Office 2016. We explore interface options in the new PowerPoint 2016. This week we look at the Format Task Panes, and the Snap to Grid option. Finally, don't miss the new discussions and templates of this week!
Read Indezine's PowerPoint and Presenting News.
---
December 8, 2015
Once you have made Guides visible on your PowerPoint slides, they show up in the same position on all other slides within the presentation. You'll find that only two Guides -- one horizontal and one vertical Guide are visible at first, and these two Guides intersect at the center of the slide. Most of the time, this might work for you, but you can actually add more Guides since these can help in positioning slide objects better across successive slides.
Learn how to add more Guides in PowerPoint 2016 for Windows.
---
December 7, 2015
Let's start with the basics -- what are Guides? Consider Guides as a Grid on your slide that you create -- each single Guide can be moved, added, or deleted. Guides also have snap options that are always on -- once the Guides are made visible on the slide, all objects that venture close enough to them just snap. Along with Rulers and Gridlines, Guides help you position your slide objects with more precision, and you can make them work for you.
Learn how to work with Guides in PowerPoint 2016.
---
December 4, 2015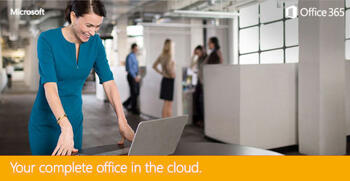 By now, most of us who are not living under a rock have heard about Office 365. But we have also heard about Microsoft Office versions for the desktop, such as the ones for Windows and Mac. Are the desktop versions the same as Office 365? And even if the answer is yes or no, does it matter because many people can't even understand all these new terms that Microsoft is talking about.
Explore the differences and similarities between Microsoft Office 365 and desktop versions of Microsoft Office.
---
December 4, 2015
Making gridlines visible on your slides in PowerPoint 2016 is only a good idea if you use the Grid feature to attain some results. If you are serious about using Grids to position slide objects with more precision, you must first visit the options available for changing Grid settings. Once you have played around with the grid settings, you are better equipped and prepared to explore how the Snap to Grid feature can help you accurately position and move slide objects such as pictures, shapes, or anything else you can select and move on a slide!
Learn how the Snap to Grid option works in PowerPoint 2016.
---
December 3, 2015
An outline within a PowerPoint presentation is all the text content of the presentation that's inserted within any of the text placeholders. Although visuals, multimedia, and other slide objects can play an important role within a presentation, a proper outline is still the main skeleton on which the body of a presentation can be sustained. Without a cohesive outline, everything else is akin to a movie that has the best photography, great music, talented cast but no story to put it all together. So how do you create a structured outline -- and does PowerPoint provide sufficiently robust outlining tools?
Learn how you can use the outline to create a better presentation in any version of PowerPoint.
---
December 2, 2015
A cartogram is a visual that is driven by geography. It explores sizes or distances visually. Cartograms come in various types. The easiest and most effective cartograms you can create within PowerPoint are distance cartograms. These distance cartograms are now becoming extremely popular, but creating them requires a fair amount of time and knowledge. But we've made this task easier for you. Try our "Distance Cartogram PowerPoint templates" kit.
Download and use these cartograms in your slides.
---
December 2, 2015
Once you make Gridlines visible on your slide in PowerPoint 2016, you may wonder if there's any benefit using the Gridlines other than the obvious benefit of possessing a visual grid that lets you place slide objects? The answer can be both Yes and No. Yes because you may believe that is all that happens on the surface. Moreover, no because unless you explore how the Snap to Grid option works, you will not realize the real benefit. Worse, this incredible option is not active by default!
Learn how the gridlines snap and help you position slide objects in PowerPoint 2016.
---