November 30, 2004
Free Templates Again!
Using Maps in PowerPoint
Fills & Lines - Part II
And More.
---
November 28, 2004
Dingbats are different than your regular font - for a start, they do not contain any alphabets! Type a character like the capital A on the keyboard and you might find an illustration on the screen. Yes, dingbats are fonts that contain illustrations rather than alphabets and numbers. Such illustrations can contain just one single fill color since they are basically font outlines.
Learn how Font Xplorer helps you use dingbats in Photoshop.
---
November 27, 2004
More memorabilia pictures of old PowerPoint and Office advertisements. Look here.
And a walk down memory lane with PowerPoint 2 here.
---
November 26, 2004
Chris Ferrone, Managing Partner of Matton Images LLC, a complete royalty free resource, has worked in the stock photo industry since 1987. Chris is also President of Retrofile.com which licenses rights-managed and royalty free vintage stock imagery world-wide through a variety of agents and other distribution channels. He is also currently the President of the North American stock photo industry trade association, the Picture Archive Council of America.
In this interview, Chris discusses "royalty free" and usage of images in PowerPoint.
---
November 26, 2004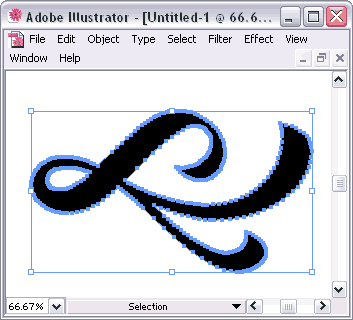 As long as you have both Adobe Photoshop and Illustrator installed on your system, it is easy to create Photoshop shapes from any drawing in Illustrator. Even before we start exploring further, you should read this.
---
November 19, 2004
In this Indezine exclusive, you are invited to go retro and take a look at a box of PowerPoint version 1 that was released by Forethought before it merged with Microsoft.
---
November 18, 2004
As a presenter, I like using PowerPoint. Although I don't like having the slides in a fixed sequence, and I worry that dimming the lights will give my audience unneeded assistance in falling asleep, I do like the way PowerPoint enables me to emphasize and illustrate my points with highlighted text, graphs, and photos. There's something about those big, fat, color letters that makes the words more interesting.
Dr. Stephen Wilbers explains more.
---
November 17, 2004
Maps make excellent visuals and can add so much relevance to presentations that speak about anything to do with geography.
In the rest of this article, we'll explore possibilities and implications of using maps in PowerPoint. It's important that you understand that we are discussing professional, cartographic maps here and not the other map type: route and location maps.
---
November 9, 2004
Free Add-in, Presentation and Templates!
PowerPoint Live Report
New PowerPoint Products
Fills & Lines
And More.
---
November 3, 2004
Thermometer for PowerPoint is a free add-in that creates a thermometer style bar in the bottom area of the slide that shows how much of a presentation has progressed and how much more is remaining.
It's a very simple add-in and using it is so easy: one click on an icon and you can add or update your thermometer; another click and the thermometer is gone!
Learn more and download it free here.
---
November 1, 2004
One of PowerPoint's most well hidden secrets is its ability to recolor images. Of course you can recolor vector clip art, but PowerPoint does have the ability to recolor bitmap images as well. That ability was never exposed in PowerPoint, but it's something you can use in Publisher. What deserves mention here is the fact that both PowerPoint and Publisher use the same OfficeArt engine as do most of the other Microsoft Office applications.
We'll explore two ways to recolor images in PowerPoint. The first procedure does everything within PowerPoint but is limited to recoloring images that are part of the background in a slide master. The second procedure uses copy and paste between Publisher and PowerPoint to recolor all sorts of images.
Learn more and Download a sample presentation.
---
October 30, 2004
One of PowerPoint's most powerful yet least unexplored features is the option to recolor vector clip art inside the program.
Learn more and download a sample presentation.
---
October 28, 2004
Two dimensional imagery and design is part of PowerPoint - all sorts of tools and options enable you to create stunning presentations. Look beyond to the third dimension and the lack of similar options becomes obvious. That's where Perspector, a PowerPoint add-in that facilitates three-dimensional design within PowerPoint comes into the picture.
---
October 27, 2004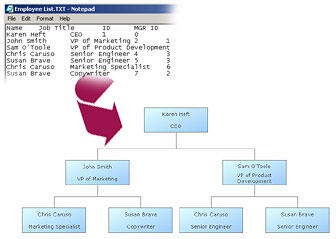 SmartDraw creates some of the best organizational charts I have seen. The new version 7 provides even more possibilities. In fact, SmartDraw now has a special Org Chart edition that you can Download and use free for 30 days.
Organizational charts are also known as organization charts or org charts. They are essentially tree or hierarchical layouts that help understand the relationships between higher and lower levels. Such charts are normally used to present the divisions between personnel, departments, or even as family trees and mind maps.
---
October 7, 2004
One of the coolest things you can do on your system is to perform a video capture of on-screen activity. This is a great way to create videos of presentations, browsing or any other desktop activity. One of the best tools to do any type of video capture is Camtasia from TechSmith.
In this tutorial and review, we'll explore Camtasia's abilities and focus on how it works with Microsoft PowerPoint.
---