In May 1990, Microsoft released PowerPoint 2.0 for the Macintosh, followed by the Windows version in June 1990. PowerPoint 2 came with a separate Bitstream product called Fontware to allow font usage within the program. A full installation of Fontware with all available fonts consumed 35 mb. In comparison, PowerPoint 2 required only 7 mb!
Microsoft sent me a copy of PowerPoint 2 for research on this article. Unfortunately, it refused to install on Windows 98, 2000 or XP. The best I could manage was Windows 3.1. Fortunately, it did not insist on Windows 2!
Luckily, I just copied the whole PowerPoint 2 folder to a Windows 2000 system, and the program worked great, right down to using true type fonts! Imagine, I could actually use the product today.
The program folder for PowerPoint 2 contained another program called GraphicsLink from Genigraphics.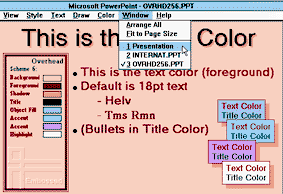 Another feature in PowerPoint 2 was that everything–including sample files, help files, tutorials, and even clip art was distributed as a PowerPoint presentation. For instance, the help file contained a convenient chart which showed you equivalent keyboard characters for the Zapf Dingbats font.
Finally, PowerPoint 2 had the Styles concept. You could save a text style, using a font name, size, style, color, etc.
PowerPoint 2 also included a great sample presentation which Christopher Columbus supposedly showed to Queen Isabella of Spain before his famous ship journey!
---
This is the original page. An AMP (Accelerated Mobile Page) version of this page is also available for those on mobile platforms, at Looking Back: PowerPoint 2.