August 23, 2006

Presentations often fail to leave an impact on the audience not because of the content but because all presentations look so similar and predictable. That's where Ovation can make a difference -- instead of redoing the presentation all over again, you can use Ovation to enhance your existing presentations into great looking productions -- this review will explore if Ovation lives up to that promise.
---
August 23, 2006
If you have been backstage at just about any corporate event these days, you will have noticed the impressive array of audio visual (AV) technology and personnel that's assembled by putting the entire solution onto one standard PC running the latest graphics display hardware; authoring and editing it with the familiar workflow of PowerPoint®; and delivering it with a PowerPoint plug-in called OfficeFX Professional.
---
August 22, 2006
Probably the only thing more boring than text-filled slides is to endure a series of slides with figures in tables -- something that looks like a screenshot of an Excel spreadsheet! And since PowerPoint's version of animated charts are so passé, you might want to create your charts in another program and then bring them inside PowerPoint -- Rich Chart Builder, the product I am reviewing can help.
---
August 4, 2006
Giveaways and More
Learn PowerPoint
Video Backgrounds
WildPresenter
Conversations & Interviews
---
August 14, 2006
Johan Rosenquist is the founder of w2solutions, a software innovation company. To the PowerPoint community, he brings experience from the Telecom world via the HeadsetPresenter application. In this interview, Johan discusses Headset Presenter, Bluetooth, and PowerPoint.
---
August 14, 2006
Most of the time, any click while a PowerPoint slide is playing results in the next animation or the next slide. ActiveSlide Thunder gets around that limitation by using Flash SWF movies inserted in PowerPoint to offer interactivity and animation at the same time.
---
August 11, 2006
Dr. Christopher Peri has his credentials in architecture, and delves into methods that faciliate designers and engineers to network in real-time. He is the CTO at Simulat, Inc. where he leads development of Vyew, an interactive browser-based collaborative workspace. In this interview, Christopher discusses Vyew, PowerPoint integration and more.
---
August 7, 2006
Learn how you can embed and format Excel content inside PowerPoint.
---
August 4, 2006
Daniel Park has spent more than a decade in multimedia development, and has worked with Camtasia Studio since its introduction as Camtasia back at the start of the milennium. In this interview, Danies discusses his book, Camtasia Studio, and PowerPoint.
---
August 3, 2006
The Outlining toolbar helps organize the title and text content of the slides -- in other words, it just works with the outline of the presentation. This can be a good thing, since this makes it easier to organize your outline -- in the process, you can add or merge slides, and do much more.
---
August 2, 2006
PowerPoint makes great presentations, and the best part is that it allows you to reuse all the text content that you might have created in another application. In this tutorial, I will show you can reuse a list in Excel to quickly create a PowerPoint presentation in less than a minute.
---
August 1, 2006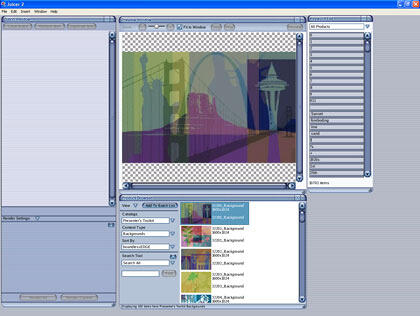 In this review, we are looking at something that can help you improve the look of your presentation now let me tell you more about Presenter's Toolkit, a compendium of high-class graphics from Digital Juice that is specifically targeted to PowerPoint users.
---
August 1, 2006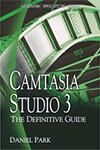 This book extract from Camtasia Studio 3: The Definitive Guide is an Indezine exclusive with permission from Wordware Publishing Inc.
The excerpts chosen to be published on Indezine show you how you can use the PowerPoint add-in in Camtasia.
---
July 29, 2006
This is an amazing tutorial on color theory and application that makes this complex subject interesting and informative.
---
July 29, 2006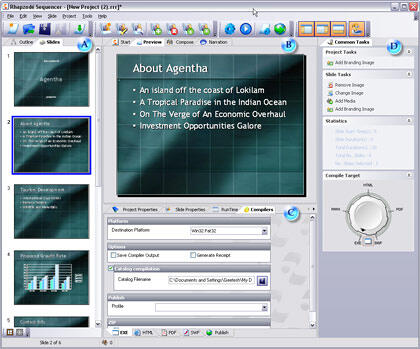 So what if you look at a product that provides the option to share your PowerPoints securely -- and then what if that product adds Flash and PDF output as well to the feature list? You'll end up with something that provides value to almost anyone -- that's exactly what Rhapzodé, the product we are reviewing does.
---