Dr. Christopher Peri has his credentials in architecture, and delves into methods that faciliate designers and engineers to network in real-time.In various capacities, he has been involved at Babcock & Brown andPureSense Environmental. Currently, he is the CTO at Simulat, Inc. where he leads development of Vyew, an interactive browser-based collaborative workspace.
Geetesh: Tell us more about yourself and Vyew.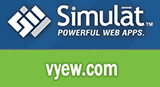 Christopher: My background is in Architecture. I received my PhD from UC Berkeley. While there I specialized in virtual environments for designers and engineers. Computing for me was merely a means to an end. And I still think about computers in that way. My main interest is the communication of complex information; be it output from analysis, to 3D models, to conceptual designs. Mix in the common need of collaboration in Architecture, and you get an idea of my background.
I have over 20 years of experience in applied computing with an emphasis on system architecture and GUIs for shared virtual environments and presentation media. I have served as a Manager of Content Design & Delivery at Babcock & Brown, a co-founder of PureSense Environmental, and currently the CTO at Simulat, Inc.
Vyew 1 was conceived as a quick collaboration application that can allow a user to initialize a multi-user meeting in 10 seconds from any typical computer. To achieve this, Vyew was created using almost all Flash with exception to Java for the screen capture. Basic features were:
No application install
Screen Capture
Basic whiteboard features
Over time, Vyew expanded to support more functions. By providing always-on sessions, other users could enter a meeting rooms and review information or make annotations even when the creator was not present. By supporting synchronous and asynchronous environments, we moved away from the 'presentation' mode of most of the well know 'meeting' services to more of an anytime collaboration model.
Vyew 1.5 expanded V1 with the following features and functions:
Persistent sessions (A session does not end when users leave the meeting)
Import of common office documents (Word, Excel, PowerPoint)
Import of common media files (JPG, GIF, SWF, etc.)
VyewShow – remote viewable image slideshow with sound.
Plug-in support (A basic API that external programmers can use to write custom applications. Some proof of concept examples include:
Yahoo! Maps
Diagramming tools
Checkers
Calendar
Real time desktop viewing (not to be confused with application sharing)
Improved permission controls
---
Geetesh: How is Vyew 2 different and improved from the earlier version?
Christopher: In this release, a basic change to the architecture greatly improved not only functionality; but performance and user accessibility. With only the items to be viewed being loaded via database calls, each item can be treated as an independent object. This basic change gave Vyew a PowerPoint feel which is familiar to more users. This change to the architecture also allowed objects on a page (called VyewClips) to be organized into folders (or 'books'). In addition to this fundamental change, new features have been added:
VyewBooks – objects (VyewClips) can be organized into books to support multiple meetings. The user can copy, rename, and delete whole books.
VyewClips – any object brought to the stage (images, pages from office, SWFs, etc.) can be:
moved on the stage
resized
reordered to change how they are to be layered
filtered, based on (user, date) (date not in prerelease)
Vyewlet (test version) – this is a stripped down version of Vyew. Basically it will have all of the stage functionality, but not file management. Primarily aimed at read only or limited user accessibility. The Vyewlet can be displayed within other web pages. (not in prerelease)
Improved Office document importing – Office documents are now broken up into pages to allow the user to place only the pages they want onto the stage as well as two more pages on the same stage.
---
Geetesh: Tell us more about your PowerPoint integration features.
Christopher: There really are not new PowerPoint functions per se; but instead a fundamental change to the philosophy of how Vyew interacts with users which reflects the way users would interact with PowerPoint. As well as giving the user individual control over all elements on the stage as with PowerPoint, a future version will support simple wizard animation scripting like PowerPoint. There is a desire to improve import/export integration with Office documents. This integration will be greatly influenced on how Microsoft will manage their new XML format.
---
Geetesh: Tell us about your support infrastructure.
Christopher: Currently, users can access a rich FAQ and a forum that is monitored daily by members of the Simulat team. We also have a 'report bug' button that when selected, attaches session information as well as the user generated report. When we leave Beta stage; paid subscribers will be provided with a phone number for live customer support.
---
Geetesh: What is your business model? Although you provide a free solution, many users would like to know more about this issue to instill confidence.
Christopher: The Vyew business model is software as a service; we will continue to provide Vyew for free, supported by ads, and we will also start offering an ad free version with more sophisticated functions; i.e. a greater number of Vyewbook's, larger concurrent user capability, custom skinning, video and audio, etc. at a monthly fee of around $25.00 per account holder with unlimited use based on the features selected.
---
Geetesh: Can you share some trivia about an unconventional use of Vyew -- or just something you want to share with Indezine readers?
Christopher: There are lots of examples of people using Vyew for things I would not have imagined; from analyzing stock quotes to football plays to teaching math and English. I think the coolest example that pops to mind is a doctor in South America using Vyew to send EKG information to his colleagues in different parts of the world. Here is an excerpt from an email he sent me…"…Regarding my work here, I am an advisor for the Peace Efforts, welcoming those groups that are leaving their guns behind, and trying to live normal lives (Normal? In such poverty?).
Believe or not, the efforts to offer rehab from drug addiction to young people involved in this war had been useless. Psychiatry did not work, neither clinical psychology. Some of them started to turn around with prayer and one to one support. They dig that kind of message. I love this work!
Besides that, I work on a major hospital as chief of the Stress Medicine Unit, giving support to Intensive Care Units, to Cardiovascular Surgery and Brain Surgery. That's in Medellin city (Where Pablo Escobar, the mafia capo used to rule).
Regarding telehealth:
Well, we are trying to interconnect small towns in this area, so we can have a positive effect on mortality by offering prompt attention. Just imagine you and Vyew helping us early detect severe cardiac events!
---
This is the original page. An AMP (Accelerated Mobile Page) version of this page is also available for those on mobile platforms, at An Interview with Christopher Peri.