March 16, 2009
Glow adds a hazed color perimeter outside the shape area. PowerPoint provides several glow variations, and in this tutorial I'll show you how to apply glow effects to a shape.
---
March 16, 2009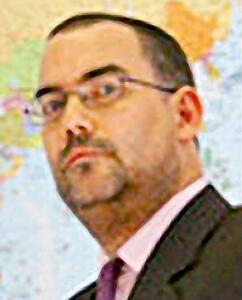 Carles Enric Lopez is CEO of Netmaps, SA -- a Barcelona, Spain based company. He has a degree in Geography from the Universidad de Barcelona (UB) and the University College of London (UCL). In addition, he holds a Master in Demography (Universitat Autònoma de Barcelona ) and is a Postgraduate in Urbanism (Universitat Politècnica de Catalunya). In this conversation, Carles Enric Lopez talks about the use of maps in PowerPoint.
---
March 16, 2009
Jerry Weissman is among the world's foremost corporate presentations coaches. His private client list reads like a who's who of the world's best companies, including the top brass at Yahoo!, Intel, Intuit, Cisco Systems, Microsoft, Netflix and many others. In this conversation, Jerry discusses his new book: The Power Presenter: Technique, Style, and Strategy from America's Top Speaking Coach.
---
March 14, 2009
This tutorial is part of the effects series for PowerPoint 2007. I already showed you how you can apply a shadow effect, and tweak the shadow options. In this tutorial, I'll show you how you can quickly add a reflection to a shape.
---
March 14, 2009
Have you ever wondered how you might transform your presentations into the kind of integrated media displays you see on television during high profile shows and events? Examples would include the information graphics that appear during network nightly news broadcasts or major sporting events. In those displays backgrounds move subtly, transitions incorporate key branding and design elements, and video is included in visually interesting ways? Our review product, OfficeFX Presenter version 3.5 offers these capabilities and does so without changing the way your file looks or behaves in PowerPoint.
---
March 13, 2009
Olivia Mitchell has been a Toastmaster, a management development trainer for a major bank, and a political candidate. Now she teaches others how to become more confident and effective presenters - through face-to-face training courses in New Zealand (Effective Speaking) and her blog Speaking about Presenting. In this conversation, Olivia discusses PowerPoint slide design in 2009.
---
March 12, 2009
Damian McDonald is the founder of Visual Newmedia which has over 15 years' experience in developing communication solutions for a number of leading global brands. Damian heads the team in the development and implementation methodologies of Visual's presentation management solution - Visual Presenter. Damian discusses problems faced by folks who create and deliver presentations, and how Visual Presenter can help.
---
March 10, 2009
On the surface, PowerPoint looks like an easy program to learn -- in fact, plenty of users have been able to create PowerPoint content within a few minutes of starting using this program -- and most of them then believe that they are now PowerPoint savvy. Clearly, there is a need for some well designed and conceptualized PowerPoint training. This review looks at one such offering from Train Signal's CBT (computer based training) on PowerPoint 2007.
Read the Indezine review here.
---
March 10, 2009
This article by Robert Lane and Dr. C. June Maker explores how the human brain handles visual input and the implications for PowerPoint presentations.We recommend eliminating most of those carefully thought-out words on slides and replacing them with certain kinds of rich imagery.
Doing so efficiently feeds thebrain what it likes to see, and allows you to communicate messages in ways not possible with words alone.
---
February 27, 2009
In the last few years, there have been a spate of products that offer compression and optimization for PowerPoint presentation file formats. Many of these do an awesome job, making PowerPoint files more lean and compact, and easier to share. Now the next generation of these products does the same compression and optimization for many more file formats including the ones introduced in Microsoft Office 2007. Our review product, FILEminimizer Office is one of them.
---
February 24, 2009
Don Brittain is CEO and a founder of Instant Effects, a California company that develops software to visually enhance presentations, communications, and collaboration. In this conversation, Don discusses the new v3.5 release of Instant Effects Presenter.
---
February 23, 2009
In a previous tutorial I showed you how to apply the preset effects to shapes in PowerPoint 2007. In this tutorial, I'll show you how you can apply shadow effects to shapes in PowerPoint 2007.
---
February 23, 2009
PowerPoint 2007 offers six effect types that you can apply to most slide objects including shapes. However there may be times when you don't want to go through the trouble of experimenting with these six effects to see if a particular shadow effect style works well with another bevel effect. If that sounds familiar, you will love the Presets option that combines effects that generally work well with each other.
Learn more about these Preset Effects
---
February 23, 2009
PowerPoint 2007 shape effects can be applied to selected shapes on a slide. There are six shape effects available in PowerPoint 2007: shadow, reflection, glow, soft edges, bevel, and 3-D rotation. In addition you also have presets. I'll explain each of these effects options in individually detailed pages. In this tutorial, I'll explain basics of applying effects.
---
February 17, 2009
If you love to create collages of all sorts from your pictures, then you know that positioning and moving individual pictures for a collage can be a time consuming process that requires many hours of experimentation. Naturally, all those extra hours mean that there is a limit to your creativity since you would not want to start all over again with a collage product. Shape Collage, our review product frees you from these time concerns and lets you focus entirely on your creativity.
---