July 11, 2005
Microsoft Word often acts as a storyboard in the foundation stage of a concept. It is quite normal to find people creating plans and jotting inspirations in Word to form outlines which can be refined and fine-tuned to be used later as content for brochures, press releases and presentations. In this article, we'll discuss ideas that help create complete presentations within PowerPoint from suitable Word content
---
July 09, 2005
Indezine Photos
Announcing Full Circle
Camtasia Sweepstakes
Betsy Weber on Camtasia
Rick Altman on PowerPoint Live
and more.
---
July 01, 2005
Rick Altman is all set to host the third annual PowerPoint Live event this year in San Diego from September 25th to 28th. In this exclusive Indezine interview are all the questions you wanted to ask him - the interview turned out so good that Rick mirrored it on the PowerPoint Live site!
In this interview, Rick discusses PowerPoint Live like never before.
---
June 29, 2005
PowerShrink 1.3 includes several new improvements including a new wizard that will help you compress your PowerPoint presentations.
---
June 26, 2005
The new 2.3 update, which is free to registered users of the earlier versions includes several usability improvements. The most noticeable change is the first icon called Panel - and this is actually the harbinger of all new changes in this update of Perspector.
---
June 24, 2005
Indezine Photos
Announcing Americana
Kaleidoscope Sweepstakes
Ron Leishman Cartoons
PowerPoint Assistance
and more.
---
June 8, 2005
Announcing Good Earth
MessagePoint Sweepstakes
Clearengine
and more.
---
May 31, 2005
Free Backgrounds
NewTek Tricaster
MessagePoint Sweepstakes
iWand Presenter
and more.
---
May 20, 2005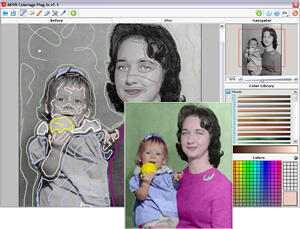 Coloriage is a plug in to color black and white portraits, photos and for changing the colors in colored images.
Coloriage is from AKVIS, a company based in Russia that specializes in graphics programs and scientific research. Apart from Coloriage, AKVIS also creates other Photoshop compatible programs like retoucher, Chameleon, Stamp and Enhancer.
---
May 17, 2005
Although PowerPoint has a plethora of options as far as creating info graphics is concerned, there are umpteen ways of making better info graphics outside PowerPoint. Microsoft offers Visio as an interesting option – but then Visio is an enterprise level product more geared towards large organizations rather than everyday PowerPoint users. If you identify with this situation and want a product with a reasonable amount of choices and possibilities, you might want to look at ConceptDraw.
---
May 16, 2005
We have seen it countless times before, but this latest one was particularly poignant. The intelligent presenter, with something important to say, who got lost in her slides. She started out beautifully, introducing herself and her ideas, standing before a well-designed title slide
Rick Altman explains more about the Golden Triangle.
---
May 10, 2005
Announcing free PowerPoint backgrounds for you to use.
---
May 4, 2005
If you are making more PowerPoint presentations in your job these days, you're not alone. According to findings of a recent poll1 conducted by Geetesh Bajaj of Indezine and Claudyne Wilder of Wilder Presentations, 61 percent of professionals say they will make between one and thirty presentations this year -- two-thirds of whom expect to deliver 30 presentations or more by year's end. Everyone, it seems, has more presentations to give.
---
April 20, 2005
So you think you know PowerPoint? Good. Now you're ready to learn some really interesting techniques. For example, have you ever wanted to have a text box that can be edited while a show is running? Have you ever had more text than room and wished you could create a scroll bar? Have you ever wanted to use PowerPoint as a quiz or survey?
---
April 18, 2005
Jan Ozer has worked with digital video since 1991, originally in the video compression industry and since 1996 as a contributing editor for EventDV and PC Magazine. Jan teaches courses in digital video production, both privately and for the University of Wisconsin Department of Continuing Education, and shoots and produces DVDs for local musicians near his hometown in Galax, Virginia.
In this interview, Jan discusses PowerPoint, the book and video stuff.
---