November 6, 2005
Composer/Producer John Bickerton is Creative Director for the UniqueTracks Production Music Library. UniqueTracks licenses music for use as soundtrack in digital video productions, independent films, Flash, multimedia and PowerPoint presentations.
In this interview, John discusses music libraries and sounds in presentations.
---
November 4, 2005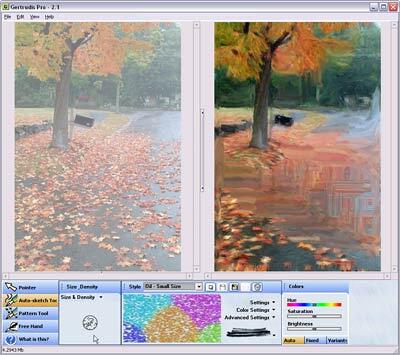 Gertrudis Pro is an image manipulation software of a different kind. It takes your digital camera pictures(or any other picture) and transforms it to beautiful works of art that look like everything from watercolors to oils and crayons to pastels.
---
November 2, 2005
Nancy Duarte has been a Principal of Duarte Design since 1990. Her firm is in the heart of the Silicon Valley and the client list is loaded with Fortune 500 companies. Her passion for business communications that are clear, meaningful and attractive has opened doors for her in a business world full of cluttered and complex visual communications.
In this interview, Nancy talks about design, inspiration and rules.
---
October 19, 2005

Have you ever wanted to fill a picture with a gradient - or another picture in PowerPoint? Have you wanted to blend two pictures in PowerPoint to create a montage? More importantly, have you been frustrated running images between Photoshop and PowerPoint to achieve some simple effects (like the ones shown below)?
Let me show you how to do this.
---
October 11, 2005
You've spent a lot of time designing a presentation template. The background image is just right, the fonts are defined, line spacing and bullet points are formatted, and the company logo is clean and well-presented. Now, how do you marry the rest of your graphic elements to the template to keep the design consistent across your presentation?
Julie Terberg teaches you how consistent color palettes can help.
---
October 10, 2005
Insert Picture allows you to insert tons of pictures at one go into PowerPoint slides so that you can feed a whole folder of pictures to PowerPoint at one go - no more going to the Insert | Picture menus a hundred times!
---
October 8, 2005
The three most popular phrases used to describe the offerings of music production libraries like UniqueTracks are:
Royalty free music
Stock music
Buy-out music
Of the three, the most accurate, to me, is stock music because it implies a collection of media that is immediately available to be used in production creation.
Read more with John Bickerton.
---
September 14, 2005
Announcing the release of AutoShape Magic, a free add-in for PowerPoint.
AutoShape Magic for PowerPoint allows you center your objects on a slide. You can also increase and decrease the size of your shape in fixed increments and use some preset gradients as fills.
You can add a direction for a gradient, or alter the direction - and swap fill colors for gradients and patterns.
---
August 29, 2005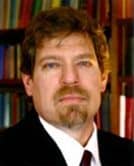 They desperately needed a cohesive strategy for moving forward. On this day, grim-faced department heads slowly shuffled into a meeting room, preparing to face the situation. Everyone expected a contentious and volatile event. To their surprise, something very different occurred…
---
August 23, 2005
[an error occurred while processing this directive]
Indezine Photos
Announcing New Templates
pptXTREME Color Picker Sweepstakes
Focus on DataPoint
PowerPoint Versions
and more.
---
August 8, 2005
Download a free Multiplication Table.
---
August 6, 2005
Indezine Photos
Announcing Green Gaze
Bio Meadows Sweepstakes
Focus on pptXTREME SoftShadow
Focus on Relational Presentations
and more.
---
August 6, 2005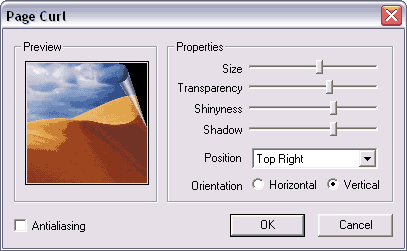 Mac's Page Curl is a freeware page curl filter created by Mark McLaren. Although the homepage of Mac's Page Curl says it is compatible with Paint Shop Pro, it actually works with all applications that accept Photoshop compatible plug-ins.
---
July 20, 2005
Indezine Photos
Announcing Vacation
Marbled Magic Sweepstakes
PowerPoint Live Sweepstakes
James Ontra on Ontra Presentations
Adrian Doyle on Perspector
and more.
---
July 12, 2005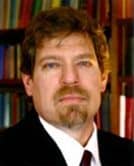 What if a speaker could jump around not only within a single slideshow but between hundreds, or thousands, or even tens of thousands of slides? Could I create an environment with ultimate freedom, where every possible slide is available at the click of a mouse, anytime, from anywhere
---