April 18, 2005
A codec is a compression technology, and you have several choices. I like Windows Media for two reasons. First, at similar data rates, Windows Media quality, when encoded using variable bit rate techniques, exceeds the quality of all competitive technologies, except for RealVideo, which is neck and neck.
---
April 13, 2005
The rich media bubble keeps getting larger. The reasons are not difficult to ascertain - there has been a spurt in demand with clients from all sectors of industry and society scrambling to convert their knowledge content into easily accessible rich media. Most rich media converters for PowerPoint use the Flash format for conversion including
iMediaCONVERT, the product I'm reviewing.
---
March 15, 2005
Joye Argo spent a number of years in corporate marketing and advertising for the education and healthcare sectors. She was a national account executive for a Fortune 500 firm before starting her own company providing research consulting to large direct marketing firms. Joye is a principal and Vice President of Business Development at Studio F Productions.
In this interview Joye discusses the importance of using professionally designed templates.
---
March 07, 2005
Perspector Sweepstakes
FogScreen
The Pete McChrystal Interview
and more.
---
February 23, 2005
Pete McChrystal is the founder and CEO of Accent Technologies. During the early years, Accent's focus was on high-end presentation development and management services for corporate clients. Today, Librarian is used by many Global 2000 companies to manage and distribute documents and presentation materials to global offices and mobile sale forces.
In this interview, Pete discusses PowerPoint, DAM and ADM.
---
February 16, 2005
FLW Sweepstakes
PowerPoint Camtasia Tutorials Contest
Snapz Pro X for PowerPoint:mac
Animated GIF fill for WordArt
and more.
---
February 02, 2005
Neuxpower Sweepstakes
PowerCONVERTER XP
Photoshop for PowerPoint
Fills & Lines - Part V
and more.
---
February 03, 2005
Many PowerPoint users have hundreds if not thousands of presentations on their computers. And if you are like any of those users, you probably have all the content for tomorrow's presentation scattered in slides across those hundred presentations. All you need now is a solution that will assemble the slides you need into a new presentation that you can thereafter fine-tune.
If you really need a magic potion like that, do look at Slide Executive.
---
February 1, 2005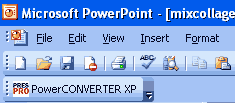 For this test, I created a single slide presentation that consists of several AutoShapes with varying transparency levels. All AutoShapes have entry, emphasis and exit animations.
Learn how PowerCONVERTER XP fared.
---
January 29, 2005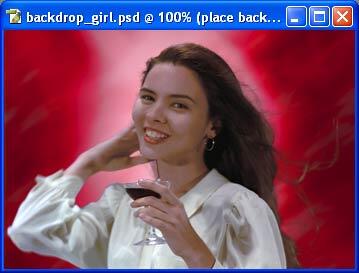 Is this the perfect backdrop designer for PowerPoint presentations?
Learn more about Backdrop Designer here.
---
January 29, 2005
Free Valentine Day Templates
---
January 20, 2005
Amazing Skies Sweepstakes
Bill Abbott - Cartoons for PowerPoint
Fills & Lines - Part IV
and more.
---
January 17, 2005
Retoucher is a Photoshop plug-in that removes scratches, dust, artifacts and stains from old and damaged photographs.
Retoucher is from AKVIS, a company based in Russia thatspecializes in graphics programs and scientific research. Apart from Retoucher, AKVIS also creates other Photoshop compatible programs like Chameleon, Stamp and Enhancer.
Learn more about Retoucher here.
---
January 14, 2005
If you've always wanted to create a photo org chart, look no further. In this tutorial, you can learn how to create a photo org chart in SmartDraw and then insert it inside PowerPoint. The tutorial is accompanied by lesson files and a finished slide that you can Download.
Start creating your photo org chart now.
---