Introduction
About PresentationPro
Download And Installation
Using PowerCONVERTER XP
Pricing and Support
In Conclusion
---
Introduction
PresentationPro created one of the first PowerPoint to Flash based online rich media tools in 2001. The product was released around the same time as PowerPoint 2002 (XP) and did not include support for all the new transitions and animations that the new PowerPoint version introduced.
PresentationPro released a new updated version called PowerCONVERTER XP for users of PowerPoint 2002 and 2003. The older PowerCONVERTER product is still available for users of PowerPoint 97 and 2000.
In this review, we'll explore PowerCONVERTER XP.
Back
---
About PresentationPro
PresentationPro, based in Atlanta, United States, creates several PowerPoint related products including a collection of PowerPoint tools - their site provides free samples and previews.
They offer a convenient subscription model to access the content on their site - these include static and animated presentation templates and 3D art optimized for straight import into PowerPoint.
PresentationPro clients include various Fortune 500 companies.
My contact for this review was Gary White, President of PresentationPro. Thank you, Gary.
Back
---
Download And Installation
A trial download for PowerCONVERTER XP is available - its limitations include the inability to process more than 10 slides within a given presentation. Also, in trial mode, the product allows functions for 10 days. To download a trial, visit the PowerCONVERTER page (link no longer exists).
Installation is easy. Just run the downloaded setup routine and you'll find a PowerCONVERTER toolbar with one icon the next time you launch PowerPoint.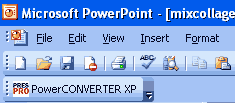 Back
---
Using PowerCONVERTER XP
For this test, I created a single slide presentation that consists of several AutoShapes with varying transparency levels. All AutoShapes have entry, emphasis and exit animations.
Here are my findings:
The entry and exit animations translated perfectly, right down to the animation timings and sequences.
The emphasis animations translated well, but the color change was entirely different from PowerPoint's brighter colors.
I admit that I used a very rarely used emphasis animation that involved color changes based on the actual hues rather than fixed color values. To be fair to PowerCONVERTER, two other competing programs did not perform the emphasis animations at all.
Back
---
Why PowerCONVERTER?
I asked Gary about how PowerCONVERTER was different than the other tools and here is his detailed response:
Single file conversion option (we are the only XP/2003 converter allowing user to create a .SWF file for easy management and uploading)
Convert without a player (option to convert the presentation in it's pure presentation format without a player)
Video conversion (picks up a wide range of video format from within PowerPoint, users do not have to go through a process of reinserting video as with other converters)
Sound effects (directly from PowerPoint no learning curve, no additional processes)
Recorded narration (taken directly from PowerPoint. Again there is no learning curve or process to get audio with the converted presentation)
Transitions (supports all transitions)
More XP/2003 effects (supports practically all effects, the largest in the market)
Better image quality (wide range of user controlled ways to get the best image quality with optimizing file size)
Simple conversion (simple click convert)
Choice of client side or server side conversion
Keyboard control (full keyboard control of converted presentations)
Full screen projector (allows user to save as .EXE and when played automatically fill the whole screen)
That's such a complete list!
Back
---
Pricing and Support
PowerCONVERTER XP is priced at US$599 - that's not a bargain but it's priced almost the same as other similar tools.
Support options include a FAQ and a technical knowledge base on the site in addition to email support.
Back
---
In Conclusion
I have seen PowerCONVERTER mature from its first version and the features in this latest release almost blew me away. It's a very capable product and I really like the fact that PowerCONVERTER provides me with a pure presentation output rather than a proprietary player based solution.
Back
---
This is the original page. An AMP (Accelerated Mobile Page) version of this page is also available for those on mobile platforms, at PowerCONVERTER XP.