Jan Ozer has worked with digital video since 1991, originally in the video compression industry and since 1996 as a contributing editor for EventDV and PC Magazine.
Jan teaches courses in digital video production, both privately and for the University of Wisconsin Department of Continuing Education, and shoots and produces DVDs for local musicians near his hometown in Galax, Virginia. DV 101 is Jan's tenth video-related book.
Which Codec?
A codec is a compression technology, and you have several choices. I like Windows Media for two reasons.
First, at similar data rates, Windows Media quality, when encoded using variable bit rate techniques (middle picture on the right), exceeds the quality of all competitive technologies, except for RealVideo, which is neck and neck.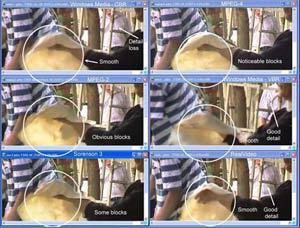 Figure 1: Codec quality at 1.5 mbps - click image or this link for a larger view.
With Windows Media files, however, you can use any of the three available techniques for inserting the file into PowerPoint (Insert Action, Insert Movie, Object Linking). With RealVideo files, you can only use the first, Insert Action, where PowerPoint will call RealPlayer to run and play the file as a separate application. This is OK, but can't match the neat embedded look available with both of the other insertion options.
For the record, QuickTime files are limited to the same insertion options as Real, while MPEG-2 and AVI files can use all three insertion options, just like Windows Media.
---
What Data Rate?
Data rate is content dependent, and typically the greater the motion in the video, the higher data rate you'll need to produce artifact free videos. Conversely, for low motion videos like talking head shots, you can produce good quality video at lower rates.
Typically, for low motion video, I start at about 2 megabits per second (mbps). If the quality is good, I use that, if not I'll bump it higher at increments of 500 kilobits per second until quality is acceptable. Rarely have I ever had to exceed 4 mbps to achieve acceptable quality.
---
What Resolution?
The general rule used to be 320x240 resolution, but that was back when screen resolutions were 640x480. Now, they're 1280x1024 or larger, which means encoding at or close to full resolution.
Whatever resolution you choose, be sure to maintain a 4:3 aspect ratio between horizontal and vertical pixels. For example, I generally encode all full screen videos at 640x480 resolution, as shown in the Movie Wizard from Movie Maker 2 in Figure 2.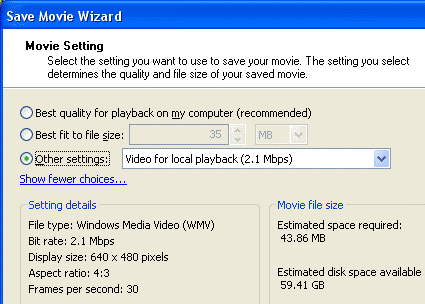 Figure 2: Encoding for PowerPoint with Movie Maker 2
If you decide to go smaller than 640x480, use 4:3 resolutions like 480x360, 320x240 or 240x180, which ensures that your video will display without distortion.
---
What else do I care about?
Briefly, most video starts life in interlaced mode, where each 1/30th of a second of video is divided into two fields, one displaying odd lines on the TV screen (1,3,5) and the other displaying even lines (2,4,6). Note that when captured by the camera, these fields were actually shot 1/60th of a second apart.
At PowerPoint resolutions, Windows Media Video uses progressive display, which combines two fields into one frame displayed from top to bottom. However, Movie Maker 2 isn't particularly adept at de-interlacing, or removing artifacts that often result in high motion videos when your combine two fields into a single frame. These are shown on the left in Figure 3.


Figure 3: The benefit of high quality de-interlacing provided by Sony's Vegas Video
On the right, I've produced the same file to the same parameters, but encoded with Sony Vegas Video 5, which has a great de-interlacing filter. Whenever you see artifacts like those shown on the left, recognize that you either forgot to set the de-interlacing filter properly, or that it simply doesn't work that effectively. If the latter, you'll need to find a different encoding tool.
This is the original page. An AMP (Accelerated Mobile Page) version of this page is also available for those on mobile platforms, at Encoding Video for PowerPoint.