Combine Shapes are new for PowerPoint 2011 and are a set of four tools that let you combine, unite, intersect, or subtract selected shapes in various ways, depending upon which shape overlaps the other. Unfortunately they are so well hidden that you may not even be aware that they exist! You won't find these commands in any of the Ribbon tabs, nor will you be able to customize your toolbars to get these options.
To view the Combine commands, you need to select two or more shapes. Then right-click (or Ctrl + click) the selection. In the resultant contextual menu, select the Grouping option to summon the sub-menu that you see in Figure 1. The four Combine Shapes commands have been highlighted in red within Figure 1, below.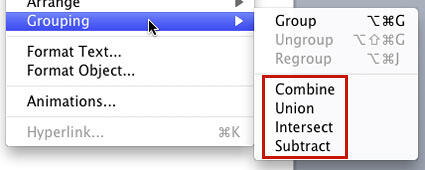 Figure 1: Combine Shapes commands in the contextual menu
With the capabilities of these four powerful commands, you can edit and even combine shapes to create your own unique shapes! These four Combine Shapes commands are:
In this tutorial you'll learn how to make the Combine Shapes commands accessible and then we'll show how you can use these individual commands in successive tutorials.
Open your presentation and navigate to any slide that contains shapes that you want to combine.
Alternatively, if you want to start from scratch, launch PowerPoint 2011 for Mac. Typically, this brings up the PowerPoint Presentation Gallery. Make the selections in this gallery as required, or just click the Cancel button to create a blank, new presentation containing one slide. If needed, PowerPoint 2011 users can change the slide layout to blank. Then, insert some shapes on your slide and reorder them as required. You can see such an arrangement of shapes in Figure 2.

Figure 2: One shape placed atop another shape
Select the shapes you want to combine, and carefully right-click them to bring up the contextual menu shown in Figure 3.

Figure 3: Contextual menu brought up by right-clicking the selected shapes
In this contextual menu, select the Grouping option (highlighted in

red

within Figure 3 above). This will bring up the sub-menu shown earlier in Figure 1.
This sub-menu provides you with the four Combine Shapes commands as shown highlighted in

red

in Figure 1 above. While we will explore them all in four separate subsequent tutorials, let us now take a look at what these commands do to selected shapes:

Combine: Combines non-overlapping areas of shapes.
Union: Unites all overlapping and non-overlapping areas of shapes.
Intersect: Works effectively when all selected shapes overlap each other.
Subtract: Retains the first selected shape, and removes areas representing other shapes.

Select any Combine Shapes command as required to apply it to the selected shapes. Figure 4 shows the result of applying the four Combine Shapes commands to the shapes shown in Figure 1.

Figure 4: Result of applying Combine, Union, Intersect, and Subtract commands to the same set of selected shapes
Save your presentation.