PowerPoint follows the process of selection, then action for any slide object on a slide. If you cannot select an object, then you cannot do anything to modify it in any way. Although this tutorial explains how you can select shapes on a slide, the process works the same way for any other slide object.
Select or Deselect a Single Shape
Just click a shape to select it. Figure 1 shows a single shape selected on the slide. To deselect the shape, click on an empty area on the slide, or you can Shift + click on the selected shape.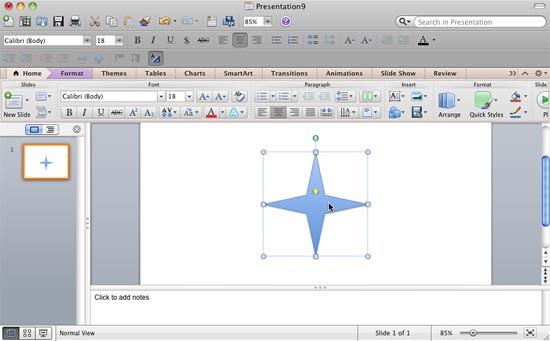 Figure 1: A single shape selected on the slide
Select a Shape that's Behind Another Shape
To select a shape that's behind some other shape and cannot be selected easily, press the Tab key to select all the shapes on the slide one after the other, until the Tab key selects the shape you want. If you pressed the Tab key quickly multiple times, and missed selecting a shape, you can press Shift + Tab to reverse the entire tab selection process.
Select or Deselect Multiple Shapes
To select more than one shape, use any of these options:
Click a shape to select it and then

Shift

+ click (or

Command

+ click) another shape to include it into the selection. Repeat the same process to select more shapes on the slide. Figure 2 shows two shapes selected.

Figure 2: Two shapes selected on the slide
Place your cursor on the blank area of the slide (area that has no selectable content), or even click on the area outside the slide. Then click and drag to draw a marquee with your cursor over the shapes you want to select, as shown in Figure 3. This works best when the shapes you want to select are placed fairly close to each other.

Figure 3: Draw a marquee over the shapes to select them
Press

Command

+

A

to select all the shapes on the slide. Then you can deselect the shapes which you don't want to be the part of the selection. To do that, press

Shift

+ click on any of the selected shapes to deselect it (see Figure 4). This works best if you have a slide with many shapes and a title. Since

Command

+

A

selects the title as well, you can thereafter deselect the title so that the selection is limited to only shapes on the slide.

Figure 4: Slide with all shapes selected except a single deselected shape