PowerPoint 2013's Presenter View is one of its most revamped features. Let us first let us discuss what Presenter View actually is. It's a special view that accompanies Slide Show view and is typically used in a two display environment such as a laptop and a projector. The projector then shows the actual slides—that's what we commonly call Slide Show view. However, you see the Presenter view on the laptop or the primary display. Figure 1, below, shows you Presenter view. Notice that you get to see much more than just the slide. Rest assured that the audience viewing the projector output see only the slide!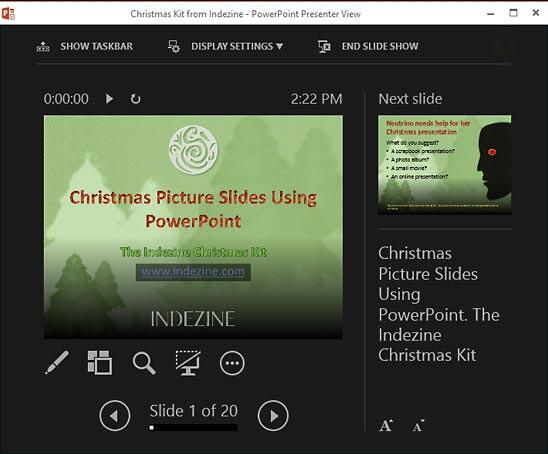 Figure 1: Presenter view in PowerPoint 2013
While Presenter view in PowerPoint 2010 and earlier versions had to be turned on, PowerPoint 2013 automatically detects if you have two displays and turns on Presenter view. You should however still check and ensure that this view shows up on your laptop and not on the projected view. We show you how you can swap displays using the Display Settings option later in this tutorial.
If you are using only a single display you can still choose to change to Presenter view from within Slide Show view. Hover your cursor over the bottom left area of the slide to find six watermarked navigation icons that you can see in Figure 2. Click the last icon and from the resultant menu choose the Show Presenter View option (see Figure 2 again).

Figure 2: Show Presenter View option to be selected
This brings up PowerPoint 2013's Presenter View, as previously shown in Figure 1. At first sight, you will notice that PowerPoint 2013's Presenter View has a new enhanced Web 2.0 style interface. There are many new features added to the Presenter view's console such as zooming onto a specific part of the slide, and then panning across the slide area. Also you have dedicated Pause, Resume and Restart buttons to give you more control over slide timings. Also, you now have easier access to the Laser pointer tool, which directs the eye with a bright colored point of light.
We explain all these features, and more next, as marked below in Figure 3.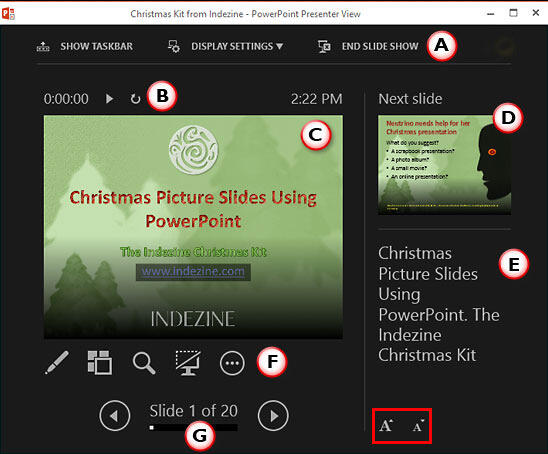 Figure 3: Presenter View
A. Toolbar
Here you find three (or four) options:
Show Taskbar: A toggle that alternates between showing your Window taskbar. Click once to make the taskbar available. You'll find that the option is now highlighted as shown in Figure 4, below.

Figure 4: Show Taskbar option gets highlighted on clicking
It can be useful to have access to the taskbar if you need to access any open application. Then once you get back to your slide show, you can click the Show Taskbar option again to hide the taskbar. The option is then no longer highlighted.
Share Meeting Notes: This option is only available if you have Microsoft OneNote installed on the same system. This lets you share your meeting notes within OneNote.
Display Settings: This option, when clicked spawns a drop-down menu, as shown in Figure 5. Here you'll get options to Swap Presenter View and Slide Show, also option to Duplicate Slide Show.

Figure 5: Display Settings drop-down menu
If you are on a single display environment, these options will be grayed out. On a dual display environment, you can use the Swap Presenter View and Slide Show option to swap displays between your laptop and projector. The Duplicate Slide Show option will show the active view on both displays.
End Slide Show: Exits the presentation. You can also duplicate this option using the Esc keyboard shortcut.
B. Timer
Shows above the Preview area, as shown in Figure 6, below. The Timer determines the time elapsed since the slide show started. Additionally, PowerPoint 2013 introduces two extra buttons for Pause/ Resume and Restart.

Figure 6: Slide Preview and Timer
C. Preview area
This shows the active slide (see Figure 6, above). The same slide is simultaneously displayed full screen on the projected screen (secondary display).
D. Next Slide
On the top right side, you'll find a preview of the next slide.
E. Notes pane
This section displays the notes (if there are any) for the current slide. Here you'll find two buttons to Make the text larger and Make the text smaller (highlighted in red within Figure 3, earlier on this page).
F. Extra Controls
There are five extra controls available below the Slide Preview (see Figure 7). These are explained from left to right:


Figure 7: Extra Controls within Presenter view
Pen and Laser Pointer tools: Click on this button to bring up a menu, as shown in Figure 8, below.

Figure 8: Contextual menu in Presenter view
The options within this menu are explained below:
Laser Pointer: Directs the audience's eye with a bright colored point of light. You can set the Laser Pointer color within the Set Up Show dialog box. To access this dialog box, choose the Slide Show tab of the Ribbon, and then click the Set Up Slide Show button.
Pen: Lets you draw or annotate with a pen.
Highligter: Almost like a virtual highlighter pen.
Ink Color: Changes the pen color.
Eraser: Lets you erase any pen or highlighter marked areas (grayed out if there are no marked areas on the current slide).
Erase All Ink on Slide: Removes all ink markings (grayed out if there are no marked areas on the current slide).
Arrow Options: Brings up a sub-menu with options to show (Visible) or hide (Hidden) the cursor while presenting. The Automatic option is turned on by default—this shows the cursor when you move your mouse or trackpad for a while, and hides it again when there's no moving activity for a while.
See All Slides: Click on this button to bring up the whole slide stack (see Figure 9), and choose any slide. With this option, you can easily switch slides in or out of sequence from a grid that only you see. Your audience only sees the slide you've selected.

Figure 9: Slides stack
Zoom into the slide: With this tool you can zoom a part of the slide and then pan around. Figure 10 shows the zoom option as active. Zoom works more smoothly if you are using a tablet device such as Microsoft Surface.

Figure 10: Zoom active within the Presenter view
Black or Unblack Slide Show: This is the toggle button to turn the screen completely black. Click again to un-black the screen. You can get the same results by pressing the

B

shortcut key. Similarly you can press the

W

shortcut key to get a white screen, and press

W

again to un-white the screen.
More Slide Show Options: Click this button to bring up a drop-down list, as shown in Figure 11.

Figure 11: More slide show options
Within this list you'll find more options:
Last Viewed: Goes to the last viewed slide
Custom Show: Opens a sub-menu that lists all custom shows available in the open presentation. This option is grayed out if there are no Custom Shows created.
Hide Presenter View: Hides Presenter View and takes you back to Slide Show view on a single display environment.
Screen: Lets you show a Black or White screen to the audience, Show / Hide Ink Markup (pen, highlighter, etc.), and reveal the Windows taskbar (Switch Programs).
Help: Brings up a list of keyboard shortcuts that you can use while presenting (see Figure 12).

Figure 12: Keyboard shortcuts for presenting

PowerPoint Keyboard Shortcuts

Do you want more keyboard shortcuts?

Explore our PowerPoint Keyboard Shortcuts and Sequences Ebook that is updated for all PowerPoint versions.

Pause: Lets you pause your slide show and animations. Click Pause again to restart, or just press the

Pause/Break

key on your keyboard. Most laptop keyboards may not have this key but bigger desktop keyboards have the

Pause/Break

key.
End Show: Exits Slide Show and Presenter views
G. Navigation
Use the Previous Slide or the Next Slide arrow buttons to navigate to those slides. Also the area in between shows you which slide is active.