About InsertPicture
Download and Installation
Using InsertPicture
Pricing and Support
Conclusion
---
About InsertPicture
InsertPicture is a PowerPoint add-in that works on PowerPoint for the Mac. Different versions of the add-in are available for users of PowerPoint v X, 2001, and 2004. For this review, we're using the version that works with PowerPoint 2004.
So what does this add-in do?
InsertPicture allows you to insert tons of pictures at one go into PowerPoint slides so that you can feed a whole folder of pictures to PowerPoint at one go. There's no need to visit the Insert | Picture menu option a hundred times! It also allows you to import pictures from a scanner or another TWAIN device or import pictures one at a time. In addition, you'll find niceties like applying random animation styles to individual pictures, and control over image editing functions like brightness, contrast, and positioning (rotate, flip, tilt, etc.).
InsertPicture is created by James Gordon, a Macintosh MVP who mainly works with Microsoft's Office:mac suite of applications including PowerPoint, Word, Excel, and Entourage. You'll find more info about InsertPicture at the Agent Jim web site.
---
Download and Installation
There's no trial version available so you'll have to order the full version from the Kagi site (link no longer works).. James provides a satisfaction guarantee and allows you to ask for a refund if you are not satisfied with the add-in.
Installation is easy, and helpful instructions are available here. Once you've installed the add-in, your PowerPoint interface will include the new InsertPicture toolbar that you can see here.
---
Using InsertPicture
We clicked the third icon that brings up the Bulk Import Settings dialog box that you can see in the screenshot below.
As you can see, there are plenty of options that you can play with here. We like the random entry animation option since that saves us so much time. Once you have tweaked the settings to your heart's delight, click the Get Pictures button to open the familiar Finder window to navigate to a folder that contains the pictures you want to insert. Click the Choose button and InsertPicture automatically inserts all the pictures for you, and it happens so quick that you don't even have enough time for a cup of coffee!
The screenshot below shows how all our pictures were inserted into separate slides.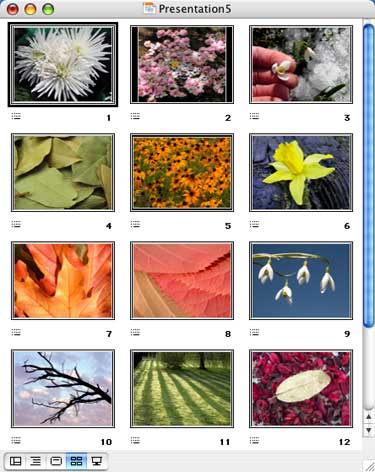 ---
Pricing and Support
InsertPicture is priced very economically at US$15 per license and costs go down for multiple licenses and academic usage.
Support is through email.
---
Conclusion
For what it does, InsertPicture is a real time saver that's so affordably priced. This one receives a go-for-it verdict.
---
This is the original page. An AMP (Accelerated Mobile Page) version of this page is also available for those on mobile platforms, at InsertPicture for PowerPoint: Mac.