SlideBoom is a web site where you can upload and share your PowerPoint presentations, at the back-end, a PowerPoint to HTML5 or Flash converting engine makes online movies of all your PowerPoint slides. Each uploaded presentation on SlideBoom is provided a unique page URL that you can share with friends and others who want to see your presentation.
That was an easy introduction to SlideBoom. In a series of subsequent PowerPoint Sharing tutorials, we will look at several options that SlideBoom provides including how you can join SlideBoom, uploading PowerPoint presentations, share uploaded presentations, etc.
Figure 1 shows the SlideBoom homepage, to get to this page, you need to visit the SlideBoom link in your web browser.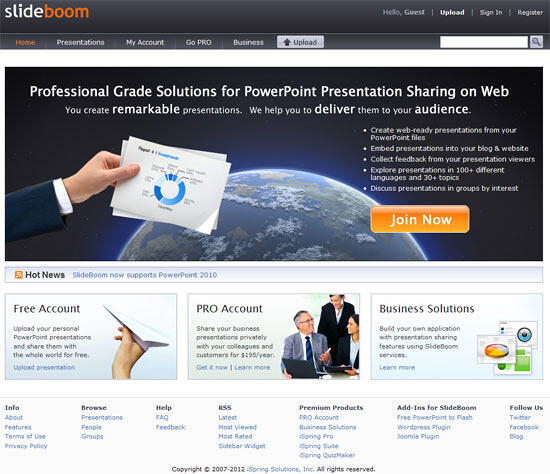 Figure 1: The SlideBoom homepage
SlideBoom is from iSpring Solutions, Inc, the same folks who create the iSpring range of PowerPoint to Flash conversion software. Read our review on iSpring Converter here.
In next tutorial on SlideBoom, we'll show you how you can join as a member. Membership is free and allows you to upload your PowerPoint presentations to the SlideBoom site, even though there is a limit on maximum number of presentations to be uploaded.