When launched, PowerPoint 2013 typically opens a Presentation Gallery as shown in Figure 1. The Presentation Gallery provides several ways to start your next presentation using a template, a Theme, a recent presentation, a not-so-recent presentation, or even a blank presentation. These and other choices are explained in this tutorial.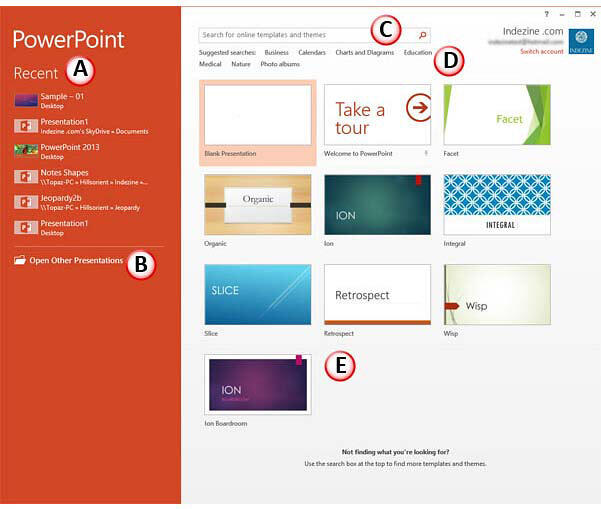 Figure 1: PowerPoint 2013 Presentation Gallery
Tip: Does the PowerPoint Presentation Gallery not show up when you launch PowerPoint 2013? No worries, you can also access this gallery after launching PowerPoint 2013 by choosing the File | New menu option.
Each element of the PowerPoint Presentation Gallery window is explained below, as marked in Figure 1 above:
A. Recent
Here you will see the list of recent presentations. To open, click on the name of any recent presentation.
B. Open Other Presentations
This option, when selected brings up the Open pane within the Backstage view, as shown in Figure 2. Here first you need to choose the Places from where you want to open the presentation(s) such as: Recent Presentations, SkyDrive, or Computer. You can even Add a place where your presentations are saved such as an attached external hard disk. Then click to see an available list of presentations (appears on the right side as a new pane).

Figure 2: Open options within Backstage view
Tip:
Want to go back to the
Presentation Gallery
from the
Open
pane? Just click the
New
option, highlighted in
green
within
Figure 2
.
C. Search online templates and themes
Here just enter any keyword(s) as shown highlighted in red within Figure 3, and click the search button to search for online templates and themes. You can see the results in the New pane within Backstage view, as shown in Figure 3. Click on any of the thumbnails to open a presentation based on the template.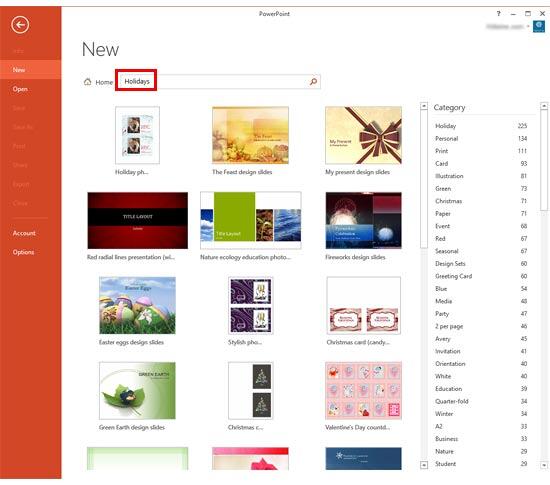 Figure 3: Result of searched keyword
D. Suggested searches
Here you'll find some suggested searches based on keywords and categories. These include: Business, Calendars, Charts and Diagrams, Education, Medical, Nature, and Photo Album. Just click on any of these keywords to get relevant results.
E. Themes and Templates
This section provides quick access to locally available templates. Click on any template other than Blank Presentation. This brings up a window with the selected template, as shown in Figure 4.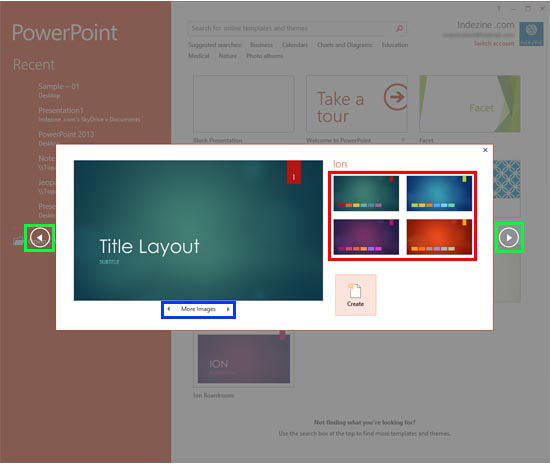 Figure 4: Selected template
Within this window you will get to choose from variations of the selected theme (highlighted in red within Figure 4). The More Images (highlighted in blue within Figure 4) arrows show some of the layouts available in the selected theme. And the arrows (highlighted in green in Figure 4) browse Previous and Next Themes.