Insert an audio clip on your PowerPoint slide, you see a sound icon that represents the audio clip, as shown in Figure 1, below. Of course, it rarely matters what the icon looks like if you have set your audio clip to play automatically. However, if you actually plan to click on this picture to play your audio clip. Then you might want to use another picture instead.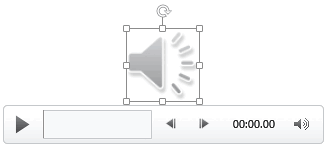 Figure 1: A sound icon on the slide represents the audio clip
The reason why you would use a picture that is different than a sound icon is because you may want to use a picture related to the audio clip. Here are some scenarios:
You may want to attach a recorded audio clip of Mahatma Gandhi or Martin Luther King to their picture. Then, when you click on their picture, the related audio clip will play.
You may want to attach a picture of a musical instrument to a rendering of that instrument.
Similarly, you can attach sounds of animals to pictures of those very animals for a kindergarten school project.
When you select an inserted audio clip in PowerPoint 2013 for Windows, you see two contextual tabs. Format and Playback, as shown highlighted in red within Figure 2, below.


Figure 2: Contextual tabs for an audio clip
Contextual Tab
The Audio Tools Format and Audio Tools Playback tabs are Contextual tabs. Contextual tabs are special tabs in the Ribbon that are not visible all the time. They only make an appearance when you are working with a particular slide object which can be edited using special options.
In this tutorial, we will explore the Format tab. Once you explore options within the Format tab, you'll wonder why there are options to adjust, arrange, resize, and apply picture styles. Now why does PowerPoint provide picture format options for an audio clip? That's because an audio clip is represented by a picture, as shown in Figure 1, previously on this page. Note that the Player Controls bar is activated when you select the sound icon. Note that this Player Controls bar is not part of the picture.
By default PowerPoint provides a sound icon for the audio clip. You can select this sound icon and use the picture format options provided within the Audio Tools Format tab. Or else you can also change this sound icon to any other picture. To do so, right-click the sound icon. From the resultant context menu, choose the Change Picture option, as shown in Figure 3, below. Thereafter choose any picture of your choice.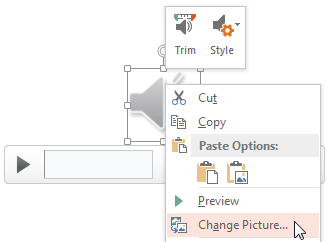 Figure 3: Change Picture option selected
Resize Larger
This option is more completely explained in our Change Picture in PowerPoint 2013 tutorial.
Before changing the default picture, make sure you first resize the current picture to a larger size since PowerPoint will replace the picture while retaining its proportions. Resizing the picture larger thereafter may result in a lower quality picture.
Doing so replaces the default audio picture with the picture of your choice as shown in Figure 4, below. Once the picture is changed, navigate to the Audio Tools Format tab. The options within this tab are categorized into four groups, as shown in Figure 4.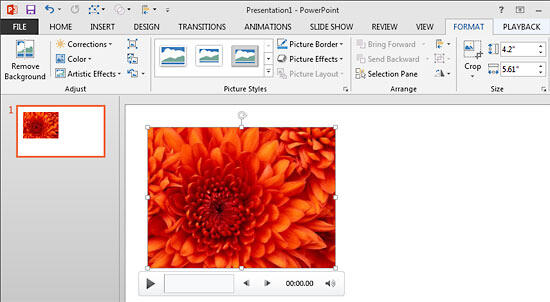 Figure 4: Changed picture for audio clip
Follow these steps to understand options within the Audio Tools Format tab in PowerPoint 2013 for Windows:
Select your inserted audio clip on the slide, and then access the Audio Tools Format tab of the Ribbon. Options within the Audio Tools Format tab are categorized into four groups, as shown in Figure 2, previously on this page.

1. Remove Background

This option figures out the boundaries of an object in the picture automatically, and allows you to keep some portion of the picture, and remove the rest. If you want to retain only some selected part of the picture, this is the best option to use. To learn how this option works, refer to our Remove Background from Pictures tutorial.

2. Corrections

This option is used to adjust the sharpness, softness, brightness, and contrast values of the picture. To learn more about this option, refer to our Picture Corrections tutorial.

3. Color

This option comes handy when you want to change the color of the picture. The resultant effect changes the overall color feel of the picture, like a monochromatic tint. You can find more information about this option in our Changing Color of Pictures tutorial.

4. Artistic Effects

Here you can select various artistic effects from the Artistic Effects drop-down gallery. To learn more about this option, refer to our Artistic Effects for Pictures tutorial.

5. Compress Pictures

By default, PowerPoint embeds your inserted pictures into your presentation leaving the size and format largely unchanged. You can reduce the size of the inserted picture using the Compress option. More information can be found within our Compress Pictures in PowerPoint 2013 tutorial.

6. Change Picture

This option enables you to change one picture on your slide to another, retaining all the effects (except Adjust and Crop options applied) and animations applied to the original picture. You don't need to delete the original picture and start all over again. Just change any existing picture into another with just a couple of clicks. You can find more information about this option in our Change Picture tutorial.

7. Reset Picture

This option resets the picture to its original state. However, this option will not do a full reset if you have already used the Compress Pictures option, explained earlier on this page.

8. Picture Styles

Similar to a Shape Styles for your shapes, PowerPoint provides Picture Styles. With a single click, Picture Styles transform a simple looking picture to something that's more highlighted.

9. Picture Border

Apply a border to your picture. This can be a simple outline or even a beautiful frame.

10. Picture Effects

Apply any of the effects individually to your pictures. In all, PowerPoint provides 6 effects: shadow, reflection, glow, soft edges, bevel, and 3-D rotation. You can find more information about this option in our Picture Effects tutorial.

11. Resize, Rotate, and Flip Pictures

These are very significant yet basic picture editing options that you should consider. These include learning how you can resize, rotate, and flip pictures.

12. Align and Distribute Pictures

You can align your audio clip.

13. Reorder Pictures

You may need to reorder the audio clip as there could be other slide elements also present on the slide.

14. Crop

Crop plays a major role in picture adjustments. To explore more about Crop options, refer to our following tutorials:
Choose options based on your requirements. Make sure to save your presentation often.