When you click the File menu in PowerPoint 365 for Mac, you see several options. In this tutorial, we explore two of these options (see Figure 1):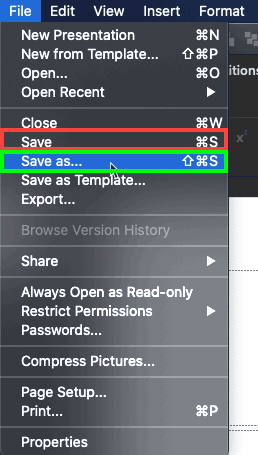 Figure 1: Save and Save As options
Save
The Save option works differently depending upon whether you are working with a new presentation, or a presentation that has already been saved earlier:
When you choose the File | Save option for a hitherto unsaved presentation, you will see the dialog box shown in Figure 2, below with the Recent Folders tab selected, highlighted in

red

. Notice the area highlighted in

orange

, where you can choose a cloud location.

Figure 2: Saving a file for the first time
Select the On my Mac option (highlighted in

blue

within Figure 2, above) to bring up the macOS default Save dialog box, shown in Figure 3, below. Now, you can choose to save in one of your local folders.

Figure 3: macOS default Save dialog box
Navigate to your save location, and provide a name for your presentation. You can also opt to save as different file types that PowerPoint supports.The default File save type is PPTX (PowerPoint Presentation) but there are several other formats you can choose from, as you can see from the drop-down list of File Formats, as shown in Figure 4, below.


Figure 4: File formats you can save to
Save As
When you select the File | Save option for a file that has been earlier saved, you'll not be presented with any dialog box, PowerPoint just overwrites your old file with any new changes made since the last save.
Note: Options for choosing a location, providing a file name and selecting a file type are provided only when you save the newly created presentation for the first time. Hereafter, the Save option just saves all changes made since the presentation was last saved. If you want to save as a new file, choose the Save As option that we discuss next.
When you choose the File | Save As option for a presentation, it doesn't matter if the file has been previously saved or not, you always end up summoning the Save As dialog box that you saw in Figure 3, previously on this page.