By default, all text that you add within PowerPoint may be filled up with a solid color. And while that's predictable and good, there are some other options that you may want to explore, especially for title text or anything that uses text in a larger point size. One alternative is text filled with a gradient—this can look contemporary and classic, or even ghastly and gaudy!
It all depends on the type of gradients you use to fill your text. Look at the slide shown below in Figure 1. Notice that the gradient used for text on the top part of the slide has an unnecessary large number of colors that make it look too colorful. The gradient used for the text on the bottom part of the slide looks so much better than conventional text filled with a solid color.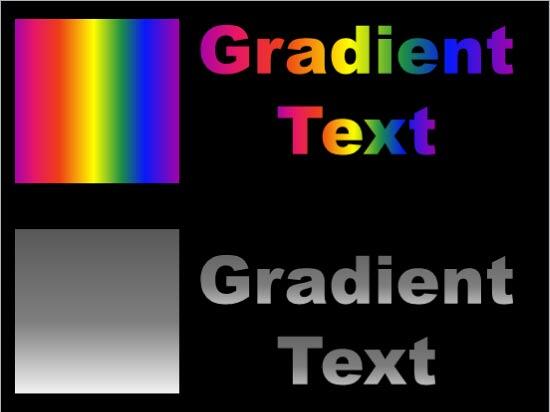 Figure 1: Two examples of gradient fills for text
There are some more guidelines that will help you create great looking gradient fills for your text:
Gradient fills look great as text fills only when your text is fairly large sized.
Using more colors in the gradient fill may make your text distracting.
Try to use the gradient colors which contrast with the slide background.
Also use gradient colors that are not too different so that you achieve a subtle merge of colors.
Follow these steps to learn how to apply a gradient fill to your text in PowerPoint 2013 for Windows:
Select the text to which you want to apply a picture fill. Alternatively, if you just want to follow this tutorial step-by-step, insert a text box on a blank slide and type some text in the text box. Also, change the text font to something blockier, such as Arial Black (see Figure 2). Select the text, or the entire text box to bring up the Drawing Tools Format tab on the Ribbon as shown highlighted in

red

within Figure 2.

Figure 2: Drawing Tools Format tab of the Ribbon

Note:

The

Drawing Tools Format

tab is a

Contextual

tab. These contextual tabs are special tabs in the

Ribbon

that are not visible all the time; they only make an appearance when you are working with a particular slide object which can be edited using special options within these tabs.

Within the Drawing Tools Format tab, locate the Text Fill button and click the downward pointing arrow, as shown highlighted in

red

within Figure 3.

Figure 3: Text Fill button
This action opens the Text Fill drop-down gallery. Within this drop-down gallery, select the Gradient option (highlighted in

red

within Figure 4) to open Gradient sub-gallery, as shown in Figure 4 (highlighted in

blue

).

Figure 4: Gradient sub-gallery
Let us explore options within the Gradient sub-gallery:

No Gradient

This is the option you can use to change the gradient fill of the selected text to a solid fill.

Variations

Here are some preset gradient fill variations for your text. Just click on any of them to apply to the selected text.

More Gradients

This option allows you to create your own gradients. Selecting this option opens the Format Shape Task Pane. In this Task Pane, make sure to select the Gradient fill radio button as shown in Figure 5.

Figure 5: Gradient fill options within Format Shape Task Pane
To learn more about the options within Format Shape Task Pane, refer to our More Gradients in PowerPoint 2013 for Windows tutorial. Although the linked tutorial pertains to shapes, the concepts are similar enough except the Rotate with shape check-box, which is grayed out, and not available for Text fill (highlighted in

red

within Figure 5).
Within the Gradient sub-gallery, click on the gradient type you want to use as a fill for your selected text. You can also edit the gradient further using the More Gradients option. Figure 6 shows the selected text with a gradient fill applied.

Figure 6: Text with gradient fill applied
Remember to save your presentation often.