When launched, PowerPoint 2019 for Windows typically opens with Backstage View. If you want to create a new presentation, you can do so using the New tab. If you want to work on any of the already created presentations, you can open them by using the various options in the Open tab. In this tutorial, we explore the Save and Save As tabs of Backstage view, shown in Figure 1, below: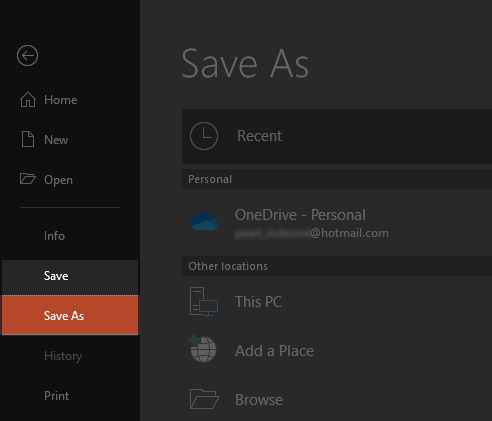 Figure 1: Save and Save As options
Save
The Save option works differently depending upon whether you are working with a new presentation, or a presentation that has been saved earlier. Essentially, when you choose the File | Save option for a hitherto unsaved presentation, PowerPoint will bring up the Save As tab.
For files that are saved once with a name and save location, the Save option just saves all changes made since the presentation was last saved. The keyboard shortcut for Save is Ctrl + S.
PowerPoint Keyboard Shortcuts
Do you want more keyboard shortcuts?
Explore our PowerPoint Keyboard Shortcuts and Sequences Ebook that is updated for all PowerPoint versions.
If you want to save an existing file with a new name, or in a new location, choose the Save As option that we discuss next.
Back
---
Save As
Follow these steps to save an existing presentation as a new file in PowerPoint 2019 for Windows:
Launch PowerPoint 2019 for Windows and click the File menu, as shown highlighted in

red

within Figure 2.

Figure 2: File menu
This action opens Backstage View. Select the Save As tab as, shown in Figure 3, below.

Figure 3: Save As tab selected within Backstage view
Options within the Save As tab are explained below, as marked in Figure 3, above:

A. Recent

In this section, you'll find folders you have recently accessed, so that you can conveniently save your presentation. If you find yourself saving to the same folders often, you can pin your these folders. The pinned content shows up right on top. To pin a folder, just hover your cursor over any folder within the list, and click the Pin this item to the list icon, as shown highlighted in

red

within Figure 4, below.

Figure 4: Pin this item to the list icon

B. OneDrive

Within this tab (or within similar tabs if you have more than one OneDrive account), you'll access your OneDrive online file locations, where you can save your presentation. To save files, you first need to sign in to your OneDrive account from within PowerPoint or any other Microsoft Office 365 program. As you can see in Figure 5, below, we can navigate our OneDrive like a local folder.

Figure 5: OneDrive

C. This PC

This tab brings up a list of folders from your local system. You just access the folder where you want to save the file. In Figure 6, you can see a list of folders were you can save your presentation.

Figure 6: This PC

D. Add a Place

Choose the Add a Place option, as shown in Figure 7. You can choose to add multiple OneDrive and OneDrive for Business accounts. These added accounts will show up as multiple places within the Save As tab of Backstage view. Learn more in our Add a Place tutorial.

Figure 7: Add a Place

E. Browse

To save a presentation in an old-fashioned way, click the Browse option. This brings up the Save As dialog box, as shown in Figure 8. Navigate to wherever you want to save the presentation. You can save the file into any format as explained in our File Formats in PowerPoint 2019 for Windows types).

Figure 8: Save As dialog box
Back