PowerPoint Keyboard Shortcuts
Here's the most comprehensive list of PowerPoint for the Web keyboard shortcuts that we know about, many users are not aware that the in-browser PowerPoint for the Web supports an amazing number of keyboard shortcuts! However, these shortcuts may differ depending upon whether you are using a Windows or a Mac computer, all the keyboard shortcuts listed on this page have been tested using the PowerPoint for the Web on the Internet Explorer web browser on Windows.
How many of these over 50 keyboard shortcuts do you presently use? If you discover a shortcut key not listed here, please contact us through our feedback form.
The shortcuts listed on this page use the US English keyboard layout. If you are using a non-US or non-English keyboard layout, then the keyboard shortcuts may not correspond exactly in some cases. You can learn about this issue and other reasons why some shortcuts may not work in our PowerPoint Keyboard Shortcuts Not Working page.
See Also: Keyboard Shortcuts: Mac using PowerPoint for the Web
For links to keyboard shortcuts in other versions of PowerPoint, scroll down this page a little.
Keyboard Shortcuts: PowerPoint for the Web (Tested on Internet Explorer for Windows)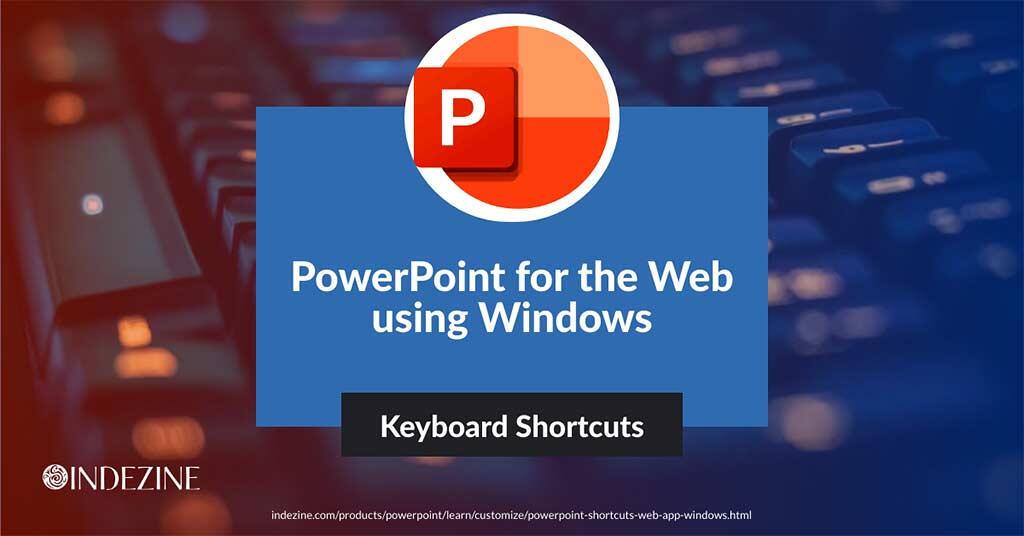 PowerPoint Keyboard Shortcuts and Sequences:
PowerPoint 2016, 2013, 2011, 2010, 2007 and 2003 for Windows
PowerPoint 2016 and 2011 for Mac
PowerPoint Online for Windows and Mac
Have you ever used keyboard shortcuts and sequences in PowerPoint? Or are you a complete keyboard aficionado? Do you want to learn about some new shortcuts? Or do you want to know if your favorite keyboard shortcuts are documented?
Go and get a copy of our PowerPoint Keyboard Shortcuts and Sequences ebook.