Charts in PowerPoint can be customized by changing the appearance of various chart elements. The legend is also a chart element and typically it is a box or area that codes via color or pattern swatches representing all the series in a chart. Look at Figure 1, below that shows a default chart created in PowerPoint 2007. The legend is the box that captions the series: Series 1, Series 2, and Series 3 and identifies them with different colors so that you can follow which series each of the columns in that chart represent.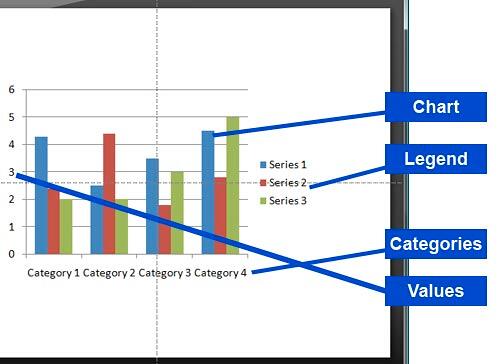 Figure 1: Chart in PowerPoint 2007
The legend can be formatted to be placed at various locations within the chart area, and you can hide it altogether.
Follow these steps to change the location of the legend in the chart area, hide it altogether, or remove the boxed outline around it in PowerPoint 2007 for Windows:
You first need to have a chart in your presentation. Learn how to insert a chart in PowerPoint 2007.
Now select the chart to activate the Chart Tools tabs on the Ribbon area, as shown in Figure 2, below. There are three such tabs:
Chart Tools Design,
Chart Tools Layout, and
Chart Tools Format.

Figure 2: Chart tools

Default Legend Position

By default, the legend appears on the right side of the chart as shown in Figures 1 and 2.
Choose the Chart Tools Layout tab on the Ribbon. With the Labels group, click the Legend button as shown in Figure 3, below.

Figure 3: Legend option within Chart Tools Layout tab
Doing so brings up the Legend dropdown gallery, as you can see in Figure 4, below.

Figure 4: Legend gallery
Here, you can choose a different legend position or hide it altogether. Apart from the None option that turns off the legend altogether, you'll find more controls if you click the last option in the gallery called More Legend Options (refer to Figure 4, above).
Clicking More Legend Options opens the Format Legend dialog box. Select Legend Options in the sidebar, as shown in Figure 5, below. Here, you can choose from 5 legend positions, and you can also choose to Show the legend without overlapping the chart. This totals ten options that you can see in the sample embedded presentation (scroll down to the bottom of this page).

Figure 5: Format Legend dialog box
Chart Styles
Want to quickly change the look of your chart? Do explore Chart Styles.
Here is a sample presentation of legend positions in PowerPoint 2007:
Click below to view on SlideShare
This is the original page. An AMP (Accelerated Mobile Page) version of this page is also available for those on mobile platforms, at Chart Legend in PowerPoint 2007 for Windows.