Charts in PowerPoint can be made to look different and unique by changing the appearance of various chart elements. The legend is an important chart element, typically the legend is a box or area that codes via color or pattern to all the chart series. Figure 1, below shows a default column chart in PowerPoint 2011 for Mac.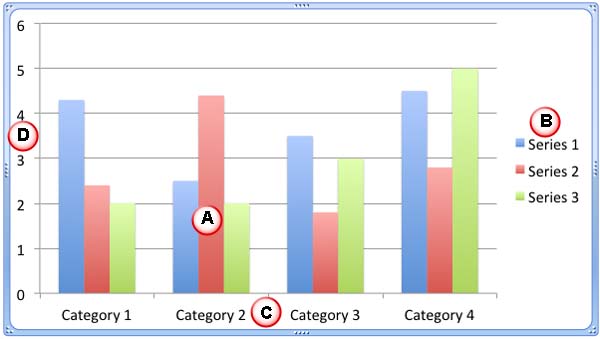 Figure 1: Basic chart elements
The basic elements of this chart, as marked above are:
Series
Legend
Categories
Values
The legend is the box that captions the series: Series 1, Series 2, and Series 3 and identifies them with different colors so that you can follow which series each of the columns in that chart belong to. By default, the legend appears on the right side of the chart as shown in Figure 1, above.
The legend can be formatted to be placed at various locations within the chart area, and you can also hide it altogether.
Follow these steps to learn more about the chart legend in PowerPoint 2011 for Mac:
To start with, you first need to have a chart in your presentation. Learn how to insert a chart in PowerPoint 2011.
Now select the chart. This displays the Chart Layout and Format tabs on the Ribbon area, as shown highlighted in

red

within Figure 2, below.

Figure 2: Chart selected in PowerPoint
Select the Chart Layout tab, then locate the Labels group, and click the Legend button to bring up the Legend gallery, as you can see in Figure 3, below.

Figure 3: Legend gallery
Here, you can choose different legend positions, or hide the legend altogether. Apart from the No Legend option that hides the legend, you'll find more legend positioning options. Note the last option in the Legend gallery, which is Legend Options (refer to Figure 3, above).
Selecting the Legend Options will open the Format Legend dialog box. In this dialog box, select the Placement option in the sidebar. This brings up five legend position options, and you can also deselect the Show the legend without overlapping the chart check-box (by default the check-box is selected) provided below these options. This provides you with ten options that you can see in the sample embedded presentation (scroll down to the bottom of this page).

Figure 4: Format Legend dialog box
Choose an option as required and save your presentation.
Chart Styles
Want to quickly change the look of your chart? Do explore Chart Styles.
Here is a sample presentation of legend positions in PowerPoint 2011 for Mac:
Click below to view on Slideshare
This is the original page. An AMP (Accelerated Mobile Page) version of this page is also available for those on mobile platforms, at Chart Legend in PowerPoint 2011 for Mac.