Microsoft has made available STAMP (Sub-titling text add-in for Microsoft PowerPoint), a free add-in for PowerPoint that enables you to create captions for video and audio files within your PowerPoint presentations. In addition to manually adding captions, you can also work with any media files that have associated Timed Text Markup (TTML) files. This add-in lets you import the TTML files directly into your presentation. If you don't have a TTML file, you can still add captions directly in your presentation. Having said so, TTML captions allow some extra niceties since they can be easily formatted to use text color, text alignment and other styling elements for the captions.
This add-in works in PowerPoint 2010, 2013, and non-Office 365 versions of PowerPoint 2016. All these are versions that run on Microsoft Windows.
According to Microsoft (see this link), faculty members at Towson University in Maryland are using this software "to caption educational presentations that help the hearing disabled and others learn more efficiently."
The STAMP add-in for PowerPoint allows you to do the following:
Create and edit closed captions.
Delete the closed captions.
Turn captions on and off when in presentation mode.
Use a video/audio playback while editing Timed Text captions.
Align captions when they have moved, or if you re-size the video.
Import communicative text formatting information from the TTML file, for example: styling, color and alignment.
Here are some more tutorials on using the STAMP add-in for PowerPoint:
Download and install the STAMP Add-in
Create Video Captions using the STAMP Add-in
TTML XML Files for the STAMP Add-in
Import TTML Caption Files in the STAMP Add-in
Edit Captions within the STAMP Add-in
Align, Hide, Show, or Remove Captions using the STAMP Add-in
See Also: STAMP on the Microsoft site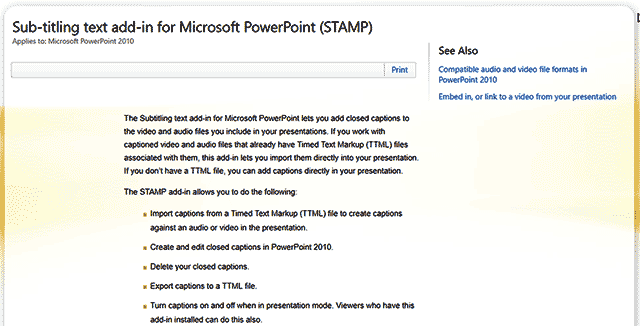 Watch this video by Jim Durkin on how to use STAMP in Microsoft PowerPoint 2010.