July 13, 2016
A PowerPoint timer functions as a common everyday-timer in your presentation. But there are other uses too for a timer such as displaying it on an information screen or even showing real-time, dynamic information on your slide using a timer. In this article, we will show you an easy way to create a timer presentation in PowerPoint. We will then show you how to use Dynamic TIME, a special timer add-in for PowerPoint so that the user can use to create timers much easier and with more efficiency.
---
July 13, 2016
Do you want to create a triangular table? Even better, don't you want to use a process that not only makes the table completely editable but which ends up with a shape that is not limited to just a triangle? We are going to use two PowerPoint techniques to achieve this trick.
Learn how to make cookie cutter shapes in PowerPoint 2016.
---
July 12, 2016
We explore a topic that we feel about very strongly, and that is visual Clichés. In this guest post from Pickit, you will learn how you can move beyond Clichés. PowerPoint 2016 for Windows users can learn about rotating text 180 degrees, and explore the new Black interface. You can also learn to flip shapes, use the Selection Pane wisely, and about text within shapes. Finally, do not miss the new press releases and templates of this week.
Read Indezine's PowerPoint and Presenting News.
---
July 12, 2016
Frankly, it has been many years since new chart types were added to PowerPoint's repertoire of the ten chart types. The great news is that you will find new chart types in PowerPoint 2016 for Windows. These are Treemap, Sunburst, Histogram, Pareto (within Histogram options), Box and Whisker, and Waterfall.
Learn about six new chart types available in PowerPoint 2016 for Windows.
---
July 11, 2016
After adding text within a shape (or a text box) in PowerPoint 2016, you can also perform basic edits like adding, deleting, or replacing existing text. Other than the basic text editing you can even control how your text is aligned within the shape. To do that you need to access these options within the Format Shape Task Pane.
Learn how to align text within a shape or text box in PowerPoint 2016.
---
July 8, 2016
Text is probably the most important element on your PowerPoint slides! You may have heard the adage that a picture is worth a thousand words, but more often than not, that picture needs a caption to be understood better -- and even when there are no captions, a narrative is required. And that narrative is text too. Text can be added almost everywhere within PowerPoint slides -- from placeholders and text boxes to the Notes Pane. Additionally, you can also add and edit text within any shapes except connectors, including straight lines.
Learn how to insert and edit text within a shape in PowerPoint 2016.
---
July 7, 2016
To format any slide object in PowerPoint, you must select it. There are a couple of ways with which you can select any slide object. Other than the obvious way of clicking the slide object to select, you can also use the Selection Pane. It's always more difficult to select overlapping slide objects or objects placed behind a larger object in busy, populated slides -- to select slide objects that are difficult to locate, you can use the Selection Pane.
Learn how to select Shapes using the Selection Pane in PowerPoint 2016.
---
July 6, 2016
If you see one more picture of people shaking hands or a light bulb, then you will know that the slides themselves must be unimaginative. How do you create an imaginative thought process that goes beyond clichés? Since its launch in 1990, Microsoft's PowerPoint has become an integral tool for business. With 95% market share and over 1.2 billion users worldwide, it is estimated that millions and millions of PowerPoint presentations are made each day. The fine art of preparing slides has become as second nature as sending an email or attending a meeting, yet consistently PowerPoint producers and presenters are sabotaging their own pitches by including clichéd and tired images that contribute to failure.
---
July 6, 2016
The shape on your slide looks perfect. It's got the right color and it works well with your slide content -- yet there's something that could be better? There are times when most slide designers think exactly the same thoughts! And the easiest task you can do to your shape is to flip it. There are other options -- and some of these options depend upon the shape in question. Let's use the Teardrop shape that you see in Figure 1 as an example -- you can resize and rotate this Teardrop shape -- however, even with rotate you are just turning the shape in another direction without making any changes to the shape's structure. The Flip option, on the other hand, lets you mirror your shape in another direction to create a reverse image.
Learn how to flip shapes in PowerPoint 2016.
---
July 5, 2016
We first look at Presentitis, a serious, slide-related stress disorder that is also the name of a site of the same name. Robert Befus of SlideSource talks more about Presentitis. Kurt Dupont discusses Dynamic LIKES, an add-in from PresentationPoint that lets you promote your Facebook page on your PowerPoint slides, continuously updated. Motti Nisani discusses the new Android app for emaze, an online presentation platform. Jerry Weissman then explores the single most important factor for persuasion in a guest column. PowerPoint 2016 for Windows users can learn about aligning shapes, manipulating shapes by dragging yellow handles, Smart Lookup, duplicating shapes by dragging, and selecting/deselecting shapes. Finally, do not miss the new press releases and templates of this week.
Read Indezine's PowerPoint and Presenting News.
---
July 5, 2016
By default, the PowerPoint 2016 Ribbon area is placed against an orange backdrop. This orange color shows up because the default Office Theme named Colorful is applied to the interface. So why is the Theme called Colorful when it is just a plain orange backdrop? That's because any Theme you apply to an interface of an Office 2016 program influences all other programs. For instance, Word 2016 sports a blue backdrop while Excel uses green. In addition to the color interface options previously available for all Office applications, Office 2016 has introduced a new Office Theme named Black for the interface color.
Learn how to apply the new Black interface to all your Office 2016 for Windows programs.
---
July 4, 2016
If you have worked aplenty with text in PowerPoint, you must be aware that you cannot rotate text within a shape by 180°. What's surprising is that you can rotate text by 90° and 270° within a shape, but not by 180°! But why would you need upside-down text that is rotated 180°? Many users do need this upside-down text to explain advanced concepts.
Learn how to rotate text 180° within a shape in PowerPoint 2016.
---
July 1, 2016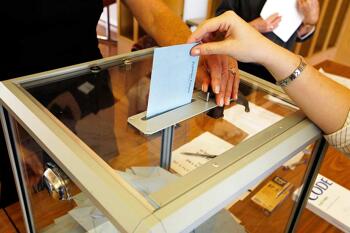 An indisputable fact of life in every company, every industry, every vertical, every geography, is that salespeople sell features when they should be selling benefits instead. This mistake is also chronic in presentations because presenters too often focus on their own message to the exclusion of their audiences, causing them to think: "Why should I care?" or "It's all about you!" Politicians fall into the same trap. A recent scientific study about persuasion in the political arena found that each side of the political spectrum tends to appeal only to the principles of their base and not to those of the opposition. Doing so not only fails to move any voters beyond those who are already committed, it also drives the wide wedge in our polarized country ever deeper. The latter problem is the equivalent of a presenter from a startup company pitching for financing only from an existing investor, or a sales person selling only to existing customers. The sales person thus gives up the possibility of gaining a new client or, better still, capturing a competitor's customers.
---
July 1, 2016
PowerPoint 2016 expects you first to make a selection, and then the do something such as clicking a button to perform an action for the selected slide objects. If you cannot select an object, then you cannot modify it at all. Although this tutorial explains how you can select shapes on a slide, the process works the same way for any other slide object.
Learn how to select and deselect single and multiple shapes in PowerPoint 2016.
---
June 30, 2016
Kurt Dupont, based out of Belgium heads PresentationPoint, a company that creates several amazing PowerPoint add-ins. After his Computer Science studies, Kurt started with Andersen Consulting (Accenture nowadays) in Brussels. After three years he moved to the Brussels Airport Terminal Company that runs the Brussels airport - this last placement inspired the start-up of Take-off (now known as PresentationPoint) in 1998. In this conversation, Kurt discusses Dynamic LIKES, an add-in that lets you promote your Facebook page on your PowerPoint slides, continuously updated.
---
June 30, 2016
Shapes in PowerPoint 2016 are very useful in representing design or content, or in showing a process or a sequence. However, when you create a slide that has many such shapes, you'll find that most of your shapes may be the same size and may also share other similar attributes. Yes, you can go ahead and insert the same shape into PowerPoint repeatedly, but that will consume much of your productive time that you could have used elsewhere! There are quicker alternatives for duplicating shapes that can be learned if you follow these guidelines.
Learn how to duplicate shapes by dragging them on a slide in PowerPoint 2016.
---