Taylor Croonquist is the co-founder of Nuts & Bolts Speed Training which delivers actionable PowerPoint training courses for working professionals who spend hundreds, if not thousands, of hours a year using the program.
In this guest article, Taylor explains how you can easily create a waterfall chart within PowerPoint.
Introduction of Waterfall Chart
Waterfall charts (see Figure 1, below) are one of the most popular charts for displaying how different items come together to make up a whole. The chart was first invented and is still widely used by consultants of McKinsey & Company, and is something you can easily add to your PowerPoint charting repertoire.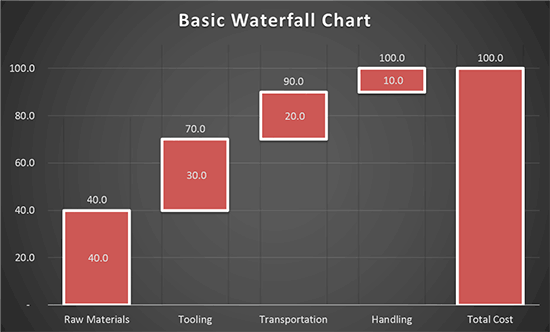 Figure 1: A waterfall chart
Although Waterfall charts don't technically exist in PowerPoint or Excel, you can quickly create one in either program by manually editing a Stacked Column chart. The trick is to chart three different data points within the Stacked Column chart (what I will refer to as the Base, the Value and the Total), and hide the Base and the Total to create the visual effect of a stand-alone piece.
The following links will get you started:
Waterfall Chart Basics - Working with Positive Numbers
---
Waterfall Chart Additions - Working with Negative Numbers
---
Waterfall Chart Additions - Adding Step Lines (Leader lines)