There's a new understanding that has evolved over the past few years about making all sorts of computer generated content accessible to people with disabilities. PowerPoint is no stranger to this accessibility concept, and has many options up its sleeve that help your slides be more relevant to those with accessibility impairments.
PowerPoint's built-in Accessibility Checker works similar to the spell checker. It highlights potential accessibility issues in your presentation so that you can fix these potential problems and make your content accessible to everyone. Note that fixing some issues might require that you change, reformat or otherwise update your content. In addition, the Accessibility Checker also lets you know about application features that you can use to make your content more accessible.
Selective Accessibility Issues?
There might be issues that you choose not to fix, since your audience may not contain people with certain disabilities. In that case, you can treat some highlighted issues as informative, and act only on issues that you consider significant.
Follow these steps to explore the Check Accessibility option in PowerPoint 2010 for Windows:
Launch PowerPoint, and open any existing presentation for which you want to check the accessibility. If you made any changes to your slides, do save your presentation before you proceed further.
Access the File menu, and choose the Info option to get to Backstage view, as shown in Figure 1. Thereafter, select the Check for Issues button to bring up a small drop-down menu, as shown in Figure 1. From the drop-down menu select the Check Accessibility option, highlighted in

red

within Figure 1.

Figure 1:

Check Accessibility option selected within the Check for Issues drop-down menu

This opens the Accessibility Checker task pane, as shown in Figure 2.

Figure 2:

Accessibility Checker task pane

The Accessibility Checker checks your presentation against a set of possible issues in your slides that users with disabilities might experience. Each issue is classified as an Error, a Warning, or a Tip. These are explained below.
Error: For content that makes a file very difficult or impossible for people with disabilities to understand.
Warning: For content that in most, but not all cases makes a file difficult for people with disabilities to understand.
Tip: For content that people with disabilities can understand, but that might be better organized or presented in a way that would maximize their experience.
Now, click on an issue to see detailed information specific to the selected issue. These details are provided within Additional Information section right at the bottom of the Accessibility Checker task pane, highlighted in

red

with Figure 3. Within this section, you can read guidelines and steps that will help you fix or revise the content to make it more accessible.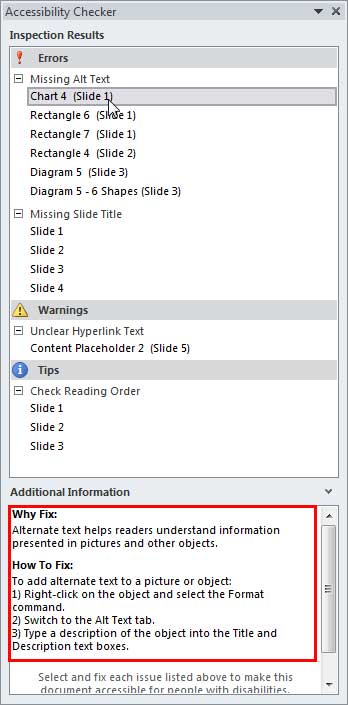 Figure 3:
Additional Information section within the Accessibility Checker task pane
Make corrections and changes as required. You can run the Accessibility Checker again to determine if any of these issues have been resolved. Once done, make sure you save the presentation.